Journalistic standards and ethics no longer exist. That has become painfully obvious as the Kavanaugh confirmation process has dragged on. Wednesday saw a third outlandish accusation (a fourth and fifth by nightfall) that the liberal media pounced on with a blatant disregard for the facts and no curiosity for the truth. During their evening newscasts, the major broadcast networks (ABC, CBS, and NBC) threw objectivity in the trash as they smelled blood in the water. Buckle up.
The third accusation was made by 55-year-old Julie Swetnick, who alleged that (as a college-age student) she attended at least 10 high school parties were a teenage Judge Brett Kavanaugh and other boys would prey girls by getting them drunk, drugging them, then "gang" raping them. It's an outlandish tale that drew a quick rebuke from the Judge, who called the accusations something from the "Twilight Zone."
But the liberal media seized onto the claim and pushed it as a "serious" allegation before noting they couldn't corroborate it. On top of that, they were licking their chops for Thursday's Senate Judiciary Committee hearing with both Kavanaugh and first accuser, Dr. Christine Blasey Ford.
"And she alleges that Kavanaugh was present at a house party in 1982, when Swetnick says she herself was a victim of a gang rape. ABC News has been unable to corroborate Swetnick's allegations," reported ABC correspondent Terry Moran during World News Tonight. But Moran horrifically failed to tell viewers that Swetnick didn't directly accuse Kavanaugh of raping her.
But Moran covered for the accusations by playing a soundbite of "creepy porn lawyer" and Swetnick attorney Michael Avenatti touting the accusation. "I mean, the details in this declaration are specific. They are shocking. But above all else, they are true," Avenatti told The View. Also playing up the accusation, Moran described it as "Swetnick's nightmarish portrayal of Kavanaugh as a teenager."
For all the hype, Moran never mentioned the serious issues that the account raised, such as why would she continue to go to 10 parties where "gang rapes" were happening? Why didn't she name her rapists in her sworn affidavit? Why was a college student partying with high school students? And, there was no mention of a letter signed by over 60 students who say they didn't know who the accuser was.
Many of those questions went unanswered or overlooked by the major broadcast networks.
On the CBS Evening News, Washington correspondent Paula Reid also provided cover for the allegations by pointing out the proximity between the schools: "Records show Julie Swetnick graduated from Gaithersburg high school in Maryland in 1980. Kavanaugh graduated from the private George Town Prep high school in 1983. The schools are some ten miles apart." Yet, no mention that Swetnick was in college at the time.
Although, Reid was the only broadcast reporter to mention the letter of support for Kavanaugh: "This afternoon 64 people who say they knew Brett Kavanaugh in high school sent this letter to the Senate Judiciary Committee. They say that they don't remember anyone named Julie Swetnick. They call her allegations 'nonsense' and 'reprehensible'."
Over on NBC Nightly News, White House correspondent Peter Alexander expressed the most skepticism toward Swetnick's claims. He noted on the curious nature of her repeated attendance at the "gang rape" parties before playing a soundbite from Republican Senator Lindsey Graham: "NBC News has not independently corroborated Swetnick's claims. And Avenatti would not make her available for an interview. Top Republicans expressing skepticism."
But the little good faith NBC built up was swept away by correspondent Kate Snow commenting on how "[n]o one has come forward publicly to say they were present at the time of any of these three alleged incidents." That huff covered up the fact the exact opposite had happened. Numerous people named in the allegations had stepped forward and said that the parties had either never happened or that Kavanaugh wasn't there.
While the networks were pushing Swetnick's accusations, Politico was digging into her past, discovering a bundle of craziness. According to an ex-boyfriend, he had to get a restraining order against her because she had threatened to harm him, his wife, and his child. In statements to Politico, Richard Vinneccy told them "she's not credible at all." "I have a lot of facts, evidence, that what she's saying is not true at all," he added.
All three networks also cheered on Ford's admission of a polygraph test. "Ford's lawyers released photos of her undergoing a polygraph test in August. A former FBI agent found her responses about the alleged high school groping incident were 'not indicative of deception," touted CBS Congressional correspondent Nancy Cordes.
"Her lawyers today releasing her handwritten account as part of a lie detector test she took and passed," Moran declared, calling her account "detailed" and "moving." But their glee was premature.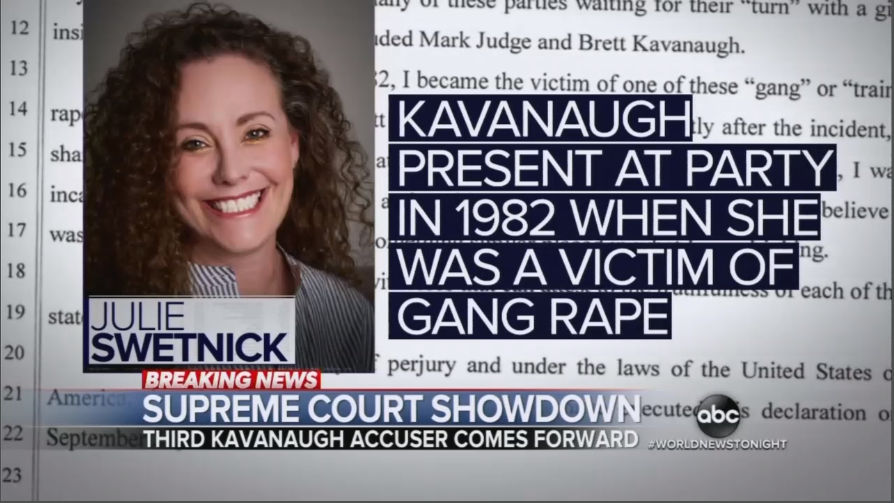 Ford wasn't quizzed on all the allegations, but rather asked if what she had written down was true. In addition to that, it appeared that Ford was lying to someone because, as many had pointed out, her account of how many people were out the party swung wildly depending on who she told.
Then came the fourth "anonymous" accusation of a rough make-out session. NBC was the only network to take the bait on this sketchy letter:
Tonight, NBC News has learned the Senate Judiciary Committee is probing an additional anonymous allegation of physical assault against Brett Kavanaugh. A charge he tells the commit at the denies. It came in a letter, the sender saying the woman involved, her own daughter who witnessed Judge Kavanaugh shove a woman up against a wall in a sexual manner when he was drunk in 1998.
This is what "journalism" looks like in 2018.
The transcripts are below, click "expand" to read:
ABC's World News Tonight
September 26, 2018
6:37 p.m. Eastern

DAVID MUIR: And as we said tonight, we have new reporting here, what Brett Kavanaugh will say tomorrow morning and what Dr. Christine Blasey Ford will accuse him of with the country watching. And tonight, the other major development, that third accuser now coming forward with a sworn statement. What she alleges happened at a party that she says Kavanaugh was at. Tonight, right here, Kavanaugh's response. And as you saw at the top this evening, we are now seeing for the first time images from Dr. Ford's polygraph test and the results. ABC's Terry Moran, who has covered the Supreme Court for years, on this again tonight.

[Cuts to video]

TERRY MORAN: The alarming new allegations against Judge Brett Kavanaugh accuse him of sexual misconduct and heavy drinking while in high school. His accuser, Julie Swetnick, 55 years old, who says she's worked on and off for the federal government for years and held security clearances from the Homeland Security, State, and Treasury Departments, among others. In a sworn affidavit, Swetnick claims she met Brett Kavanaugh and his friend Mark Judge around 1980 attended and attended "well over ten house parties" where they were present. She says she saw Kavanaugh "drink excessively" at many of these parties and "engage in abusive and physically aggressive behavior toward girls". And she claims she "witnessed efforts by Mark Judge, Brett Kavanaugh and others to cause girls to become inebriated and disoriented so they could then be 'gang raped' in a side room or bedroom by a 'train' of numerous boys." And she alleges that Kavanaugh was present at a house party in 1982 when Swetnick says she herself was a victim of a gang rape. ABC news has been unable to corroborate Swetnick's allegations. Her lawyer, Michael Avenatti, who also represents porn star Stormy Daniels in her legal battles with President Trump, defended Swetnick on The View.

MICHAEL AVENATTI: I mean, the details in this declaration are specific. They are shocking. But above all else, they are true.

MORAN: Judge Kavanaugh quickly released a statement. "This is ridiculous and from the Twilight Zone. I don't know who this is and this never happened." Mark Judge, the other person named by Swetnick, also release a statement through his lawyer. "Mr. Judge vehemently denies Ms. Swetnick's allegations." Swetnick's nightmarish portrayal of Kavanaugh as a teenager is simply irreconcilable with how he described his younger self to Fox News.

(…)

MORAN: Kavanaugh and Blasey Ford are set to testify tomorrow. Her lawyers today releasing her handwritten account as part of a lie detector test she took and passed. Ford writes, "Brett laid on top of me and tried to remove my clothes while groping me. He held me down and put his hand on my mouth to stop me from screaming for help." She writes, "Mark jumped on top of us two or three times" before she escaped.

(…)

Kavanaugh submitting his own supporting evidence to the Judiciary Committee today, including a remarkable detailed calendar he kept as a teen, an effort to show he wasn't the wild animal he's been portrayed as, but a busy kid with big dreams.

(…)
CBS Evening News
September 26, 2018
6:37 p.m. Eastern

JEFF GLOR: We're going to have more now about the third accuser who came forward today. Paula Reid has been looking into her allegations.

[Cuts to video]

PAULA REID: The accusations are serious. 55-year-old Julie Swetnick said she knew Brett Kavanaugh in high school, attending more than 10 house parties with him between 1981 and 1983. In a signed statement, Swetnick alleges that high school Kavanaugh would "drink excessively" and "engage in abusive and physically aggressive behavior toward girls" and that Kavanaugh was involved in efforts "to 'spike'" drinks at the parties and then have sex with girls who had lost "their ability to say 'no.'" She claimed she was the victim of one of these 'gang' or 'train' rapes and that Kavanaugh was present. She does not allege that Kavanaugh himself raped her. Records show Julie Swetnick graduated from Gaithersburg high school in Maryland in 1980. Kavanaugh graduated from the private George Town Prep high school in 1983. The schools are some ten miles apart. In a statement, Kavanaugh said the allegation was "from the Twilight Zone" and it "never happened." Kavanaugh's lawyer, Beth Wilkinson.

BETH WILKINSON: He's outraged, as you might imagine, by this most recent allegation. He has never met this woman. He doesn't know Ms. Swetnick. He didn't go to parties with her.

REID: Kavanaugh himself was asked about the house parties earlier this week.

MARTHA MACCALLUM: Did you ever participate in or were you ever aware of any gang rape that happened at a party that you attended.

BRETT KAVANAUGH: That's totally false and outrageous. Never done any such thing, known about any such thing.

REID: The allegations were made public by Swetnick's lawyer, Michael Avenatti, who also represents porn star Stormy Daniels in her legal fight with President Trump. Avenatti told MSNBC Swetnick, who is reportedly a government contractor, reached out to him, and he checked out her story.

MICHAEL AVENATTI: This is a woman who has received numerous security clearances over the years issued by the U.S. government, including secret security clearances as well as public trust security clearances that require very detailed vetting performed by the U.S. government.

REID: This afternoon, President Trump fired back at Avenatti.

DONALD TRUMP: You look at this lawyer that just came out. He's a low life. He represented Democrats. Nobody ever talks about that. He's a Democrat lawyer. Not a very good one, but he's a Democrat lawyer.

[Cuts back to live]

REID: This afternoon 64 people who say they knew Brett Kavanaugh in high school sent this letter to the Senate Judiciary Committee. They say that they don't remember anyone named Julie Swetnick. They call her allegations "nonsense" and "reprehensible".

GLOR: So Paul, at this point has anyone other than the Senate Judiciary Committee investigating?

REID: At this point, our local law enforcement sources tell us there are no open cases or complaints based on these allegations. Now, the White House could potentially encourage the FBI to look into this as part of his extended background check, but so far there is no indication they intend to do that.

(…)

6:41:38 p.m.

NANCY CORDES: Ford's lawyers released photos of her undergoing a polygraph test in August. A former FBI agent found her responses about the alleged high school groping incident were "not indicative of deception."

(…)
NBC Nightly News
September 26, 2018
6:33 p.m. Eastern

(…)

PETER ALEXANDER: The comments, after accusation made public by the woman's lawyer, Trump critic Michael Avenatti who also represents porn star Stormy Daniels.

DONALD TRUMP: You have this other con artist Avenatti come out with another beauty today. These are false accusations in certain cases.

ALEXANDER: In a sworn statement, Julie Swetnick said she attended "more than ten house parties and witnessed Kavanaugh and high school friend mark judge fondling girls without their consent saying in the early 1980's" And alleges she witnessed Kavanaugh and high school friend Mark Judge "fondling and grabbing girls without their consent". Saying in approximately 1982, she was the victim of a "gang" or "train" rape. Swetnick does not explicitly accuse Kavanaugh or Judge of being involved in her rape, but says both were "present" and she "believes she'd been drugged". Kavanaugh tonight responding: "This is ridiculous and from the Twilight Zone. I don't know who this is and this never happened." Tonight Judge's lawyer says Judge vehemently denies Ms. Swetnick's allegation. Avenatti teased his release of this accusation for days.

(…)

ALEXANDER: NBC News has not independently corroborated Swetnick's claims. And Avenatti would not make her available for an interview. Top Republicans expressing skepticism.

SEN. LINDSEY GRAHAM: Here's what I think, if you went to a party once with people being drugged and gang raped, you wouldn't go there the next night. But you would tell somebody. And that you have an obligation if you see people being abused to come forward.

(…)

ALEXANDER: Today Ford's lawyers releasing the results of the polygraph test where she wrote down details of her allegation and was asked if any of it was false.

JERRY HANAFIN (Ford's polygraph administrator): I'm extremely confident that Dr. Ford is being truthful when she answered those questions regarding her statement.

(…)

KATE SNOW: No one has come forward publicly to say they were present at the time of any of these three alleged incidents. Kavanaugh's attorney today said if so many people were present during these parties and the latest allegation, why wouldn't someone have said something?

LINDA FAIRSTEIN: Very common in the '80s. There were very few resources for victims of sexual violence. They were kids. They were underage, possibly drinking or doing drugs, being in places they shouldn't have been.

(…)

KASIE HUNT: Tonight, NBC News has learned the Senate Judiciary Committee is probing an additional anonymous allegation of physical assault against Brett Kavanaugh. A charge he tells the commit at the denies. It came in a letter, the sender saying woman involved, her own daughter who witnessed Judge Kavanaugh shove a woman up against a wall in a sexual manner when he was drunk in 1998.

(…)