The first presidential debate was a mega win for the greatest, most empathic candidate on the stage, Joe Biden. Right? Well according to some in Hollywood – who's sanity rests on Trump being voted out – yes, "Sleepy Joe" won. They wouldn't tout any other outcome, anyway. But for others in the entertainment industry – others who seem to be more honest – the whole evening was "useless."
So which one is true? On one hand, desperate actors like Rob Reiner claimed the debate proved Biden won the presidency already, while others like Mark Hamill claimed the debate was the "worst thing he's ever seen."
Sounds like not even the radical Hollywood left is sold on Biden's performance. 
The people who lavished slavish praise to Biden's debate performance included Reiner, actress Patricia Arquette, and Parks and Recreation actor Adam Scott. 
Reiner, the director of When Harry Met Sally, tweeted, "We just won the election." Oh OK. Sure. Sleepy Joe's rattled performance consisting of pie-in-the-sky, socialist talking points, audible sighs of frustration and fatigue, and personal attacks against Trump really clinched the deal.  
The Act actress Patricia Arquette gave a positive appraisal for Joe's whatever performance, tweeting that "Joe Biden came to Debate tonight," while "Trump came to a Jerry Springer event." She added that "the American people deserve better." Yeah sure, Biden was all class, especially as the only one in the debate who called his opponent a "racist" and a "clown." He even told the President of the United States to "shut up!"
Parks and Recreation actor Adam Scott tweeted: "There was only one man on that stage tonight talking about how he'd protect & help the American people" and claimed that man was "Joe Biden." Yes, the man no major law enforcement group is choosing to back because he tacitly supports police-hating groups like radical marxist outfit Black Lives Matter. 
But normally unhinged lefties like Mark Hamill, Better Midler, and Stephen King weren't so sure. 
Mark Hamill composed a viral tweet that compared the evening's events to one of the most universally-hated pieces of media in modern history, the Star Wars "Holiday Special." Hamill tweeted, "That debate was the worst thing I've ever seen & I was in The Star Wars Holiday Special." 
Oh, that doesn't seem to reflect too well on Biden, does it? And Hamill's a paid Biden campaigner to boot. 
It and Cujo author Stephen King tweeted that the debate was "useless." King wrote, "The debate commission (whoever they are) needs to discuss ways of stopping Trump in the next 2 debates from the constant interruptions and hectoring. No matter who you think 'won,' as an educational tool for voters, last night was useless."
Hocus Pocus star Better Midler tweeted that "There's no need to do that again," in terms of having a debate. She explained, "Trump is certifiable, and doesn't want the American people to judge, or even think about his terrible record,  He has spent 3 years sowing doubt about every institution we trusted, and now we trust no one and nothing.  A victory for our enemies."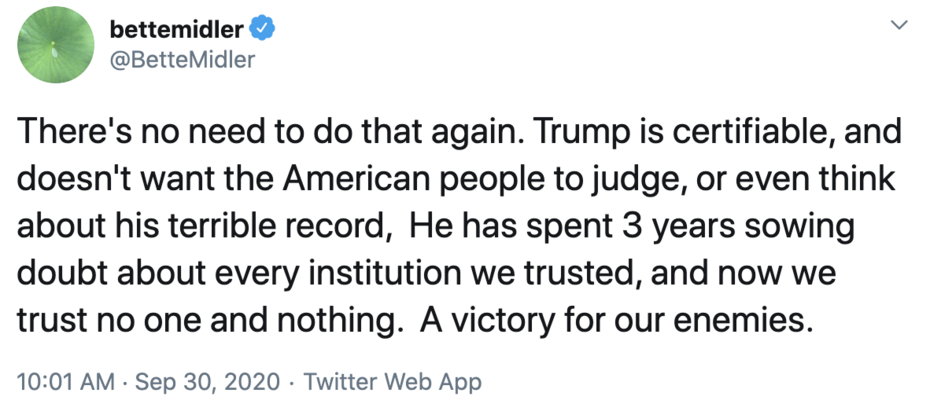 That's a lot of talk about Trump. Nothing about Biden. When half of Hollywood's Democrat brown nosers refuse to praise Biden's performance, you know it wasn't too hot.