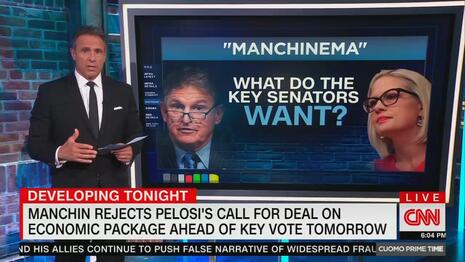 The night after they ranted about how CNN supposedly had high journalistic standards, and repeated suggestions that they were against the two-party system and didn't belong to any party, hosts Chris "Fredo" Cuomo and Don Lemon spent a lot of time Wednesday night batting for progressive Democrats as they tried to take swings at the knees of moderate Democratic Senators Joe Manchin (WV) and Kyrsten Sinema (AZ).
While Lemon called them Republicans, Fredo took his usual gross approach and equated them to a rectal "enema."
The entire opening diatribe to Prime Time consisted of Cuomo whining about how much of a lurch the two Senators were putting the rest of the party in. And after suggesting they weren't negotiating in "good faith" (something no Cuomo had ever practiced), he equated them to an unwanted burst of hot water up the backside of all Democrats in Washington:
They have gotten none of those from the Senators or in the House as far as we know. Certainly with the Senators. So much so that some are now referring to the two senators, Manchin and Sinema as Manchinema. I say they may soon be known as Manchenema because they are really sticking it to their party.
Nothing but high-class commentary from Fredo. Then again, he does know a lot about grabbing butts without consent.
Skip ahead and Cuomo singled out Sinema to question her integrity and motives by suggesting she was being bought off by special interests. "Is this just about the price or who would be paying it? Is Senator Sinema more concerned about her big pharma friends and corporate lobbyists that fill her coffers than her regular constituents? I think that's a real question," he proclaimed.
This from the guy whose brother, disgraced New York Governor Andrew Cuomo (D) ran one of the most corrupt administrations in the state's history.
He even tried to tee up progressive Congressman Ro Khanna (D-CA) to attack Sinema's integrity, but he didn't bite (click "expand"):
CUOMO: I wouldn't ask you to speculate except right now. You have to give me an idea of what you're hearing about what's going on with Sinema. Do you believe there's teeth to this: she gets a lot of money from big pharma, they don't like what you're doing with prescription drugs; she gets a lot of money from big money, they don't like that you want to raise corporate taxes; so she doesn't like the funding mechanisms; therefore, she can't go for the bill?

KHANNA: Chris, as tough as I've been on Senator Sinema, I never question a person's integrity without actual facts and evidence.
"If you guys don't get this done with the numbers that you have and the buy-in from the American people, you are going to have problems in the midterms. You know that," Cuomo warned and encouraged him at the end of the interview. "Good luck doing the work of the people."
Lemon's attacks came during their infamous handoff. "You also have two Republicans in the Democratic Party who are making problems for the Democrats, and that's Manchin and Sinema," he complained.
From there, the duo went into a back and forth over the fact that both Manchin and Sinema were indeed Democrats:
CUOMO: That's your opinion.

LEMON: No, they are Republicans, come on.

CUOMO: No, that's your opinion. They're both Democrats.

LEMON: That's not an opinion. Just look at the way they vote.

CUOMO: They are both Democrats. There's a "D" after their name. That's the fact.
"I see them as Republicans. Maybe you're right. I see them as Republicans. They're acting as Republicans," Lemon scoffed.
This hostile snipping on behalf of progressive Democrats and the Biden administration was made possible because of lucrative sponsorships from Unilever on Prime Time and Tractor Supply Co. on Don Lemon Tonight. Their contact information is linked so you can tell them about the biased news they fund.
The relevant portions of the transcripts are below, click "expand" to read:
CNN's Cuomo Prime Time
September 29, 2021
9:02:46 p.m. Eastern

(…)

CHRIS CUOMO: They keep asking the moderates in the House and the two key senators, Manchin and Sinema to negotiate. "Tell us what you like. Tell us what you don't like. Give us a number or even if you can't do that, give us assurances that you are with us on the bones so that we can finish a deal in good faith."

They have gotten none of those from the Senators or in the House as far as we know. Certainly with the Senators. So much so that some are now referring to the two senators, Manchin and Sinema as Manchinema. I say they may soon be known as Manchenema because they are really sticking it to their party.

(…)

9:05:51 p.m. Eastern

CUOMO: So Sinema and Manchin say they that won't support the price tag as is. Okay. So, give another number.

I think there is another question though that the Senator is going to have to answer at some point. Is this just about the price or who would be paying it? Is Senator Sinema more concerned about her big pharma friends and corporate lobbyists that fill her coffers than her regular constituents? I think that's a real question.

(…)

9:09:21 p.m. Eastern

CUOMO: I wouldn't ask you to speculate except right now. You have to give me an idea of what you're hearing about what's going on with Sinema. Do you believe there's teeth to this: she gets a lot of money from big pharma, they don't like what you're doing with prescription drugs; she gets a lot of money from big money, they don't like that you want to raise corporate taxes; so she doesn't like the funding mechanisms; therefore, she can't go for the bill?

REP. RO KHANNA (D-CA): Chris, as tough as I've been on Senator Sinema, I never question a person's integrity without actual facts and evidence.

(…)

9:12:51 p.m. Eastern

CUOMO: Well remember, you don't need me to tell you this, but this is the state of play in the country right now. If you guys don't get this done with the numbers that you have and the buy-in from the American people, you are going to have problems in the midterms. You know that. Congressman Ro Khanna, we're watching it every step of the way. You will keep having this platform to let us know what's happening and why. Good luck doing the work of the people.

(…)

Don Lemon Tonight
10:05:16 p.m. Eastern

CUOMO: But you look what is happening in Washington. You know, you have the Democrats; they're making their own problems. We're going out of our way to do it in this society --

LEMON: Well, it's not necessarily -- Democrats, yes, but you also have two Republicans in the Democratic Party who are making problems for the Democrats, and that's Manchin and Sinema.

CUOMO: That's your opinion.

LEMON: No, they are Republicans, come on.

CUOMO: No, that's your opinion. They're both Democrats.

LEMON: That's not an opinion. Just look at the way they vote.

CUOMO: They are both Democrats. There's a "D" after their name. That's the fact.

LEMON: Okay. All right.

CUOMO: Don't let it get in the way of your opinion. I don't want you to be burdened by that. Sorry. I shouldn't have brought it up.

LEMON: I see them as Republicans. Maybe you're right. I see them as Republicans. They're acting as Republicans.

CUOMO: All right.

(…)