It turns out the ABC, CBS and NBC evening news shows won't show you polls that show the majority of the American voters feeling better off now under President Donald Trump's economy than under former President Barack Obama's economy.
But they do love parading around questionable polls showing Trump losing the election by double digits.
Gallup released jaw-dropping news October 7, the day of the vice presidential debate. A new poll, taken between September 14-September 28, showed that 56 percent of registered voters said that "they are better off now than they were four years ago, while 32% said they are worse off." That's a 24 percent disparity. 
For context, this means that despite a pandemic and an economic downturn artificially created by state shutdowns, a "clear majority" of voters believe they are in a better position today than they were in the last year of former President Barack Obama's administration in 2016. But it gets even more interesting. In the same poll taken in 2012 between December 14-December 17, only 45 percent of registered voters felt the same way, right after Obama's reelection just over a month earlier. [Emphasis added.]
But guess what! This poll has received no coverage from ABC World News Tonight, CBS Evening News and NBC Nightly News either in the evening hours before the 9:00 p.m. debate October 7, or the evening after. That's a two-night media blackout.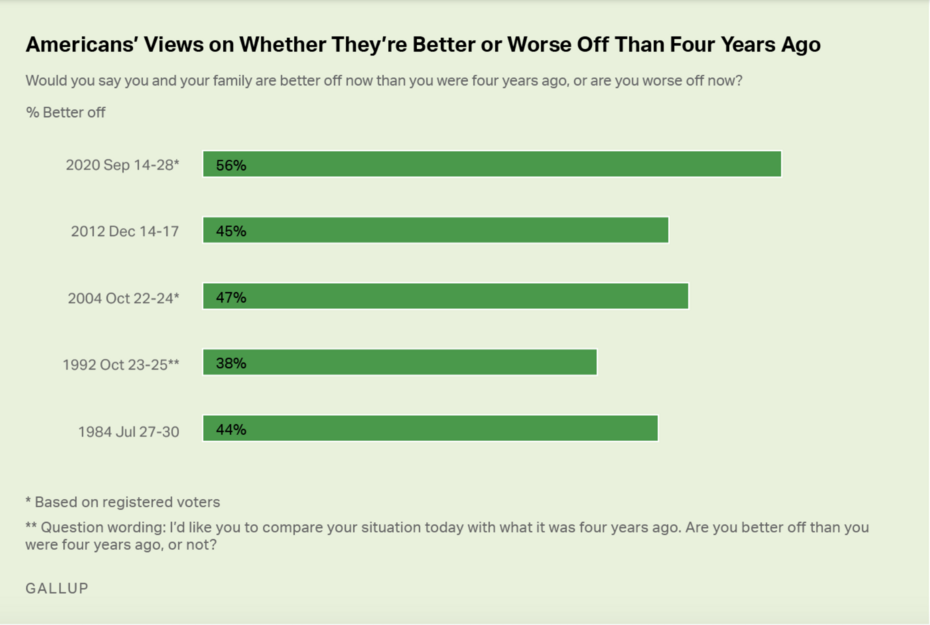 Daily Wire Editor Emeritus Ben Shapiro took to Twitter to highlight the significance of this poll's results, and why it's telling that the ABC, CBS and NBC evening news shows chose to ignore giving this coverage. Shapiro tweeted, "This is a stunning statistic. In a normal time, the president would be cruising to re-election on the basis of this poll data alone."
But the networks will do their best to insulate their candidate Joe Biden from legitimate criticism. 
ABC World News Tonight, in particular, did find the time October 8, to provide cover for Democratic presidential nominee Joe Biden's chilling, dystopian statement: "You'll know my opinion on court-packing when the election's over." The same outlet also pushed the false history lesson on President Abraham Lincoln that Sen. Kamala Harris (D-CA) tried to lecture Vice President Mike Pence with when he grilled her on the court-packing question.
There seems to be a new trend of ignoring news when it doesn't serve the Big Three's left-wing electoral agenda.
Just recently, the three evening networks protected Biden from a scathing Tax Foundation report released the day of the first presidential debate. The report found that Biden's tax plan would lead to a loss of 518,000 full-time jobs, a 1.47 percent contraction in GDP, a shrinkage in the capital stock by just over 2.5 percent and a reduction in the overall wage rate by a little over one percent. Also, "On a dynamic basis, the Tax Foundation's General Equilibrium Model estimates that the plan would reduce after-tax incomes by about 2.5 percent across all income groups over the long run." [Emphasis added.]
It's clear that the Big Three are vying for a Biden win in November, and they're willing to do anything to conceal news from viewers that could potentially undercut that outcome.
Conservatives are under attack. Contact ABC News (818-460-7477), CBS News (212-975-3247) and NBC News (212- 664-6192) and demand they report Gallup's latest poll.
MRC News Analyst Nicholas Fondacaro contributed to this report.