Even before Indiana Governor Mike Pence was selected as the GOP vice presidential candidate, all three broadcast networks instructed viewers that he was a "staunch conservative" and "social conservative" who was "popular with the Tea Party."
But those same networks are now advertising Virginia Senator Tim Kaine, Hillary Clinton's choice to be the Democrats' vice presidential candidate, as a "centrist" and "moderate," even though Kaine is as far to the left as Pence is to the right.
The American Conservative Union has been rating members of Congress for decades. During his 12 years in Congress, Pence earned a near-perfect 99% conservative score from the group. As for Tim Kaine, his three years in the Senate have earned him a zero rating, meaning he never once voted as conservatives would wish.
For comparison purposes, Hillary Clinton earned an 8% rating during her 8 years in the Senate, while Bernie Sanders lifetime ACU score is 6%.
For its part, the liberal Americans for Democratic Action have approved of Kaine's votes 88% of the time, compared to just 4% of the time for Pence.
But on Friday night's CBS Evening News, correspondent Nancy Cordes claimed Kaine was a moderate: "The choice of a moderate like Kaine could disappoint Bernie Sanders' voters, who preferred more liberal finalists like [Elizabeth] Warren and Ohio Senator Sherrod Brown."
Saturday morning on ABC's Good Morning America, co-host Dan Harris described Kaine as "a moderate, not a liberal." Friday on NBC's Today, Chuck Todd worried Kaine was "too centrist" to be accepted by supporters of the far-left Bernie Sanders.
As Kaine has been considered by Clinton, ABC, CBS and NBC reporters have never once labeled him as "liberal" or "progressive."
Before Pence's selection last Friday, those same reporters had (correctly) affixed the "conservative" label to the Indiana Governor 18 times. In the week that followed, he received another 22 labels, for a total of 40 such ideological labels this month.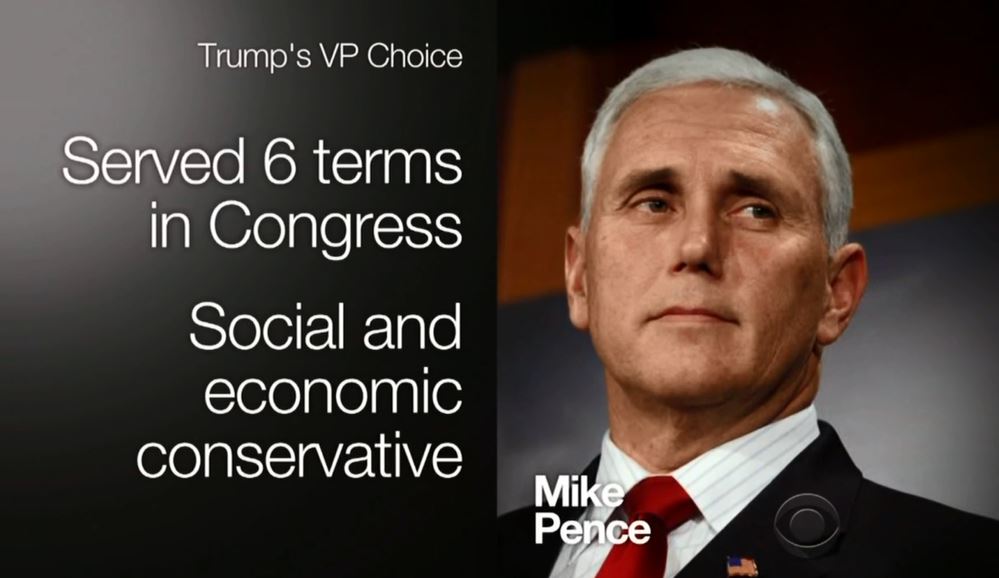 "A social conservative and former congressman, Pence has friends in high places, including House Speaker Paul Ryan," NBC reporter Katy Tur announced on the July 12 Nightly News. On the July 14 CBS Evening News, after leaks began to circulate that Pence had been officially chosen, correspondent Major Garrett said Pence had "carved out a record of social and economic conservatism that Tea Party Republicans fancied long before they became a force within the GOP."
During a Friday night special report on Kaine's selection, ABC's Cecilia Vega claimed the Democrat was a "devout" Catholic. Viewers might have appreciated a little context to that claim: In 2014, the National Abortion Rights Action League gave Kaine a perfect 100% pro-abortion score — not exactly the voting record of a strict Catholic.
And, according to The Hill, during an MSNBC appearance Friday night, Planned Parenthood President Cecile Richards said Kaine had also earned a 100% rating from her group as well, adding "he's been not only a solid vote but really an ally."
It's true that the ultra-left of the Democratic Party is grumbling over Kaine's selection. But a fair reading of his record puts Kaine solidly in the liberal camp, right alongside his new boss, Hillary Clinton — and reporters need to tell it like it is.