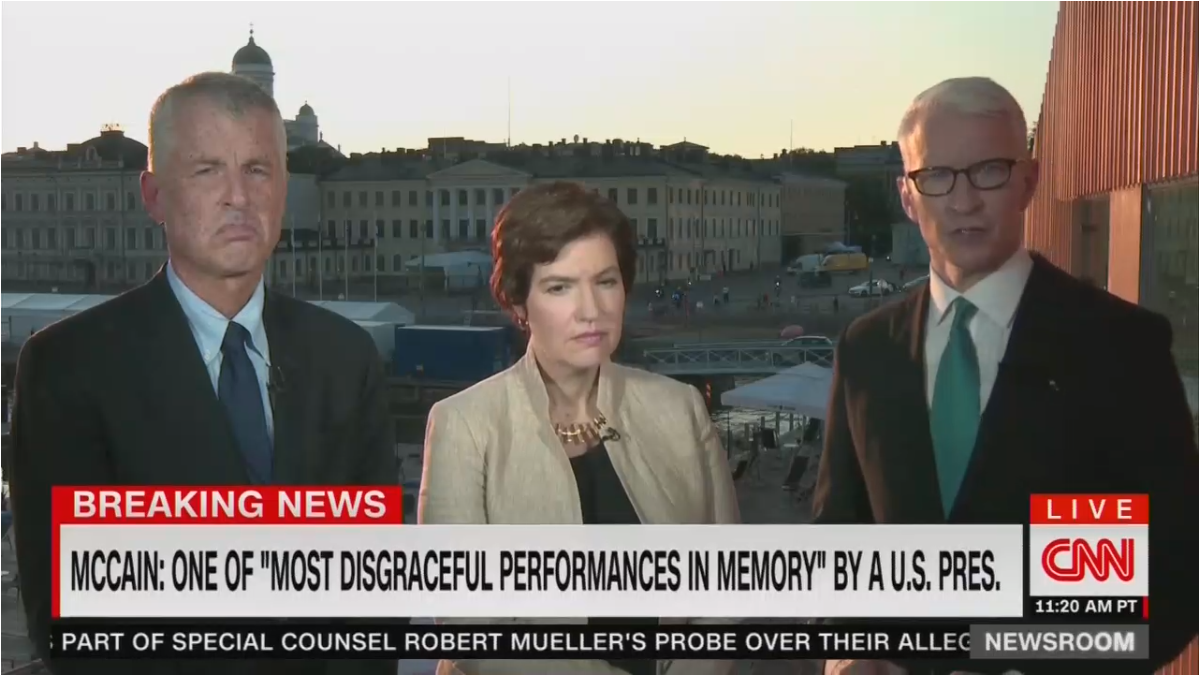 In a disturbing declaration during Monday's CNN Newsroom following President Trump's controversial press conference with Russian President Vladimir Putin, CNN analyst and former CIA/FBI official Philip Mudd called for a self-appointed "shadow government" to step forward and counter the democratically elected one. He then had the audacity to complain about "Trumpianism" fighting Americanism.
Fresh off of declaring the Trump-Putin press conference "one of the most disgraceful performances" by an American president, AC360 host Anderson Cooper completed the CNN's feedback loop by touting Arizona Republican Senator John McCain saying the same thing. He then turned to Mudd and asked if he agreed.
Of course, Mudd did but his next concern was in regards to who was going to step up to oppose the President. "You have seen senators come out. In the past, we have seen the senator who is in the midst of a painful illness, Senator McCain. Senators like Jeff Flake who are leaving the Senate. Now you see Marco Rubio still, obviously, in the fight speaking out," he boasted.
He spoke glowingly about how there were many people at different levels of government who were saying and doing things contrary to the President. "Curious point in American government. When do we see almost a shadow government come out and say, 'We cannot side with the government, whether its cabinet or the Senate.' I think that's the big question," he opined.
A short time later, Cooper started spouting off about how Trump didn't really know what he was doing because he never reads his briefings and dubbed him an embarrassment to the country:
Nobody around the President knows what he is going to do. They give him briefing papers. He doesn't read them. He goes exactly what he thinks. He goes with his gut. His gut might have gotten him elected president but it certainly embarrasses the country on the world stage.
Cooper would go on to suggest that President Trump had sullied President Reagan's "shining city on a hill." and proclaimed that the world could no longer count on America to "speak truth to power, to raise human rights, to stand tall in the face of tyranny. You don't hear that from the United States now."
Playing off of Cooper, Mudd argued that President Trump had more in common with foreign despots than American values. "What's the message to you in that pattern? 'I trust people who think like I do. I don't like CNN and I don't like Democrats. These people can operate like I want to operate. The EU, the Canadians, the Mexicans can't. Let me side with people who don't represent American principles. But represent Trumpian principles,'" he said citing Trump's comments about such leaders.
"It's Trumpianism versus Americanism," Mudd bitterly spat. For all his whining about Trump being un-American, what about pushing for a "shadow government" is American?
The transcript is below, click "expand" to read:
CNN Newsroom
July 16, 2018
2:20:57 PM Eastern [1 minute 31 seconds]

ANDERSON COOPER: I want to bring in Susan Glasser, CNN global affairs analyst as well as Philip Mudd, CNN counter-terrorism analyst, he's also a former CIA and FBI official. Senator McCain saying most disgraceful display essentially by an American president on the world stage. Phil, do you agree with that?

PHILIP MUDD: I do. But I think you have to step back even just a short time after this and say what next? You have seen senators come out. In the past, we have seen the senator who is in the midst of a painful illness, Senator McCain. Senators like Jeff Flake who are leaving the Senate. Now you see Marco Rubio still, obviously, in the fight speaking out.

My question would be when do member of the President's inner circle start to say, "Look, we have an overseas dilemma where you are portraying, in terms of the American government, as worse than a tyrant, that is Vladimir Putin."

The Secretary of Homeland Security came out with statements this week about continued Russian interference. This was not on Obama's watch, that's this week. FBI Director continues the investigation. Department of Justice continues support for the investigation. Congress continues saying that this investigation is legitimate. Curious point in American government. When do we see almost a shadow government come out and say, "We cannot side with the government, whether its cabinet or the Senate." I think that's the big question.

(…)

2:23:06 PM Eastern [27 seconds]

COOPER: Let's be honest, the people around the President have no idea what the President is going to do from moment to moment. I mean, it's why you have the Press Secretary lying from the podium time and time again and having to backtrack saying, "I haven't spoken directly with the President about it." Nobody around the President knows what he is going to do. They give him briefing papers. He doesn't read them. He goes exactly what he thinks. He goes with his gut. His gut might have gotten him elected president but it certainly embarrasses the country on the world stage.

(…)

2:24:11 PM Eastern [1 minute 19 seconds]

COOPER: No, but you know, Phil, you think about the people who all around the world are living under tyrants, who are living in tyranny, who are imprisoned for speaking out, who have traditionally looked to the United States as, you know, what Reagan referenced us as "a shining city on a hill." And who look to the United States to at least speak truth to power, to raise human rights, to stand tall in the face of tyranny. You don't hear that from the United States now.

MUDD: Well, it's even clearer. Let's look at a simple pattern we've seen over 18 months. You look at people the President has praised. Duterte, murdering thousands of drug offenders without due process

COOPER: The president of the Philippines.

MUDD: That's right. You look at what's happened in Turkey. You look at happening in Egypt, both dictators that are taking more power. You look at the President praising the North Korean leader. You look at what happened with the Russian leader today, who has been involved in assassination of opponents, who doesn't like a free press, who doesn't like democratic opposition. And you contrast that with a President who says, "I don't like the G7 on trade policy and I don't trust the EU."

What's the message to you in that pattern? "I trust people who think like I do. I don't like CNN and I don't like Democrats. These people can operate like I want to operate. The EU, the Canadians, the Mexicans can't. Let me side with people who don't represent American principles. But represent Trumpian principles." It's Trumpianism versus Americanism.

(…)