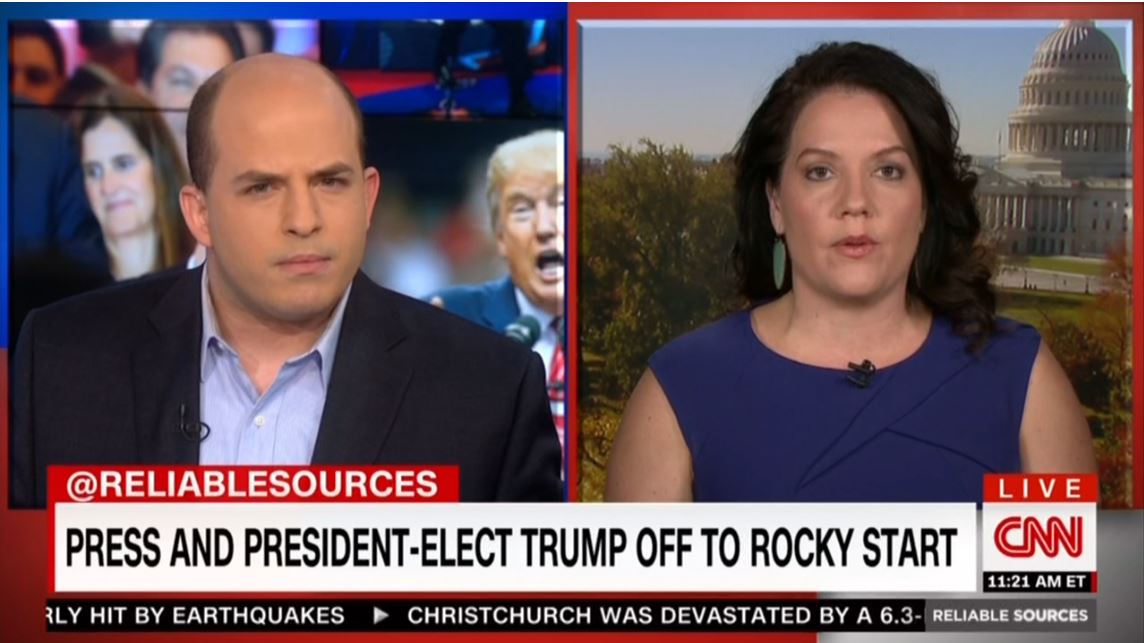 Following Donald Trump becoming the president-elect in a stunning upset, CNN's Brian Stelter was desperate to find a reason for Hillary Clinton's loss on Sunday's "Reliable Sources." He went so far as to wonder if the media was being too balanced during the election. The Federalist's Mollie Hemingway, winner of the Media Research Center's 2015 Noel Sheppard Award, seemingly fed up with Stelter's antics chided, "I guess what maybe you need to realize is that for a lot of people who don't share your political opinions that's what it [felt] like…the last eight years."
Hemingway's rebut of Stelter came towards the end of a fairly long segment were the CNN host was trying to figure out where the media went wrong during the election. "Because I believe there were a lot of journalists, most journalists, who were fearful of a Trump presidency who were engaging in wishful thinking believing he couldn't be elected," he first asked Hemingway.
She identified the media's bias as more than just "wishful thinking" as Stelter put it, they were actively betting and advocating for her, "They clearly and overtly and even told us they wanted Hillary to win and they gambled everything -- including their credibility, on defeating Donald Trump and electing Hillary Clinton and they lost." Stelter played coy and questioned her on who she was talking about.
"No body with eyes or ears could have any question what so ever in the media felt about Donald Trump, what they felt about his voters," she stated as she called the media out on their games, "So you had people in our newsrooms, in our major national media telling us things we knew were not true."
After a short discussion, Stelter wondered if the media was too balanced when reporting on Trump and Clinton, with "false equivalencies" being draw between their scandals. Hemingway shot down Stelter's ridiculousness quick, "The very term "False equivalency" should die in a fire, and the proof is that Donald Trump has been elected president." She pointed to the fact that the pubic vastly distrusts the media, but Stelter didn't buy it saying only "some" did because the popular vote was almost 50-50. He simply ignored a September Gallup poll showing that two thirds of Americas distrust the media. Two thirds is not "SOME," it's MOST.
The Federalist editor went on to scold the media for bullying people with different political opinions than theirs:
So, to talk about how unliked these candidates are, when we ourselves are loathed and detested for what we're doing and for how we bully people… They're deciding to quadruple down on everything they got wrong, disparaging people they don't understand, don't even seek to understand and continuing to avoid dealing with the fundamentals of this race, what people were motivated by, they're not even interested in it.
The panel seemed momentarily stunned by Hemingway's candor, but before long Stelter was showing off his bullying side.
<<< Please support MRC's NewsBusters team with a tax-deductible contribution today. >>>
As the conversation went on, Stelter brought up how hostile Trump was to media, and how it was unbecoming of a president to be that way with the press. Hemingway reminded him that President Barack Obama was the same way with Fox News. He snapped at her, and scolded her for saying Obama did it most of the time. Stelter seemed to have conveniently forgot how Obama tried to kick Fox News out of the White House press pool, before other outlets stepped in.
Hemingway seemed to have had enough of Stelter masquerading as an objective journalist, and unloaded on him and the rest of the media:
Okay. I guess what maybe you need to realize is that for a lot of people who don't share your political opinions that's what it feels like. What you're going through right now is what it felt like for the last eight years. And so to go to our fainting couches when Donald Trump points out The New York Times completely crapped the bed this cycle. They should be apologizing for how they covered it, their headline the day after the election was a joke saying that it was all about foreigners and allies, Democrats very concerned about the victory after Donald Trump won the presidency. I mean, this is a joke!
Transcript below:
CNN
Reliable Sources
November 13, 2016
11:04:48 AM Eastern

…

BRIAN STELTER: There's a media and then there's an anti-media and I want to get into that as the hour rolls on here. Mollie, I want to ask you a question about this. I want to know from you, as a conservative writer at The Federalist, how much of this do you chalk up to wishful thinking? Because I believe there were a lot of journalists, most journalists, who were fearful of a Trump presidency who were engaging in wishful thinking believing he couldn't be elected and that's partly why so many viewers were in shock on Wednesday morning to wake up to President-Elect Trump.

MOLLIE HEMINGWAY: Yes, this was a complete failure at every step of the process during this entire campaign. The media definitely -- they clearly and overtly and even told us they wanted Hillary to win and they gambled everything -- including their credibility, on defeating Donald Trump and electing Hillary Clinton and they lost and now where does that leave everybody?

STELTER: Who is the "They" you're referring to?

HEMINGWAY: The New York Times had on the front page of their paper in the middle of August that you couldn't give Donald Trump a fair shake. No body with eyes or ears could have any question what so ever in the media felt about Donald Trump, what they felt about his voters. Even something as simple as-- for some reason people in Washington and New York newsrooms had a really high view of Hillary Clinton that was unmatched in the entire rest of the country, so you had people in our newsrooms, in our major national media telling us things we knew were not true. I don't know what the media can do now to regain its credibility.

…

STELTER: Many different factors. Is one of them, Jeff, a false equivalence, the idea that Hillary Clinton's e-mails and other controversies were treated as THE SAME as Trump's MANY misstatements and offensive remarks?

JEFF GREENFIELD: I certainly think in terms of coverage that's true but I think the other part was that the normal way that I've always assumed the press worked -- it's described in a book called "The Gamble, Rise, Scrutiny Decline" the press reveals fact that damage a candidate, the public says, no, we can't accept that candidate. I think to some extent what a lot of us -- me, thought were disabling aspects about Trump -- his supporters said no, that's him and we're so desperate for change that we're going to go with him. So I'm not sure I buy the false equivalency except in terms of the quantity of the coverage.

STELTER: Mollie what do you think?

HEMINGWAY: The very term "False equivalency" should die in a fire, and the proof is that Donald Trump has been elected president. This is another thing the media kept pushing, the idea that to talk about Hillary Clinton compromising national security for her own personal gain was some false equivalency with all these horrible things that Donald Trump had done. The people aren't buying what the media are selling anymore and it's something that goes quite beyond just the coverage of this campaign, but going back to previous elections where people have so clearly put their fingers on the scale, media people have put their fingers on the scale in support of one candidate over another. And I just-- it alarms me to even hear this term used again after what we learned on Tuesday.

STELTER: Can I add a word to what you said? You said people don't trust the media. I would say SOME. People. Do. Not. There's a divide in this country and it mirrors the electoral divide. This was a 50-50 election.

HEMINGWAY: Liberals do definitely trust the media and why shouldn't they? They get everything they want to hear from liberals. Conservatives don't and the media in general have lower approval ratings than both Donald Trump and Hillary Clinton. So, to talk about how unliked these candidates are, when we ourselves are loathed and detested for what we're doing and for how we bully people. We take people's views and we bully them and people are sick of being bullied, they don't want to hear it and they're having to shout to get people to listen and the alarming thing is that a lot of people in the media aren't listening. They're deciding to quadruple down on everything they got wrong, disparaging people they don't understand, don't even seek to understand and continuing to avoid dealing with the fundamentals of this race, what people were motivated by, they're not even interested in it. This is alarming and the media need to wake up because it's actually a very important time to get our credibility back.

…

11:20:22 AM Eastern

STELTER: So let me ask all of you to react to this and talk about how Donald Trump is still using Twitter to his benefit. Molly, he says in a 60 Minutes interview (coming out later today), that he'll be restrained with Twitter but will continue to use Twitter and Facebook. Do you believe he's starting off on the wrong foot by making these comments against the Times and the media on Twitter?

HELMINGWAY: Again, I would say that after this week the question about whether Donald Trump is doing things right or wrong is much less interesting than whether the media is doing things right or wrong. And this kind of attack on the media is very common in presidential history. Just because we may like President Obama, we may forget he spent much of his presidency attacking Fox News. Bill Clinton attack right wing media--

STELTER [Cutting off Hemingway and raising his voice]: He did not spend much of his presidency attacking Fox News. He occasionally pointed out what he believed was unfair coverage from Fox.

HELMINGWAY: Okay. I guess what maybe you need to realize is that for a lot of people who don't share your political opinions that's what it feels like. What you're going through right now is what it felt like for the last eight years. And so to go to our fainting couches when Donald Trump points out The New York Times completely crapped the bed this cycle. They should be apologizing for how they covered it, their headline the day after the election was a joke saying that it was all about foreigners and allies, Democrats very concerned about the victory after Donald Trump won the presidency. I mean, this is a joke! I feel like it's a joke to not be taken seriously how bad the credibility problems for the media are and how openly hostile they have been to the current president. Now they need to cover him and they need to have people believe what they're saying and why would they? Why would they believe wat the media are saying after this cycle?

…