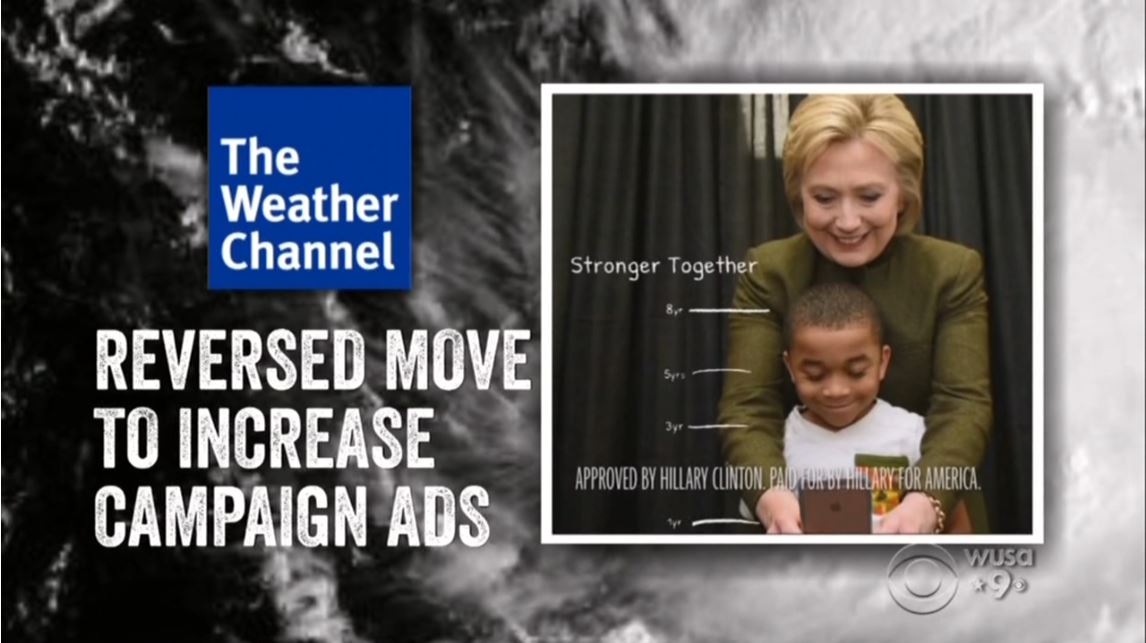 The Hillary Clinton campaign was caught in a rather humiliating blunder Thursday, as it was discovered that they bought air time on the Weather Channel in battleground states effected by Hurricane Matthew. Out of the only two networks to cover politics that evening only CBS had mentioned it, while ABC ignored it. "Clinton's camp had to sidestep an embarrassment of its own. Reversing a recent move to increase campaign ads on the Weather Channel," reported Major Garrett on CBS Evening News.
Garrett noted that the Clinton's campaign's 180 degree switch came after she was called out on twitter by the chairman of the Republican Party. "On Twitter, RNC Chairman Reince Priebus said Clinton was, "Exploiting Hurricane Matthew for political gain" and urged her to apologize," Garrett continued, before moving on to end his report.
ABC was the only other network to report about politics Thursday evening, and they ignored Clinton's snafu completely. Reporter Tom Llamas instead chose to do the beckoning of the Clinton campaign and run clip of the Democratic candidate's softer side on World News Tonight. Llamas highlighted a moment from a recent town hall event Clinton held where she appeared to have a heart-to-heart with a little girl about bullying. "Her campaign points to moments like that one, where she hugged that little girl, a personal connection with voters," Llamas touted.
Spanish-language network, Univision also got in on the act. During their brief coverage of American politics, instead of covering the Clinton campaign blunder, they chose once again to slam Donald Trump on his immigration policy.
Conservative commentator Charles Krauthammer gave a stunning rebuttal of Clinton's campaign tactics on Fox News' Special Report. "Her reputation as somebody of unbridled ambition, everything has to fall in the path of her ambition to ascend," he chided about the Clinton ad buys, "And to be talking about ad buys on a weather channel in a situation like this only reinforces that. That there is nothing there except ambition."
Anchor Bret Baier observed that Clinton's failed ad buy could hurt her in those critical states:
But, in all seriousness, this could effect, especially in those states, and those three states really, and you have got… really four, I mean you have got Florida, Georgia, South Carolina, a North Carolina. I mean, you're talking about a lot of people potentially affected, and it factors in this close to an election.
NOTE: NBC was not included in this analysis because they dedicated all of NBC Nightly News to covering Hurricane Matthew. 
Transcripts below:
<<< Please consider helping NewsBusters financially with your tax-deductible contribution today >>>

CBS
Evening News
October 6, 2016
6:47:06 PM Eastern

ANTHONY MASON: Just 33 day now until the election, three days to the debate between Donald Trump and Hillary Clinton. This one will be town meeting-style, with the candidates taking questions from both the audience and the moderators in St. Louis, Missouri. Here's Major Garrett.

[Cuts to video]

MAJOR GARRETT: After returning from a western campaign swing, Donald Trump spent part of Thursday prepping for Sunday's second presidential debate as he tries to right a listing campaign. Polls this week show Hillary Clinton ahead in battleground states, by five points in Florida, four points in Pennsylvania, three points in North Carolina, and 11 points in Colorado.

The race has tightened in Ohio, but Trump trails in Michigan, another Midwest state he hoped to make competitive. Complicating matters, a letter signed by 30 former Republican members of congress that branded the GOP nominee "Manifestly unqualified to be president," and urged other Republicans "Not to vote for this man, whose disgraceful candidacy is indefensible." The former lawmakers criticized Trump's call for a temporary ban on Muslim immigration, something running mate Mike pence said today no longer applies.

MIKE PENCE: Because, it's not Donald Trump's position now.

GARRETT: The Trump-Pence web site still shows the press release announcing the proposed ban. While Clinton also focused on debate prep, her running mate Tim Kaine tried to make the best of mixed reviews of his debate performance by needling Pence for sidestep many incendiary Trump positions.

TIM KAINE: I think there's a level of desperation in the Trump campaign right now.

GARRETT: Clinton's camp had to sidestep an embarrassment of its own. Reversing a recent move to increase campaign ads on the weather channel.

On Twitter, RNC Chairman Reince Priebus said Clinton was, "Exploiting Hurricane Matthew for political gain" and urged her to apologize.

[Cuts back to live]

Trump is here in New Hampshire for what amounts to a tune-up town hall in advance of Sunday's showdown with Clinton. Anthony, on Saturday Trump will be in Wisconsin at an event in the congressional district of House Speaker Paul Ryan, but it is unclear if Ryan, host of the event, and Trump will even appear together.

MASON: Major Garrett. Thanks Major. 
...
ABC
World News Tonight
October 6, 2016
6:43:42 PM Eastern [2 Minutes 18 Seconds]

DAVID MUIR: In the meantime, to the race for president, also being affected by this hurricane. The presidential candidates forced to respond to a potential natural disaster here, both candidates weighing in today, and you'll hear what they said. Also, the presidential debate commission tonight saying it is game on. The debate will go on, regardless of this hurricane. Here's ABC's Tom Llamas on the campaign trail.

[Cuts to video]

TOM LLAMAS: Tonight, in battleground Florida, Hillary Clinton and Donald Trump shutting down their campaign offices. For once, both on the same page. Clinton tweeting, "I urge everyone to follow emergency instructions and evacuate if you're told to." Trump warning, "If your home is in the path of the hurricane and you are being advised to leave, you need to do so right now." The storm comes with both candidates deep in debate prep. Trump screening video of the first show down. Aides wanted to point out his reactions under fire.

LESTER HOLT: You perpetuated a false claim—

HILLARY CLINTON: It does involve going after them online. Then, he called her miss housekeeping, because she was Latina.

LLAMAS: Trump being told he doesn't always have to get the last word in.

CLINTON: Donald supported the invasion of Iraq.

DONALD TRUMP: Wrong.

CLINTON: That is absolutely proved over and over again.

TRUMP: Wrong.

LLAMAS: His campaign has accused Clinton of using canned lines.

KELLYANNE CONWAY: Mrs. Clinton was there really trying to get out those five or six zingers that she had rehearsed for a number of days.

LLAMAS: But now, they're working on their own zingers for Trump, hoping he will deliver them. And tonight, Trump is test driving the debate's town meeting format in New Hampshire. His coach -- New Jersey governor Chris Christie. Trump's opponent, Hillary Clinton, has more experience fielding questions in town halls.

UNIDENTIFIED LITTLE GIRL: What are you going to do about all this bullying?

CLINTON:  Can you tell me a little bit more about why that's on your mind?

LLAMAS: Her campaign points to moments like that one, where she hugged that little girl, a personal connection with voters. But Clinton has a rough outing in a recent TV town hall. Tonight, she's deep in debate prep, and her team predicts she'll face a less testy Trump on Sunday night.

[Cuts back to live]

And David, tonight, both campaigns with an eye on Hurricane Matthew. The Clinton campaign hoping they change the voter registration deadline in Florida. The cutoff is next Tuesday. So far, no word if that's going to happen. David?

MUIR: Tom Llamas in New York City for us tonight. Tom, our thanks to you. 
...
Fox News
Special Report
October 6, 2016
6:54:02 PM Eastern

…

BRET BAIER: Charles? Debate go forward?

CHARLES KRAUTHAMMER: I think it has to. But, one side should not be seen as wanting to cancel, cause-- especially on the Trump side. He has talked about not participating before. People will say he chickened out or whatever. He didn't do that well. I think it would be wise to go ahead and leave it up to the debate commission.

But on the issue of the ads, I mean, I can't believe sometimes how ham handed the Clinton campaign is. As you said, you get a lot of eyeballs on the Weather Channel but if you are running around, trying to find the kids in the middle of a hurricane, those are going to be angry eyeballs. And, secondly, there is a national effect. Her reputation as somebody of unbridled ambition, everything has to fall in the path of her ambition to ascend. And to be talking about ad buys on a weather channel in a situation like this only reinforces that. That there is nothing there except ambition. It's a small item. It will be done by tomorrow. But, none the less, why would you even think about this?

BAIER: But, in all seriousness, this could effect, especially in those states, and those three states really, and you have got… really four, I mean you have got Florida, Georgia, South Carolina, a North Carolina. I mean, you're talking about a lot of people potentially affected, and it factors in this close to an election.

…