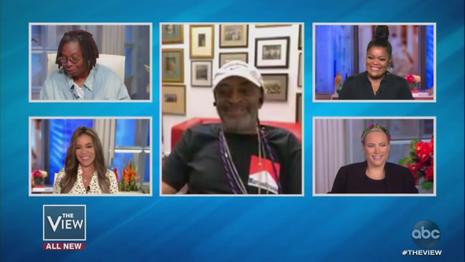 Filmmaker Spike Lee appeared on The View this week for another media appearance where he mocked black Trump supporters and downplayed "Uncle Joe"'s racist comment about black voters.
Just like on CBS earlier this week, the hosts didn't flinch at his bigoted comments towards blacks who don't share his political views.
The hosts were discussing Lee's new film on Netflix, "Da 5 Bloods" about black Vietnam War veterans who take a journey back to where they once fought. One of the characters is a Trump supporter. Co-host Meghan McCain asked the liberal filmmaker why he wrote that character into the movie:
"One thing I found fascinating is one of the veterans in the film is a Trump supporter. He even wears a make America great again hat. Given how you have spoken against Trump, why did you decide to write the character that way?"
Lee claimed it was the most divisive, "extreme" thing that could break a friendship:
Well, my co-writer and I, Kevin Willmott, we wanted to put some tension between these four guys that have this bond. As you know, when you are in a war in a battle, those guys with you, that's a bond that can never be broken. So in order to put some tension in the group, we thought of, what is the most extreme thing we can do? Delroy Lindo's character voted for Agent Orange.
Earlier this week Lee said this to Gayle King about black Trump supporters: "Well, there are some negroes that have drunk or will drink the Orange Kool-Aid that's coming in November, but it's a very, very small percentage."
It may come as no surprise that Lee would go on immediately after this to defend Joe Biden for his racist comment from a few weeks ago. Guest co-host Yvette Nicole Brown asked him what he thought about it, (after the hosts conveniently forgot to ask Biden's adviser about it when she was on the show this week):
"So listen, Joe Biden recently told Charlamagne tha god in an interview if you vote for Agent Orange, you ain't black. What did you make of that?" she asked. Lee dismissed the comment as just "Uncle Joe" making a meaningless "mistake":
"Well, I think that Uncle Joe knows that he misspoke. He got a lot of phone calls about that, and he will not be making that mistake ever again in his life," he remarked casually. Whoopi then began to chuckle and all the other hosts joined in giggling. Lee went on to laugh about the "Uncle Joe" moniker and began singing the "Petticoat Junction" theme song.
Earlier in the interview, co-host Sunny Hostin repeatedly urged Lee to go off on race issues. She fawned over Colin Kaepernick, saying he "deserves his job back, He deserves backpay. He deserves a Nobel Peace Prize!" and asked Lee what he thought Kaepernick "deserves" from the NFL.
Hostin also urged Lee to tout how we should defund the police. Lee went back to his "Agent Orange" comments about President Trump, echoing Joy Behar's loony theory that it was Republicans and Trump who were "twisting" the left's message, (instead of leftists doing it to themselves). Lee also falsely claimed that Kaepernick's kneeling was never about the flag/anthem, when in fact Kaepernick himself admitted he was protesting the anthem, in 2016. Yet Lee still said:
I think that once again, Agent Orange is trying to change the narrative and make people think that defund the police means we don't need police at all. So words are important, and they use semantics and get the message twisted, the same way Agent Orange did that to Colin Kaepernick by saying him kneeling was disrespecting the United States armed forces and the flag which was a boldfaced lie.
Read a transcript below of the relevant portions:
The View

6/12/20

MEGHAN MCCAIN: Yes, and I think it's an incredibly important film and I applaud you for making it. One thing I found fascinating is one of the veterans in the film is a Trump supporter.

LEE: Yes.

MCCAIN: He even wears a make America great again hat. Given how you have spoken against Trump, why did you decide to write the character that way?

LEE: Well, my co-writer and I, Kevin Willmott, we wanted to put some tension between these four guys that have this bond. As you know, when you are in a war in a battle, those guys with you, that's a bond that can never be broken. So in order to put some tension in the group, we thought of, what is the most extreme thing we can do? Delroy Lindo's character voted for Agent Orange.

MCCAIN: That's interesting, yes.

LEE: As you can tell, I don't say his name.

YVETTE NICOLE BROWN: I understand. I have a name for him as well.

WHOOPI: Me--

LEE: A name you probably can't say on the air.

YVETTE NICOLE BROWN: Listen. Listen. We do what we can, right?

WHOOPI: That's right.

YVETTE NICOLE BROWN: So listen, Joe Biden recently told Charlamagne Tha god in an interview if you vote for Agent Orange, you ain't black. What did you make of that?

LEE: Well, I think that Uncle Joe knows that he misspoke. He got a lot of phone calls about that, and he will not be making that mistake ever again in his life.

WHOOPI: Yeah.

[all hosts chuckle]

This is true. This is true.

[Lee starts singing the 'Petticoat Junction' theme song about "uncle Joe"]