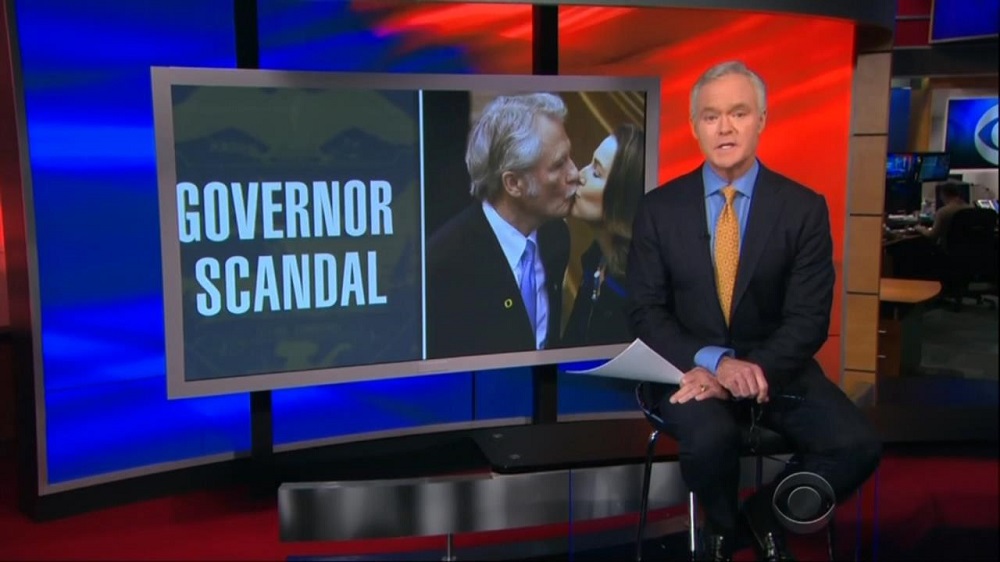 Friday's CBS Evening News and ABC's World News Tonight both devoted less than half a minute each of air time to the resignation of the Democratic governor of Oregon, John Kitzhaber. CBS's Scott Pelley failed to provide Kitzhaber's party ID during his 20-second news brief: "Four-term Oregon Governor John Kitzhaber said today he is stepping down, amid a growing scandal. His fiancée, Cylvia Hayes, is being investigated for allegedly using their relationship to land contracts for her energy business. Kitzhaber says he broke no laws, but he understands now he's a liability." [video below]
By contrast, ABC's David Muir gave the outgoing politician's political affiliation during his 17-second brief:
DAVID MUIR: Back here at home, a developing story in the West tonight: Oregon Governor John Kitzhaber resigning from office today over a corruption scandal involving his fiancée. She's accused of using their relationship to win consulting contracts, and not reporting income tax – the Democrat one month into his fourth term – the state's longest-serving governor there.
The same evening, NBC Nightly News stood out among the Big Three network evening newscasts for airing a full report from correspondent Hallie Jackson on the scandal. Like Muir, Jackson mentioned the governor's party identification:
LESTER HOLT: It's been a wild week of drama in the State of Oregon – culminating tonight with the resignation of a four-term governor caught up in a scandal involving his fiancée.

NBC's Hallie Jackson is in the state capital of Salem.

HALLIE JACKSON (voice-over): He hasn't been seen in public for days; and apparently, saw no reason to face his constituents even this afternoon – announcing his resignation only in an audio statement.

GOV. JOHN KITZHABER, OREGON: Nonetheless, I understand that I have become a liability to the very institutions and policies to which I've dedicated my career – and, indeed, my entire adult life.

JACKSON: In defiant remarks, Governor John Kitzhaber blamed what he called a media frenzy, insisting he will be cleared in two investigations involving his fiancée, Cylvia Hayes, who he calls his 'first lady.'

CYLVIA HAYES: I apologize deeply for my actions and omissions.

JACKSON: The Oregonian reports Hayes tried to leverage her personal relationship with the governor to make money from firms trying to business with the state. Yet another controversial headline, after the revelation she broke federal law two decades ago by accepting money for a green-card marriage.

HAYES: There are serious consequences. I made a very serious mistake.

JACKSON: The tipping point: a criminal investigation, opened just this week that had even Kitzhaber's fellow Democrats reconsidering their support.

STATE REPRESENTATIVE TINA KOTEK, (D), OREGON HOUSE SPEAKER: I think the situation over the last couple days has really indicated his inability to focus on his job, and has undermined his ability to govern.

JACKSON: Now, the governor's 35-year career in public service – reduced to a single sentence as he steps down – Secretary of State Kate Brown ready to step in.

LEN BERGSTEIN, POLITICAL ANALYST: To the extent he's angry, frustrated – really, you know – and he feels betrayed – I think that there's a lot of that emotion going on both ways.
The correspondent ended the one minute and 54-second segment by spotlighting how Oregon Secretary of State Brown "will become the nation's first openly-bisexual governor."
Previously, the Big Three networks ignored the Kitzhaber story on their Thursday evening and Friday morning newscasts. Their minimal coverage, as of Friday evening, stands in stark contrast to the 88 minutes of air time between January 8 and the morning of January 10, 2015 on the Bridgegate scandal surrounding Republican New Jersey Governor Chris Christie.