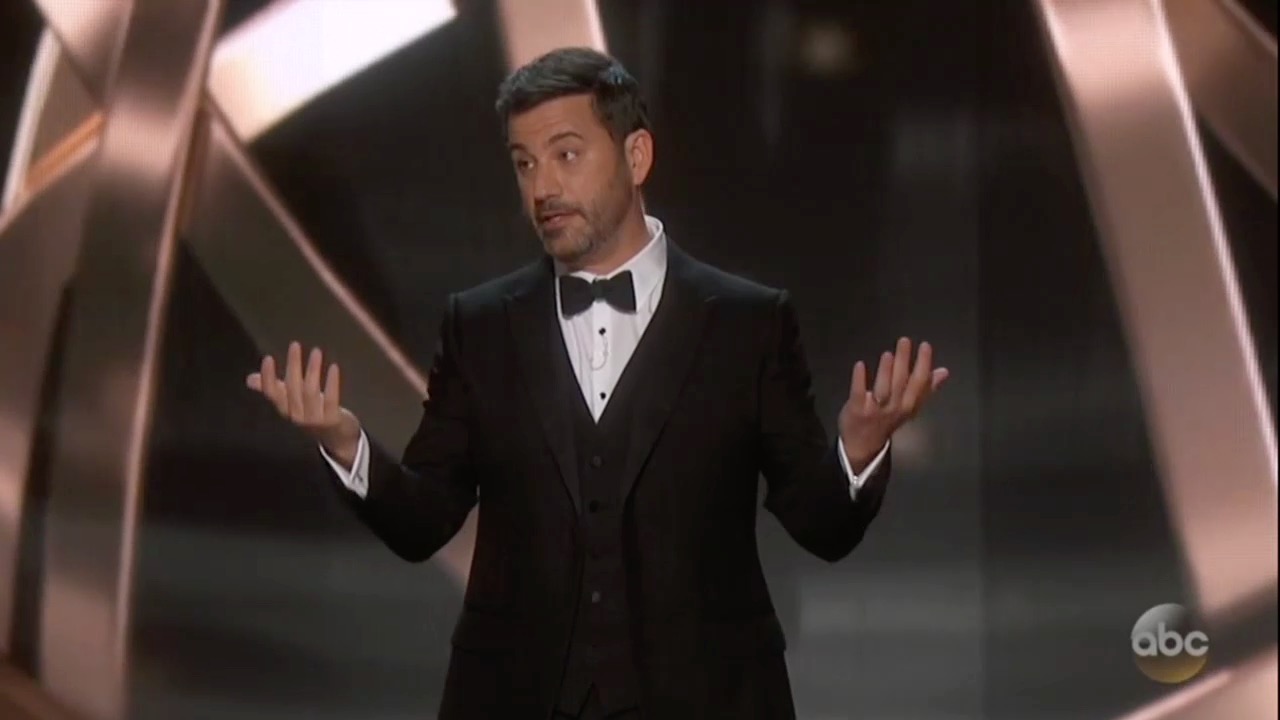 The 68th Primetime Emmy Awards host Jimmy Kimmel dutifully proclaimed that this year's award show was "the most diverse ever." But, much like last year's show, diversity means liberal Hollywood's brand of in-your-face transgender agendas, feminist themes, Hillary support, and Trump bashing. 
The show began with a pre-taped skit showing host Kimmel trying to find a ride to the awards ceremony. Several different actors appeared with him and it even included former Republican presidential candidate Jeb(!) Bush. Bush was cast as a limo driver chauffeuring Veep star Julia Louis-Dreyfus as the special passenger. 
Bush: Plenty of room up front. 

Kimmel: Thank you. You're a lifesaver. You're driving? 

Bush:  I'm in between jobs right now. You know you can make $12 an hour driving for Uber? 

Kimmel: I did not. But I have to get downtown for the Emmys. 

Bush:  Are you nominated? 

Kimmel:  Yeah. 

Bush:  What's that like? 

Kimmel:  It's nice. 

Bush:  You think you can win? 

Kimmel:  There's a lot of competition. And, probably not. 

Bush:  Here's what I know. If you run a positive campaign, the voters ultimately will make the right choice. 

Kimmel:  It's funny you say that, my psychic said -- 

Bush:  Jimmy, that was a joke. Get out of the car. And shave that wig off your face you godless Hollywood hippie. Jeb exclamation point!
Unsurprisingly, Donald Trump was a big theme of the evening. Aziz Ansari bombed with an attempted joke about deciding to support Trump and getting "rid of all Hispanic and Muslim actors." While ultra-liberal Louis-Dreyfus apologized for her role on Veep: "I'd like to personally apologize for the current political climate. I think that Veep has torn down the wall between comedy and politics. Our show started out as a political satire, but now seems like a documentary. So, I certainly do promise to rebuild that wall and make Mexico pay for it."
On the "Trump phenomenon," Kimmel blamed reality TV - in particular, famed producer Mark Burnett - for giving us his candidacy.
Kimmel: Television brings people together, but television can also tear us apart. If it wasn't for television, would Donald Trump be running for president? No. He would be at home right now, quietly rubbing up against his wife, Malaria, while she pretends to be asleep. Many have asked, who is to blame for the Donald Trump phenomenon? I'll tell you, because he's sitting right there. That's right, that guy. Mark Burnett, the man who brought us "Celebrity Apprentice." Thanks to Mark, we don't have to watch reality shows anymore, because we're living in one. Thank you for coming all the way from England to tear us apart with your intricate plot, it worked. You sneaky little crumpet muncher. I'm going on the record, he's responsible if Donald Trump gets elected, and he builds that wall, the first person we're throwing over it is Mark Burnett. The tribe has spoken. 
Yes, Kimmel called Mrs. Trump "Malaria" instead of Melania. It was a classless snarky slight. 
Melania got another mention when Sterling K. Brown won for his role in FX's The People V. O.J. Simpson. He awkwardly began his acceptance speech by joking, "So, I was talking to Melania Trump this morning, I was asking her, if I win, what should I to? What should I say? ...I don't know Melania Trump." 
Hillary Clinton should be pleased with the show, as she received a heavy dose of shout-outs and support from her pals on the liberal Left Coast. Courtney B. Vance (another People V. O.J. winner) left the stage to big applause after finishing his acceptance speech with: "Obama out, Hillary in." 
When Saturday Night Live comedienne Kate McKinnon won the award for Best Supporting Actress for playing Hillary Clinton, among others, on that show, she said, "Thank you, Hillary Clinton!" The Hillary campaign responded on Twitter:
Congratulations on your Emmy, Kate! Big fan of yours, too. pic.twitter.com/w00QO1GwyH

— Hillary Clinton (@HillaryClinton) September 19, 2016
Twitter was keeping up with the banter and noting the "winners," too.
Feminism and anti-capitalism (and clones and hackers) win the #Emmys and everything is right with the world

— Stefanie Iris Weiss (@EcoSexuality) September 19, 2016
The person who took the cake, though, was Transparent director Jill Soloway. She rambled on about a laundry list of liberal special interests from feminists to transgenders and ended her acceptance speech with "Topple the patriarchy!" What? As the Emmys clearly showed, the acknowledgements were abundant for all but the majority of Americans – heterosexuals. 
Announcer: This is the second Emmy win and ninth nomination for multiple nominee this year, Jill Soloway, also nominated for producing. She brought home her first Emmy last year for directing an episode of "Transparent". 

Soloway:  Holy crap! Yeah. All right. Wow. People ask me if it's hard to be a director, and I tell them, no. Life is very hard. Being a good partner, mother, being a good person is hard. Being a good director is so -- easy, I get to make my dreams come true. It's a privilege, and creates privilege, when you take people of color, women, trans people, queer people, as the subjects of stories, you change the world, we found out. We found out. 

So I want to thank you, my sweet Jeff Bezos, because you changed the world, and invited me to do this thing that these people call television, but I call a revolution. I've always wanted to be part of a movement. This TV show allows me to take my dreams about unlikable Jewish people, queer folk, trans folk, and make them heroes. Thank you to the trans community for lived lives. Stop the violence against transgender women. Topple the patriarchy!
It's not television – it's a revolution! Only in Hollywood, is a hero defined by sexuality and gender identity.