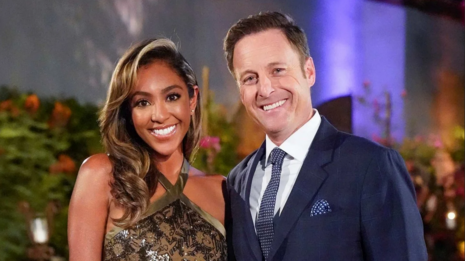 Bachelor Nation hypocrisy has come full circle as the last Bachelorette Tayshia Adams both defended and condemned show host Chris Harrison. 
Season 25 of The Bachelor became more interesting off-screen than on-screen when racism and unmerited scandals entered the picture. Last week, Chris Harrison, long-time host of The Bachelor, stepped down from his position after fans clobbered him for so-called "racism." Harrison had defended a contestant, Rachel Kirkconnell, against allegations of racism which, according to the Twitter mob, was the wrong thing to do.
Over the last couple of weeks, the ongoing saga has brought to light many different speculations from former and current The Bachelor franchise cast members. Some have been appreciative of Harrison's apology while others said his apology would not be complete without him leaving the program permanently.
During Thursday's episode of the 'Click Bait With Bachelor Nation' podcast, last season's Bachelorette, Tayshia Adams, who is black, expressed her appreciation for Harrison's apology, saying, "I think after reading his apology there's a few things that stuck out to me, it hit my heart a little bit more to know he actually meant what he was saying." 
Adams referenced several parts of his apology including one which cut to the heart of the mass misinterpretation that got Harrison canceled. "He said, 'By excusing historical racism I defended it,' which is the absolute truth, and the fact that he called that out and owned up to that and he acknowledges that, means a lot to me," said Adams.
She also condemned Harrison's defense as "full of arrogance" and claimed she "absolutely" thinks his decision to leave the show was "the right move." In the same breath, she offered him grace similar to what Harrison tried to offer Kirkconnell. "Look, people make mistakes," she said. "But this is the thing. I feel like we have to allow people to prove us wrong and prove themselves." 
In case listeners were confused about whether Adams was subtly defending Harrison, she tried to cover her tracks by adding, "I am not excusing any wrong that anyone has done. There was a lot of hurt behind his actions and Rachel's actions... but what I am trying to say is how are we going to better the world, how are we going to better ourselves if people don't give us the chance to do that and prove that." But unlike Harrison, Adams will never be canceled over such things in part because she covered her tracks and in part because she identifies as black and Mexican so she can speak on racism.
In Adams' eyes, Harrison's chance to "prove himself" began with his ridiculous apology but does not stop there. He must show that he is ashamed of his behavior. To regain respect and approval, Harrison must be a weak man, take his undeserved beating, and re-educate himself on the intricacies of racism that he does not understand. Once he comes back from 'rehab for racists' he can rejoin the vanguard of progressive society and hopefully one day Bachelor Nation. Although, cancel culture is the most unforgiving weapon lately.
Will he ever come back? Anything is possible at this point. Adams and her fellow podcasters were hopeful but only time and the trolling mob can tell.