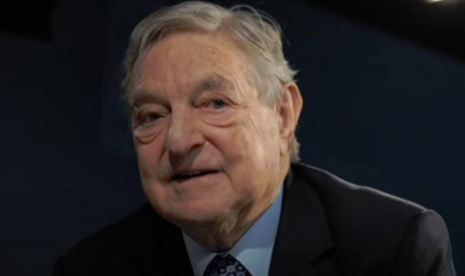 Leftist billionaire George Soros is at it again. One of his organizations funneled millions into a radical leftist group seeking to defund the police.
Soros's Foundation to Promote Open Society gave at least $4 million to the Community Resource Hub for Safety and Accountability (the Hub) between 2019 and 2020 through the "dark money" group New Venture Fund (NVF). NVF is "the largest 501(c)(3) nonprofit in the network of four nonprofits created and managed by Arabella Advisors, a Washington, D.C.-based philanthropy consulting company that caters to major foundations and organizations on the political [l]eft," according to Influence Watch. The Hub "houses and staffs" the website known as DefundPolice.org. The website bills itself as a "comprehensive web resource" for "organizers [to] find everything they need for their campaign to defund police in one place." 
But that's not even the most damning part. The DefundPolice.org website is a project done in collaboration with the Movement for Black Lives (M4BL), a "unifying umbrella organization to coordinate [Black Lives Matter] activism and move towards concrete policy goals," which includes "racial reparations," according to Influence Watch. DefundPolice.org promoted a "#DefundPolice" document by Interrupting Criminalization, a M4BL member. One of the "resources" the document provided was headlined, "We Charge Genocide, Questions for Chicago Police Deprtment (2014).'' In addition, the DefundPolice.org project also listed the extremist group Black Lives Matter Canada as a collaborator, which is also promoting its own campaign to "defund" and "disarm'' Canadian police.
The Daily Mail, which made the connection between the Hub and Soros, analyzed the Hub's reach across the United States to help leftists target local police:
The [Hub's] website offers more than 700 resources, including research, data, reports and tools to progressive activists around the US pushing to defund local law enforcement agencies as part of a concerted effort to reform the criminal justice system and address systemic problems with policing in America.
The Hub even maintains a "Defund Sheriffs" toolkit, which is "designed to support organizers in launching their own campaigns to defund their local sheriff."
Conservatives are under attack. Contact ABC News (818) 460-7477, CBS News (212) 975-3247 and NBC News (212) 664-6192 and demand they report on Soros's connection to an extremist group trying to defund the police.