Supreme Court nominee Brett Kavanaugh has done what Supreme Court nominees have traditionally done at confirmation hearings, declined to testify specifically about how they would rule on matters before the court. The New York Times headline for Thursday was "Kavanaugh Ducks Questions on Presidential Powers and Subpoenas."
But when Obama nominee Elena Kagan responded in the same fashion during her 2010 hearings, this was the New York Times headline: "Kagan Follows Precedent by Offering Few Opinions."
In 2018, Times reporters Michael Shear, Adam Liptak, and Sheryl Gay Stolberg pounded the usual notes about Russian collusion suspicions: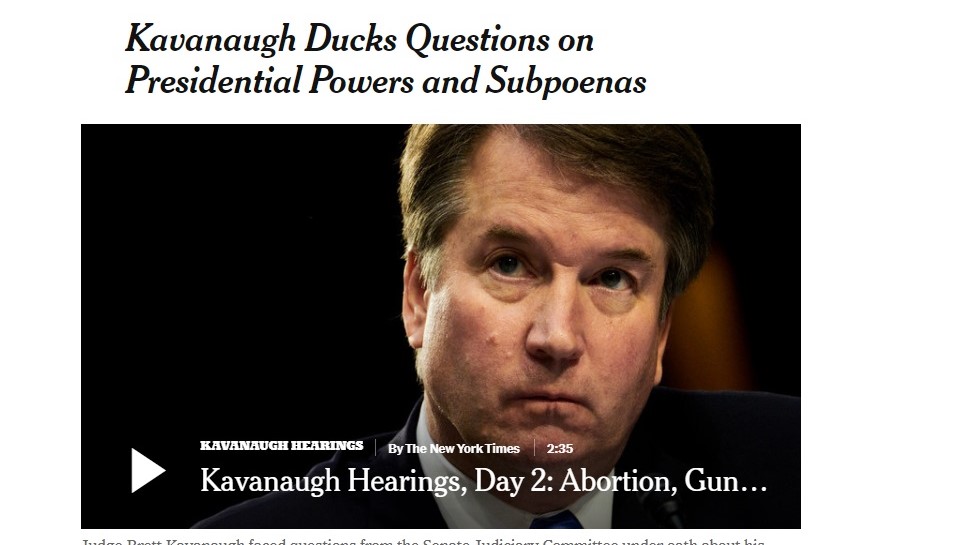 WASHINGTON -- Judge Brett M. Kavanaugh, President Trump's nominee to the Supreme Court, on Wednesday dodged direct questions about whether the Constitution would allow Mr. Trump to use the powers of the presidency to thwart the Russia collusion and obstruction investigations that are swirling around his administration.

Testifying before the Senate Judiciary Committee on a grueling second day of hearings, Judge Kavanaugh refused to say whether he believes Mr. Trump, as a sitting president, could be subpoenaed by Robert S. Mueller III, the special counsel, to testify in the sprawling inquiry. Answering questions in public for the first time since his nomination, the judge also declined to say whether Mr. Trump could escape legal jeopardy by pardoning himself or his associates.
And then there was June 29, 2010: 
Charlie Savage and Sheryl Gay Stolberg noted Kagan had once argued for more forthcoming confirmation testimony, and now she had changed her mind: 
...Ms. Kagan struck a delicate balancing act that proved frustrating to some senators even as the White House declared her "open and forthcoming." Senator Arlen Specter, Democrat of Pennsylvania, repeatedly cut off Ms. Kagan, complaining at one point, "I don't think I'm making too much progress."

....But while Ms. Kagan may have stuck to her script, she was hardly wooden or bland. With her New York accent and wry sense of humor, she showed flashes of her playful side.

She rendered Mr. Specter speechless when, in asserting that Supreme Court oral arguments ought to be televised, she declared, "It means I'd have to get my hair done more often." When Senator Lindsey Graham, Republican of South Carolina, asked where she had spent this past Christmas — a precursor to questions about that day's airline bombing plot — she said, "You know, like all Jews, I was probably at a Chinese restaurant."