Two networks. Two vice presidential candidates. Same questions. Today co-host Savannah Guthrie on Friday interviewed Mike Pence and urged the Republican to trash Donald Trump. On CBS This Morning, Norah O'Donnell talked to Tim Kaine and urged the Democrat to trash... Trump. She did not demand that Kaine bash Hillary Clinton. Instead she asked if Trump was "sane" and "competent."
On NBC, Guthrie lectured, "Paul Ryan himself said that Donald Trump has been on a 'strange run' for the last few days. You're down in every national poll, some by double digits, in every recent battleground poll. Would you acknowledge you're climbing out of a big hole and does Trump have only himself to blame for that?"
She demanded, "Donald Trump says... the campaign has never been more united than right now and yet we see these big Republican defections. Can you agree with that statement with a straight face?"
Guthrie also hit Pence for Trump's controversial remarks about the gold star Khizr Khan family.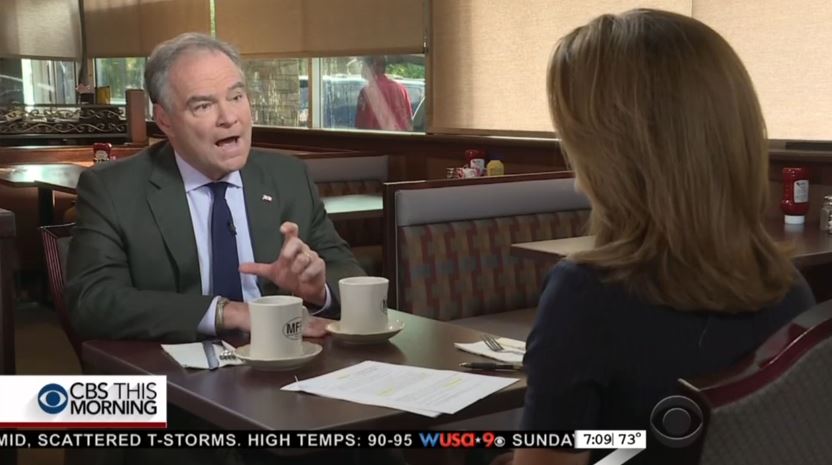 Over on CBS This Morning, co-host Norah O'Donnell talked to Tim Kaine and offered this softball: "At the Democratic convention, the former mayor of New York City, Michael Bloomberg, spoke and he said that Americans need a sane and competent president. Do you think Donald Trump is sane and competent?"
When O'Donnell brought up Trump's mistaken recollection about seeing a video of money going into Iran, the co-host played along with the idea that the businessman is "confused":
TIM KAINE: It doesn't exist. He might be thinking about Iran Contra from, like, 35 years ago or something like this. He recently criticized me saying I was a bad governor of New Jersey.

O'DONNELL: I think he confused you with Tom Kean.

KAINE: Yes, Tom Kean was governor of New Jersey 26 years ago. I mean, it hurt my feelings until I realized, wait a minute I was never governor of New Jersey and didn't even live in New Jersey. He was confusing the situation from two or three decades ago and maybe that is why he confusing this bogus video claim.

O'DONNELL: Do you think Donald Trump is confused.

KAINE: I absolutely think he is confused.
The closest thing O'Donnell came to asking Kaine to critique Clinton came when she wondered, "Is a Clinton/Kaine administration, essentially, a third Obama term?"
However, O'Donnell should be given credit for asking Kaine about the Obama administration's Iran deal:
NORAH O'DONNELL: If you were vice president, would you allow a plane full of money to land in Iran on the same day that four U.S. hostages are freed?... Let's talk about the perception of on the very same day, a plane with 400 million dollars in foreign currency landing and being delivered. Is that ransom?
A transcript of the NBC questions to Mike Pence can be found below:
Today
08/05/16
8:06 AM

SAVANNAH GUTHRIE: We're going to turn back to the presidential race now. It has been, as you mentioned, a tumultuous week for Donald Trump. He openly feuded with a Gold Star family and declined to endorse the Republican House Speaker Paul Ryan, as well as Senator John McCain. Well, Republican leaders have even discussed holding a so-called intervention as President Obama declared trump unfit for the presidency. Even a handful of Republicans have announced now they're jumping ship to vote for Hillary Clinton. So how will Trump get back on track? We're joined by his running mate, Indiana Governor Mike Pence, who's joined by his wife, Karen Pence. Good Morning to both of you.

KAREN PENCE: Good morning.

MIKE PENCE: Good morning, Savannah. Good to be with you.

GUTHRIE: Well, we laid out a lot of stuff but I want to get to Mrs. Pence first, ladies first, and it's such a pleasure to have you here. My question for you, Mrs. Pence, what's the best piece of advice you've given your husband since he joined the Trump ticket?

<<< Please consider helping NewsBusters financially with your tax-deductible contribution today >>>

(...)

GUTHRIE: And Governor, there's so much to talk to you about in the news. As you just saw, it's been a tumultuous week or so since the conventions. Paul Ryan himself said that Donald Trump has been on a "strange run" for the last few days. You're down in every national poll, some by double digits, in every recent battleground poll. Would you acknowledge you're climbing out of a big hole and does Trump have only himself to blame for that?

(...)

GUTHRIE: How do you explain, then – yeah....Donald Trump says that the party has never – and the campaign has never been more united than right now and yet we see these big Republican defections. Can you agree with that statement with a straight face?

(...)

GUTHRIE: Let's talk about another adversary –

(...)

GUTHRIE: Let me jump in here. The former CIA director, Mike Morrell, wrote an op/ed in The New York Times this morning and he said that Vladimir Putin, a former KGB agent I might add, has basically recruited and snowed and manipulated Donald Trump simply by flattering him, simply by saying how great Trump is. And he wrote in particular, "In the intelligence business we would say that Mr. Putin had recruited Mr. Trump as an unwitting agent of the Russian Federation." Given all of the pro-Putin positions that Trump has taken, including flattering Mr. Putin, how do you defend against that?

(...)

GUTHRIE: I'm almost out of time. I have to ask you about this whole episode with Mr. Trump and the Khan family, who of course lost their son, a soldier in Iraq. You say that Donald Trump speaks from his heart more than anybody. What does this episode say about his heart? He went after a Gold Star family. Every Republican leader says that is just disgraceful. Every veteran's group has said it's disgraceful, and not only is he not apologizing, he's since said he has no regrets. I mean, how does that strike you?

(...)

GUTHRIE: But he says he has no regrets. This is something that President Bush didn't do when attacked.

(...)

GUTHRIE: And by the way, Mrs. Pence, I know you're quite an accomplished artist and you have some work at the Indiana State Fair, so people have to check that out as well.

KAREN PENCE: Thank you.

MIKE PENCE: Thank you.

GUTHRIE: Alright, good to be with you. Thank you. I'm sorry we're short on time, but it's nice to have you with us. Thank you.

KAREN PENCE: Thank you.

MIKE PENCE: Thank you, Savannah.