The news media are celebrating Hillary Clinton's success this week at becoming the first woman to ever clinch a major party's presidential nomination. "This morning, Hillary Clinton is making history," NBC's Andrea Mitchell chirped this morning on Today. Over on ABC's Good Morning America, correspondent Cecilia Vega saluted Clinton for "shattering the more than 200-year-old glass ceiling of American politics."
But a Media Research Center analysis finds the broadcast networks organized their coverage to ensure that Clinton's historic candidacy was almost entirely reported by women correspondents, while the GOP race was largely reported by male correspondents.
Our analysts reviewed all 950 ABC, CBS and NBC weekday and weekend evening news stories about the 2016 presidential campaign from January 1 to June 7. Overall, the broadcast networks gave their male and female correspondents nearly equal airtime in covering this year's presidential election. Male correspondents reported 487 stories, totaling 1,070 minutes of airtime (51.3%), while female correspondents reported 463 stories, totaling 1,017 minutes (48.7%).
Not surprisingly, given the media's fascination with Donald Trump, more than half of these reports (547) focused on the Republican presidential candidates, compared with 295 which focused on the Democrats and 108 which spent roughly equal amount of airtime on each party.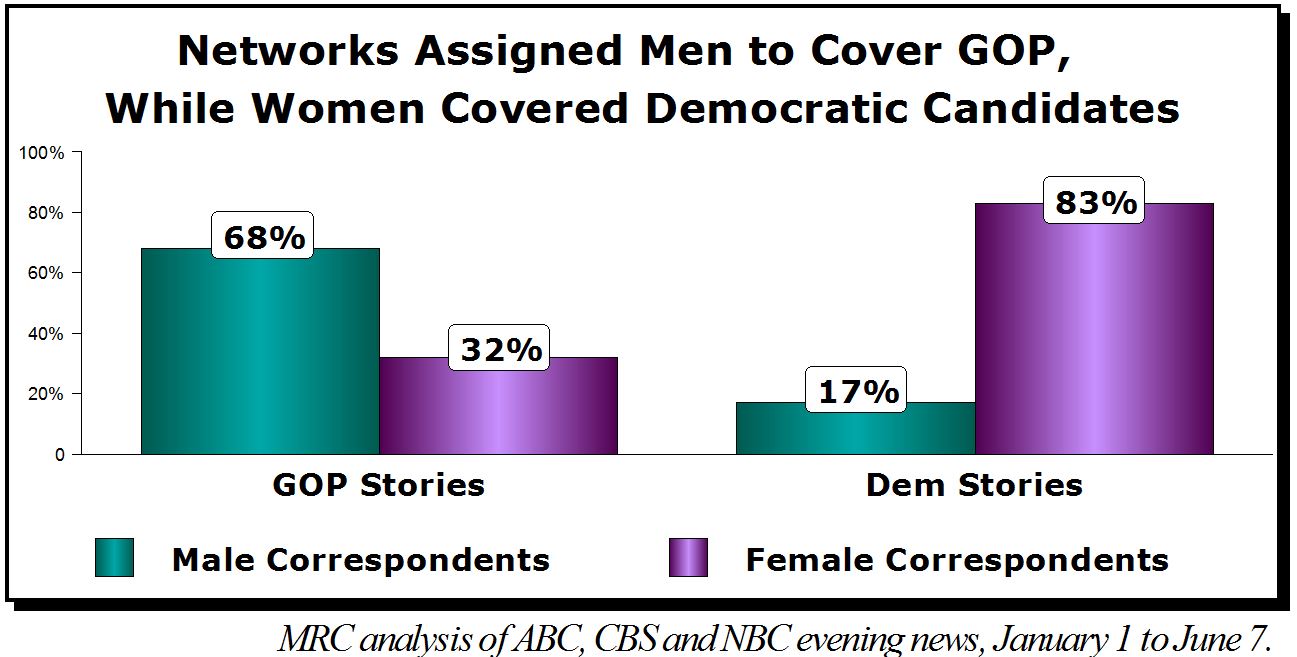 Nearly all of those Democratic stories (245, or 83%) were reported by women correspondents, compared with just 50 assigned to male reporters. Coverage of the Republican primaries was nearly the reverse: men reported 374 of the GOP stories (68%), while women reported 173 of them (32%).
An analysis of airtime tells exactly the same story: female correspondents accounted for 520 minutes of the networks' Democratic campaign coverage (83%), compared to 108 minutes reported by men (17%). Male correspondents provided 865 minutes of coverage of the GOP race (68%), while female reporters accounted for 398 minutes of coverage (32%).
As for the remaining 108 stories that did not focus on either party, those were much more evenly split: 63 were reported by male correspondents (97 minutes), vs. 45 reported by women (98 minutes).
While each network relied on a sizeable number of correspondents to cover the race, all three assigned a woman as the main reporter covering the Democratic primaries: ABC's Cecilia Vega, CBS's Nancy Cordes, and NBC's Andrea Mitchell.
A chart of the most visible network campaign correspondents shows women in six of the top ten positions, although the two most prominent are male correspondents assigned to cover the GOP race: ABC's Tom Llamas, who produced 271 minutes of evening news campaign coverage, and CBS's Major Garrett, with contributed 204 minutes of coverage.
It's not just TV news. Back in October, Politico noted the "overwhelmingly female press corps" assigned to Clinton's campaign, suggesting that "the change seems to be a combination of more women doing political reporting in general, and many more being drawn to Clinton's potentially historic candidacy."
According to Politico reporter Hadas Gold: "No editors interviewed for this story acknowledged assigning reporters to Clinton based on their gender, and none of the reporters said they were chosen because they were women. But many said they felt it was important nonetheless to have women covering a female candidate."