A lawyer for CNN's parent company Warner Media sent a cease-and-desist letter to the Trump re-election campaign claiming a new advertisement is misusing CNN news coverage in a way that's "false, misleading and deceptive."
The Trump commercial, entitled "American Comeback," premiered on Sunday night. The campaign stated it is spending "mid-seven figures" -- at least several million dollars -- to run the spot on cable and broadcast channels.
As CNN's Brian Stelter reported, the Trump campaign dramatically shortened a segment from CNN's The Situation Room. On March 30, anchor Wolf Blitzer asked Dr. Sanjay Gupta: Is it "accurate that if these steps had not been put in place, the stay-at-home orders, the social-distancing orders, as the President said yesterday, it could have been two million people down here in the United States?" Trump's ad only ran the "yes."
Gupta said more:
These are all models, Wolf. It's a little tough to say, but, you know, if you talk about something that is spreading, you know, very robustly throughout a community.You know, two to three times more contagious than [the] flu, and up to 10 times, perhaps even more than that, more deadly than [the] flu, then yes.
Rick McMurtry, associate general counsel for WarnerMedia, wrote in a letter to Tim Murtaugh -- the Trump campaign's communications director -- complaining that "the advertisement purposely and deceptively edits the clip to imply that Mr. Blitzer and Dr. Gupta were crediting the President's travel ban policy issued in January for saving millions of American lives."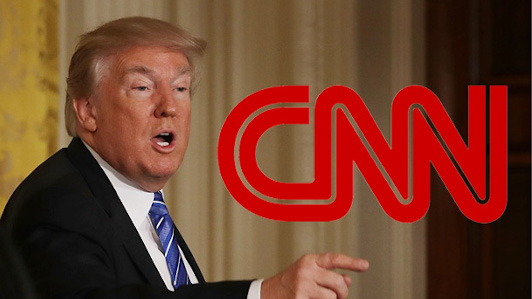 It's understandable that CNN never wants to be interpreted as praising President Trump, just as Democrat governors Andrew Cuomo and Gavin Newsom don't want to be in a Trump campaign ad.
In a statement, Murtaugh responded: "No discussion of efforts to prevent American deaths from the coronavirus can be had without the understanding that President Trump restricted travel from China in January. Based on that alone, the ad is accurate."
So it's funny that CNN's political analysts think Trump and his campaign should never complain about the negative ads run against them! CNN Editor-in-Large Chris Cillizza cited Game of Thrones on Tuesday, insisting that Trump should never complain about critical ads.
Famed Seven Kingdoms philosopher Tywin Lannister once said this when asked about concerns regarding his leadership: "A lion does not concern itself with the opinions of the sheep."

Simply put: The lion is a lion. He does what he wants and what he needs to do. Worrying about what his prey think about him is pointless. Their opinions are of no consequence. Thinking about them at all is a waste of the lion's time.
Stelter's article raised another very negative ad, from the Democratic super PAC Priorities USA, and noted the Trump campaign is suing a station for running that commercial. But Stelter didn't evaluate if the ad was misleading. He suggested the station had powerful backing. "The station, WJFW, has not commented on the lawsuit, but the station's owner has retained a high-profile law firm as representation. Numerous other station owners and media advocacy groups have expressed support for the station."