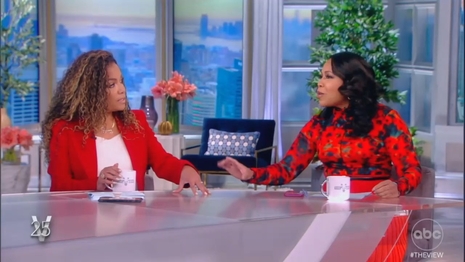 In the midst of day three of Judge Ketanji Brown Jackson's confirmation hearings to the Supreme Court, Daily Blast Live host and this week's guest co-host of The View, Lindsey Granger provided the much-needed dose of reality and strong push back to the lunacy being spewed by co-host Sunny Hostin as she refused to talk about facts of Jackson's time with Guantanamo Bay detainees. And co-host Sara Haines argued that discriminating against Justice Amy Coney Barrett "made sense."
After co-host Whoopi Goldberg had erroneously claimed Justice Brett Kavanaugh had committed "sex crimes" and Hostin huffed about questions about critical race theory, Granger spoke up when it came to Jackson's record at Gitmo.
"I think, that said, even if she is perfect, we need to ask hardball, pressing questions. This is for the Supreme Court," she said. "And I think with Guantanamo, they absolutely did."
Referencing an earlier comment from Hostin about how Republicans were resorting to "political theater," Granger argued that "even though you might think it's theatrical, there's real substance there." And from there, she dropped the facts about detainees being released and "killed Americans." "229 detainees have [been] released and reengaged in terrorist activities," she noted.
The truth sent Hostin into a rage and sparks flew with co-host Sara Haines forced to step in to give Granger the floor again (click "expand"):
HOSTIN (interrupting Ganger): The problem is they misquoted her and they said she --

GANGER: She has worked –

[Crosstalk]

GANGER: I don't want to talk misquotes. I want to talk about her actual work.

HOSTIN: But you got to talk about the misquotes because that was the actual line of questioning!

SARA HAINES: Well, let her finish. Let her finish.

GRANGER: No, I want to talk about the actual work that has to do with Guantanamo Bay.
"She has to get into that discussion about her work on Guantanamo Bay. We don't want a Supreme Court justice that's soft on terrorists," Granger declared.
Adding: "I think we can all agree that even if a terrorist kills one American and then kills one more, that's one too many. And so, we have to be tough at some point and understand where she stands because we should all agree that's a simple concept."
Granger went on to say the reason Senator Lindsey Graham (R-SC) left the room over Jackson's Gitmo answers was that he was a "passionate" American who didn't "want to see Americans die at the hands of terrorists twice."
And while Hostin was huffing and accusing Republican senators of using "misinformation" against Jackson, that's what she was doing. Hostin obfuscated the fact that while Jackson did represent Gitmo detainees as a public defender, she also worked for them in the private sector. And she didn't call former President Bush and former Defense Secretary Rumsfeld "war criminals," she did say they committed "war crimes" (and who commits those? War criminals.).
All this was followed up with Haines chiming in with her own two cents and proclaiming it was okay for Justice Amy Coney Barrett to be targeted for her religion when she was being confirmed.
And according to her twisted logic, it "made sense" for Democrats to discriminate against Barrett based on her religion "purely because" the pro-life movement is "dividing this country." "[Barrett's] whole life a meshed in religion. It was beyond just she goes to church on Sunday, is she was on boards, she was on pro-life boards," Haines said.
These sleazy defenses of Judge Jackson were made possible because of lucrative sponsorships from General Mills and CarShield. Their contact information is linked.
The transcript is below, click "expand" to read:
ABC's The View
March 23, 2022
11:06:33 a.m. Eastern

(…)

LINDSEY GRANGER: I think, that said, even if she is perfect, we need to ask hardball, pressing questions. This is for the Supreme Court.

WHOOPI GOLDBERG:  Would have been nice if they had done that.

GRANGER: And I think with Guantanamo, they absolutely did. And even though you might think it's theatrical, there's real substance there. So, Guantanamo Bay detainees have been released before and killed Americans. In Afghanistan, they've gone on 220 -- there's cases, 229 detainees have [been] released and reengaged in terrorist activities.

SUNNY HOSTIN (interrupting Ganger): The problem is they misquoted her and they said she --

GANGER: She has worked –

[Crosstalk]

GANGER: I don't want to talk misquotes. I want to talk about her actual work.

HOSTIN: But you got to talk about the misquotes because that was the actual line of questioning!

SARA HAINES: Well, let her finish. Let her finish.

GRANGER: No, I want to talk about the actual work that has to do with Guantanamo Bay.

She has to get into that discussion about her work on Guantanamo Bay. We don't want a Supreme Court justice that's soft on terrorists.

I think we can all agree that even if a terrorist kills one American and then kills one more, that's one too many. And so, we have to be tough at some point and understand where she stands because we should all agree that's a simple concept.

And so, Graham walking out, I think, is people in America that passionate that don't want to see Americans die at the hands of terrorists twice.

HOSTIN: He is not that passionate! Okay? That was histrionics. That was political theater. The problem with the questioning – and I agree with you – that the questioning certainly is valid, but you cannot start the questioning with misinformation, miscontextualized, and that's what they did.

GRANGER: Right.

HOSTIN: They said that she called President Bush and the secretary of defense war criminals. She did not. They said other things and said she chose to defend these terrorists. She was a public defender. Public defenders do not -- do not choose the people they defend.

(…)

11:08:22 a.m. Eastern

HAINES: Let me jump in here. When Lindsey Graham was referencing the religion, you can tell it was rhetorical and he was trolling because that's what had happened to Amy Coney Barrett. But the difference was it made sense for Amy Coney Barrett to be questioned on those things purely because one of the number one issues dividing this country is a woman's right to choose versus pro-life. And it's a religious -- it's greatly and mostly based in a religious belief and separating that belief out.

So, the fact that Amy Coney Barrett – justice, sorry – Justice Amy Coney Barrett is – her whole life a meshed in religion. It was beyond just she goes to church on Sunday, is she was on boards, she was on pro-life boards.

So when they pressed her on religion whereas Lindsey Graham had kind of couched it in, they're trolling all this personal information, it absolutely was necessary in the questioning of Amy Coney Barrett. Whereas when they did it to Ketanji Brown, they're trolling her. They're trying to make her out to be something.

And what I saw this is as they're not going to vote on anything they hear in this hearing. They're going to vote down party lines. She's going to go through, and she deserves to go through, but this was about campaigning for presidency.

(…)