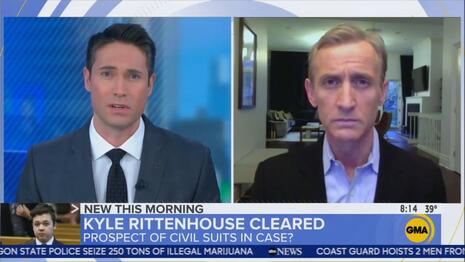 Are they sore losers? Maybe, but either way, ABC spent part of Sunday's Good Morning America hoping that the families of Kyle Rittenhouse's so-called "victims" would sue him in civil court. This comes after the teen was found not guilty and that he justly used legal self-defense against multiple violent attackers who were rioting. Beyond that, the network also took to denouncing the entire justice system on This Week, during the following hour.
After reviewing the ongoing murder trial of Ahmaud Arbery with chief legal analyst Dan Abrams, co-anchor Whit Johnson lamented that Rittenhouse was "found not guilty on all charges in the shooting deaths of two men during a protest in Wisconsin." He wondered, "But what happens next now," and "could there be civil cases?"
Abrams seemed hopeful that "there could be." Adding:
You may see some of the victims decide to sue Kyle Rittenhouse. Remember, the legal standard in a civil case, much lower than in a criminal case. Again and again in the context of this case, I kept talking about how tough the burden is for prosecutors to overcome self-defense beyond a reasonable doubt. Well, in a civil case, it just has to be negligence. You just have to prove it's more likely than not.
What he failed to mention is that with the jury finding him innocent and that he acted legally in defending himself, the likeliness of the civil cases being successful was minimal. The ruling also burst the bubble of attacker Gaige Grosskreutz who's suing the city for $10 million.
Although, Abrams did warn Johnson that Rittenhouse could have legal standing to sue the media and others for libel and slander:
And then of course, there's the flip side of it which is that Kyle Rittenhouse may end up suing people who said things about him that he says weren't accurate. So, I definitely think you could see some activity in the civil courts as a result of this case.
This was the advice former Covington high school student Nicholas Sandmann gave to Rittenhouse.
Rittenhouse was also the first topic of discussion for the journalists on This Week, where fill-in host Martha Raddatz teed up chief national correspondent Byron Pitts to condemn the entire legal system as racist. "[I]n this trial, all involved in the case were white. Rittenhouse, the men who died, but this case intensified the debate over racial justice and the legal system itself," she said.
Pitts agreed, declaring: "[T]hat's absolutely true. And for many people, it's not a debate, it's a cold, hard reality. And in America, there's one justice system if you are white and wealthy. There's another if you are poor and a person of color."
Further proclaiming: "And so I think for most reasonable people, and most surveys would bear this out, the few reasonable people would believe that if a 17-year-old black boy with an AR-15 showed up in Kenosha, Wisconsin at night, killed two people and injured a third, then that black boy would have been treated the same way by police or by the legal justice system."
Interestingly enough, on the same day Rittenhouse was found not guilty so did Andrew Coffee IV, a black man in Florida. In this case, Coffee shot at Sheriff's deputies during a SWAT raid on his home where he was asleep when the deputies announced themselves and arrested his father. When they broke through his bedroom window, Coffee started firing to defend himself and his girlfriend was killed by deputies in the crossfire. He pleaded self-defense and the jury found him not guilty.
Meanwhile, the liberal media has been ignoring that case.
ABC's urging for civil suits against Rittenhouse was made possible because of lucrative sponsorships from Ancestry and Abbott. Their contact information is linked so you can tell them about the biased news they fund.
The transcripts are below, click "expand" to read:
ABC's Good Morning America
November 21, 2021
8:14:33 a.m. Eastern

(…)

WHIT JOHNSON: So, another big case we were watching last week, Kyle Rittenhouse found not guilty on all charges in the shooting deaths of two men during a protest in Wisconsin. That was last year, but what happens next now? Could there be civil cases?

DAN ABRAMS: Yeah, I think there could be. You may see some of the victims decide to sue Kyle Rittenhouse. Remember, the legal standard in a civil case, much lower than in a criminal case. Again and again in the context of this case, I kept talking about how tough the burden is for prosecutors to overcome self-defense beyond a reasonable doubt. Well, in a civil case, it just has to be negligence. You just have to prove it's more likely than not.

And then of course, there's the flip side of it which is that Kyle Rittenhouse may end up suing people who said things about him that he says weren't accurate. So, I definitely think you could see some activity in the civil courts as a result of this case.

JOHNSON: All right. A lot to watch ahead.

(…)

This Week
9:05:17 a.m. Eastern

MARTHA RADDATZ: And Byron, in this trial, all involved in the case were white. Rittenhouse, the men who died, but this case intensified the debate over racial justice and the legal system itself.

BYRON PITTS: Martha, that's absolutely true. And for many people, it's not a debate, it's a cold, hard reality. And in America, there's one justice system if you are white and wealthy. There's another if you are poor and a person of color. Study after study shows that black men are arrested more often, convicted more often, and sentenced to longer sentences than white men accused of the same crime, and the same holds true for discipline in schools, that disparity.

And Martha, here's a study I think that speaks to this case and the concerns about this case. According to the FBI, a fatal shooting where the shooter is white and the victim is black, three times more likely that's ruled to be justifiable if both parties were white.

And so I think for most reasonable people, and most surveys would bear this out, the few reasonable people would believe that if a 17-year-old black boy with an AR-15 showed up in Kenosha, Wisconsin at night, killed two people and injured a third, then that black boy would have been treated the same way by police or by the legal justice system.

(…)