Charles Pierce, the resident radical-left political pundit at Esquire magazine – that intellectual powerhouse best known for its "Sexiest Woman Alive" award  – is lamenting the role of Steve Bannon in electing President Trump, as well as Trump financial backers "Robert and Rebekah Mercer, the reactionary New York gozillionnaires." 
Pierce wanted everyone to read about a lawsuit filed in May (news that's almost a half year old is "breaking" if the targets are conservatives) by a former Mercer employee named David Magerman, who, against company policy, felt compelled to tell The Wall Street Journal his boss had "contempt for the social safety net" and wanted "government be shrunk down to the size of a pinhead." (Horrors!) In his lawsuit, Magerman upped the ante and claimed Mercer held racist views.
Full disclosure: The Mercers are not just supporters, they are friends. That kind of repugnant slur is undeserving of a response and will get none here.
Magerman is irrelevant. That lawsuit as "news" is silly. So why the story? It's all about "gozillionaires."
Left-wingers in the media believe "gozillionaires" are a malignant force in politics -- unless they are on the "right side of history." The Mercers get an amazing amount of media ink -- most of it predictably negative -- because they are aren't. They are conservatives. Worse, they are rich conservatives. Their wealth is dangerous. They are dangerous. They must be exposed!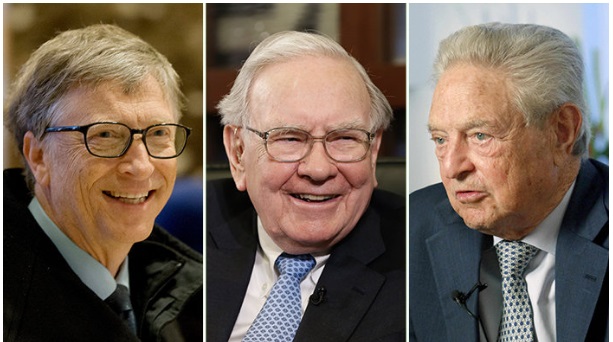 But check out the Forbes list of top billionaires. At the top of the pile sits Bill Gates, a liberal. Next in line is Warren Buffett, also a liberal. He's followed by Jeff Bezos, liberal. At #5, uber-liberal Mark Zuckerberg. At #10, Michael Bloomberg, another leftist. George Soros, a radical leftist if ever there was one, registers at #29. In fact there are liberals all over the Forbes Top 100 and Top 500.
You won't find the Mercers in the top 1,000. 
Quick: When was the last time -- ever a time -- you remember a media story focused on the controversial views of Gates, Buffett, Bezos, Zuckerberg, Bloomberg, or Soros?
It's quite the opposite. A few months ago, the very same Esquire writer mocked the Trump people for objecting to liberal "gozillionaires." According to Charlie Pierce, conservatives thought anti-Trump protesters in Washington DC were "some sort of a plot concocted by George Soros." To object to political activity by wealthy people on the Left is to dabble in cockamamie conspiracy theories, this being just another one of them.
Except it was true. The Media Research Center documented that Soros and his Open Society Foundations had contributed $246 million between 2010 and 2014 to 100 of the 544 groups listed as partners of the Women's March protest the day after the Inauguration. Did the liberal media care? Were they alarmed?  They yawned. Soros is on the "right side of history."  
These self-righteous attacks on the Mercers are nothing new. Before Bob and Rebekah Mercer there were David and Charles Koch, and before them, there was Richard Scaife, dubbed the "Godfather of the Vast Right-Wing Conspiracy" by some liberals. Twenty years ago Time magazine's "Most Influential" list  identified Scaife as a "Conservative Agitator" who funded "rabidly anti-Clinton magazines." Pages later, Time described George Soros as a "Philanthropist" with an "iconoclastic critique of free-market capitalism."
Liberal "gozillionaires" are hailed as Time magazine "Persons of the Year" (Bill and Melinda Gates) or get a presidential Medal of Freedom from Obama (Buffett). It doesn't hurt that liberal journalists can often thank these billionaires for jobs – or be grateful that their colleagues are employed by them. Buffett, Bloomberg, Zuckerberg and Bezos are all in the left wing media business now. 
The same trend applies to leftist foundations like the Ford Foundation (Endowment: $12+ billion), the Pew Charitable Trusts ($5+ billion) and the Rockefeller Foundation ($4+ billion). Toss in Carnegie, MacArthur and so many more. Controversy -- anywhere? Conservatives have nothing to match any of them. 
As we type these words it has just been announced that Soros has recently transferred a cool $18 billion to his radical Open Society Foundations, making it instantly the second largest foundation in the world after Bill and Melinda Gates.
But still it's all about the Mercers.