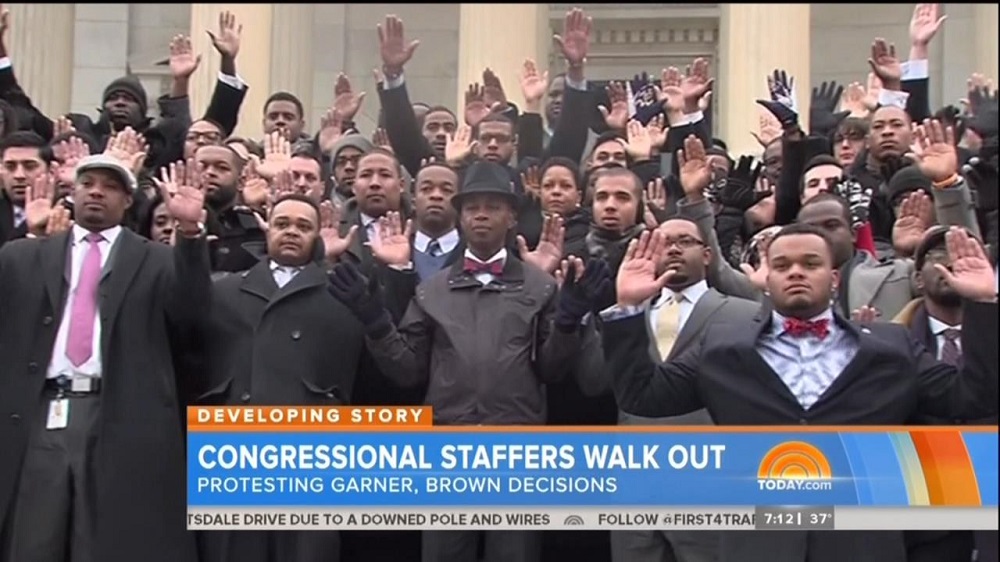 Friday's CBS This Morning and NBC's Today both spotlighted the walk-out protest on Thursday of a group of congressional staffers, who gave the "hands up, don't shoot" gesture of the groups protesting the grand jury's decision in the Michael Brown case. NBC's Tamron Hall trumpeted the "powerful statement without words" on the steps of the U.S. Capitol. CBS's Jeff Glor noted that the participants "stood with their hands in the air." [video below]
Neither morning show mentioned, however, that the pose forwards an inaccurate portrayal of the Brown shooting. Ten days earlier, on the December 1, 2014 edition of CNN Tonight, former police officer David Klinger underlined that "all the forensic evidence indicates that it wasn't Brown with his hands up standing still. All the evidence indicates that he was coming back at Officer [Darren] Wilson."
Klinger also asserted that "it's unfortunate that people are getting behind the 'hands up, don't shoot,' as opposed to we have grave concerns about the way that policing operates in the United States." Host Don Lemon replied to this by wondering, "So the question is, this 'hands up' rallying cry has – is it a false narrative that people are using to fit their own agenda?"
Thursday's CBS Evening News also mentioned the congressional staffers' demonstration during a news brief about the nationwide protests in response to the Brown and Eric Garner cases:
SCOTT PELLEY: Protests continue against excessive force by the police. In New York, Eric Garner's daughter staged a die-in on the spot where he was killed. In Washington, congressional staffers gathered on the southeast steps of the Capitol, and yesterday, medical students held a white coat die-in in Boston, Los Angeles and New Orleans.
The transcripts of the news briefs from Friday's CBS This Morning and NBC's Today:
12/12/2014
07:09 am EST
CBS This Morning

JEFF GLOR: Protests over the Eric Garner and Michael Brown cases reached Capitol Hill. Maryland Congressman Elijah Cummings joined nearly 200 congressional staffers, who walked onto the Capitol steps Thursday. They stood with their hands in the air – symbolizing the deaths of the two black men at the hands of police – then, walked back inside.


12/12/2014
07:11 am EST
NBC – Today

TAMRON HALL: Also at Capitol Hill on Thursday, a powerful statement without words – some congressional staffers and members of Congress walked out of their offices and gathered on the Capitol steps to protest the grand jury decisions in the Eric Garner and Michael Brown cases. The Senate chaplain said a prayer asking that Congress take up action to ensure all Americans are treated equally before the law.