The mother of ISIS beheading victim James Foley told CNN's Anderson Cooper, on September 11, that she was "embarrassed and appalled" by the White House's handling of her son's kidnapping. On September 8 a spokesman for the family of ISIS victim Steven Sotloff claimed that both families were "bullied and hectored" by the administration.

So how many Big Three (ABC, CBS, NBC) network stories have been devoted to helping these families tell their shocking stories of a White House that let them down and even intimidated them? Just three (CBS 2, ABC 1, NBC 0).

However, in the summer of 2005 when anti-Iraq war mom Cindy Sheehan camped out in front of George W. Bush's Crawford, Texas ranch the networks flooded their evening and morning shows with 100 stories (ABC 37, NBC 33, CBS 30) in the first month (August 9 through September 9) of coverage alone.

The eagerness of the networks to cover Sheehan stands in stark contrast in how they have covered the Foley and Sotloff families and other parents who have blamed the Obama administration for the loss of their loved ones. The complaints by the parents of Benghazi attack victims Sean Smith and Tyrone Woods also got short shrift on the networks (3 stories). The mother and father of Fast and Furious victim border agent Brian Terry haven't found much of an network outlet for their criticism of Obama and Eric Holder either. (1 story).     

The following is a look at how each of these family tragedies have been covered on the ABC, CBS, NBC evening and morning programs:    
 
Families of ISIS Beheading Victims Have Hard Time Getting Grievances Heard

While the networks did run stories airing the parents' pleas before Foley and Sotloff were executed by ISIS, they curiously decreased their coverage of those families when they began speaking out against the Obama administration.

CBS ran just two stories. On the September 12 CBS This Morning Charlie Rose noted "The mother of James Foley, an American journalist is lashing out at the Obama administration. Diane Foley says U.S. officials threatened to prosecute her family if tried to raise ransom money. She told CNN's Anderson Cooper last night that the government failed her son." Rose then played a soundbite from the CNN interview.
On the September 17 CBS This Morning Norah O'Donnell reported: "The families are making it clear this morning they wanted to do more to save their loved ones but U.S. officials wouldn't help...His mother Shirley made a public appeal to his captors last month, begging for her son's release. But behind closed doors, she and the family of James Foley were at odds with the U.S. government and its longstanding policy against paying ransom to terrorists...Last May, the families say a White House official threatened criminal prosecution if they paid a ransom."
After the O'Donnell piece Rose actually interviewed the Sotloff family spokesman Barak Barfi who told Rose: "We never really believed that the administration was doing anything to help us...We had meetings with the administration. The families sat with this National Security Council official and basically he bullied and hectored them and they were scared."

ABC could only mange to carry a single story about the Foley family charges against the administration. On the September 12 World News Tonight David Muir introduced a Brian Ross story: "This evening, anguish and now anger from the parents of one of those Americans executed by ISIS. They have direct words for President Obama. They say their son, journalist James Foley, dying an awful death. And this evening, a startling claim, that the family was actually threatened, they say, by the White House. Tonight, those parents going very public with this, talking to our own Brian Ross and Greta Van Susteren over at Fox."

So far NBC has yet to air any of the Sotloff or Foley family complaints.

Network coverage: 3 stories (CBS 2, ABC 1, NBC 0) 
Parents of Benghazi Victims Demand Answers from Obama Administration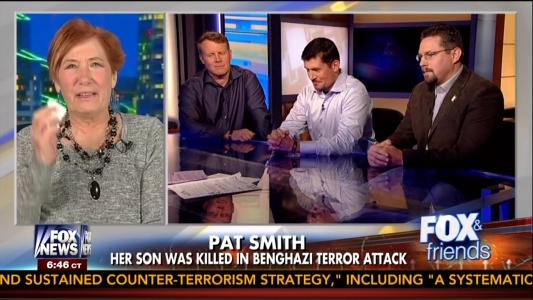 Pat Smith, the mother of foreign officer Sean Smith killed in the September 11, 2012 attacks on the embassy in Benghazi, has spent the last two years searching for answers into her son's death. During that search she has been highly critical of President Obama and former Secretary of State Hillary Clinton.

Most recently she turned up on the September 11 edition of FNC's Fox and Friends to tearfully thank thanking three members of the CIA annex security team who bravely defied orders from a superior to delay their rescue attempt of her son. Pat Smith's gratitude toward those heroes made for the kind of riveting moment the Big Three networks usually crave. But Smith also had harsh words for Obama and Clinton. "What happened to Hillary and Obama? Why aren't, why aren't they doing something? It was their area! They don't give a damn about their people! That's how I feel." In the two years since the Benghazi attacks Smith's criticism of the administration has showed up in a grand total of just three stories on the networks.
CBS ran two stories that contained Smith's charges. On the October 11, 2012 CBS This Morning Margaret Brennan reported: "Investigators are still sorting through the paper trail. The account may continue to change. Late Wednesday the criticism got personal. The mother of one of the Americans killed, Sean Smith, says she is still searching for answers about how her only son died." Brennan then aired a soundbite of Pat Smith demanding: "I have the right to know something, something, other than 'oh, we're checking up on it.'"

Then on the October 18, 2012 CBS This Morning, Ben Tracy relayed: "The mother of Sean Smith, who was also killed in the attack, added fuel to the fire when she told CNN's Anderson Cooper that she does not trust what little the administration is telling her." Tracy then played a Smith soundbite from the CNN program: "I look at TV and I see bloody handprints on walls, thinking, my God is that my son's? I don't know if he was shot. I don't know - I don't know. They haven't told me anything. They are still studying it. And the things that they are telling me are just outright lies."

NBC offered just one story that relayed Smith's criticism. On the June 17, 2014 NBC Nightly News, Andrea Mitchell reported: "Keeping the pressure on Hillary Clinton who can't seem to shake the controversy. Tonight, criticized by the distraught mother of Sean Smith, one of the men who died in Benghazi." Mitchell then ran the following Smith quote: "My son is dead. She can stand up and say "It was my fault. I blew it. I'm sorry. I blew it. I made the wrong decision." And that's what the kind of person I do not want to be President ever."

ABC has yet to air any of Smith's critiques.  
Pat Smith wasn't the only parent of a Benghazi victim that had harsh words for the White House. On the October 26 edition of FNC's Hannity, Charles Woods the father of CIA contractor and Navy SEAL Tyrone Woods unloaded on the administration:
CHARLES WOODS: When I went back to Washington, D.C., when the bodies were flown in, I knew that something was fishy. It just -- it was just obvious that something was wrong with this picture and in my mind, I questioned, you know, this was obviously a long drawn out battle. Why was there no immediate air support sent in that would have saved the lives of not just the other 30 people but also the life of my son who truly was an American hero?

Now, it has come out that pleas for help were made not just by the other individuals but also by my son and these pleas were turned down by the White House. Now, as you know I'm a retired attorney and I know that these actions legally do not constitute murder but in my mind the people in the White House all of them who have authority to send in reinforcements to prevent what they knew was going to be the death of my son are guilty of murdering my son.
No network has yet to touch Woods' damning takedown of the administration.

Network coverage of Pat Smith's criticisms: 3 stories (CBS 2, NBC 1, ABC 0)

Network coverage of Charles Woods's criticisms: 0 stories
 
Parents of Fast and Furious Scandal Victim Brian Terry Almost Shut Out

Josephine Terry, the mother of Brian Terry the border agent killed in a shootout with guns that came from Operation Fast and Furious, was outraged that Eric Holder couldn't even utter her son's name at a February 2012 hearing. Terry went to her Facebook page to offer the kind of scathing attack on a sitting Attorney General that would've been plastered all over the networks - if her target was a Republican.
"THIS IS FOR YOU SON, Mr. Holder. How come you can never say my sons name. You never have. All I ever hear you say is 'I didnt find out or I cant say' Im actually tired of hearing your double talk in answering questions. What a joke you are. You know my son was a real AMERICAN, a WARRIOR, and a HERO, who was also protecting COWARD POLITICANS like you."
Josephine and her husband Kent also turned up on the June 21, 2012 edition of FNC's Hannity. When the host Sean Hannity asked Kent Terry if he had anything to say to the President and Holder he responded: "I probably couldn't say it on camera what I would like to say to them."

With the exception of one report by CBS's Sharyl Attkisson the Terrys' charges have gone unreported by the networks. On the November 9, 2011 edition of CBS's The Early Show Attkisson offered a report full of soundbites from the Terrys:
SHARYL ATTKISSON: Both say they are still waiting for some official to take responsibility for the gun walking operation that trafficked weapons found at the murder scene. 

JOSEPHINE TERRY: I couldn't believe that something like that would happen. I just couldn't believe that they would let those guns go over the border and all of them other innocent people in Mexico getting killed with the same guns.

KENT TERRY: My mom used to tell me that lie is going to catch up with you and that's what`s going to happen to them. It's going to catch up with them.

JOSEPHINE TERRY: I think that they know they did wrong. And if it wasn't for Brian's death, I don't think this would-- I think it would still be going on.

KENT TERRY: I think he'd want justice and I think he'd want justice for them guns going over the border. It's not right. And I think that -- that our politicians who was involved in it should pay, pay the price.
Network coverage: 1 story on CBS.