Facebook has temporarily censored search results displaying a #revolution hashtag on its platform.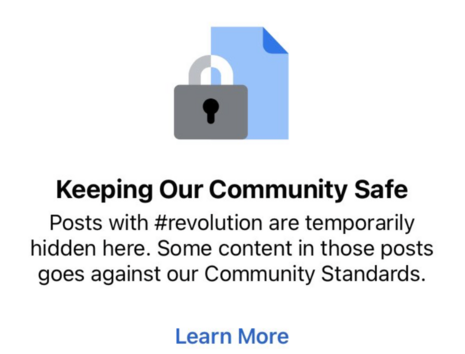 The reasons why Facebook is censoring the hashtag is unknown, but the platform says some of the content goes against its Community Standards.
"Keeping Our Community Safe," the headline reads. "Posts with #revolution are temporarily hidden here. Some content in those posts goes against our Community Standards."
The decision received backlash on Twitter, with Rep. Thomas Massie (R-Ky.) lamenting the censorship during the weekend of America's Independence Day.
"Welcome to the re-education of America on Independence Day weekend." Massie tweeted with a screenshot of the message.
Facebook has a history of censoring content it deems "controversial."
In April, Facebook expanded its Oversight Board's ability to censor content by accepting appeals from users who have reported content that offends them.
"Now, users can also appeal content to the Board which they think should be removed from Facebook or Instagram," the Oversight Board said at the time. "The Board will use its independent judgment to decide what to leave up and what to take down. Our decisions will be binding on Facebook."
"After you have exhausted Facebook's appeals process, you will receive an Oversight Board Reference ID in your support inbox and can appeal the decision to the Board," Facebook continued. "You can appeal decisions on posts and statuses, as well as photos, videos, comments and shares."
Conservatives are under attack. Contact Facebook headquarters at 1-650-308-7300 and demand that Big Tech be held to account to provide clarity on "hate speech," rules that seem to be applied inconsistently. If you have been censored, contact us at the Media Research Center contact form, and help us hold Big Tech accountable.