The famed anti-racist author and not at all a grifter Ibram X Kendi is back in the spotlight again. He's attacking Republican politicians using his favorite tool – and anybody that doesn't buy into his "anti-racist" racism.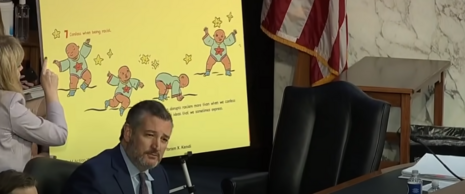 During an interview with Salon contributor D. Watkins, Ibram X Kendi says Senator Ted Cruz's "political life rests on racist propaganda." 
This article begins ideally. "Can a Black person be racist?," Watkins asks. "In my humble opinion, the answer is no, because there is not a strong enough power structure in place to allow Black people to systemically, socially and physically oppress a complete racial or ethnic group." Glad to see we're off to a great start.
Watkins' interview with Kendi, infamous for saying Justice Barrett is a colonizer for adopting two black kids, discusses the race pimp's magnum opus work, the book "How To Raise An Antiracist" and the kid's version "Antiracist baby." 
"One of the things that I've really tried to do through my work is to not only conduct a tremendous amount of historical research that would not only allow people to understand this nation's history of anti-Black racism, but also trying to point a way forward in a way that we can actively seek to deconstruct racism and thereby be anti-racist," Kendi says. "I've really attempted to try to make my books and my work accessible to everyday people." That includes white people, whom Kendi wants to guilt into supporting his radical, ahistorical view of the United States. 
Kendi then jabs at Senator Ted Cruz for showing "Antiracist baby" during Judge Ketanji Brown Jackson's hearing. "In the moment, I didn't know what type of impact his weaponizing of my book would have," Kendi said. "I was deeply concerned and it was just part of a larger effort to weaponize my work — well, first distort it and then weaponize it and then use it to attack people and certainly to attack me. It's hard to know whether what's happening now is the last gasp of white supremacy or whether it is the turning into a new nation." The Hispanic senator from Texas was distorting Kendi's lies and weaponizing the cudgel Kendi crafted as a weapon against America. That's rich.  
Kendi continues attacking the senator by claiming he benefits from racial division. "I think it would be tough to address someone like Senator Cruz, because as you stated, his political life rests on racist propaganda and making particularly white and, to a lesser extent, Latinx male voters like him, believe that the problem are people like me and that he's then going to save his constituents," Kendi states. All you need to know about Kendi's racial politics is the use of Latinx. 
According to Kendi, not going along with his racial grift makes one a white supremacist. If he cared about eradicating racism, Kendi would drop this race-hating rhetoric.