ABC loves citizens speaking out on controversial issues – except when it goes against the liberal agenda. The boycott pledge against Target's transgender policy boasts more than 700,000 signatures. But the American public wouldn't know that from watching ABC's news shows.
It's not like ABC can plead ignorance of the outcry by Target customers. The other two broadcast networks, NBC and CBS, considered the boycott a story important enough for their national news shows this week. Nor can ABC claim it doesn't cover petitions: last year, ABC publicized another, different petition against Target with roughly "700 responses." The current petition's signatures make up more than 1,000 times that number.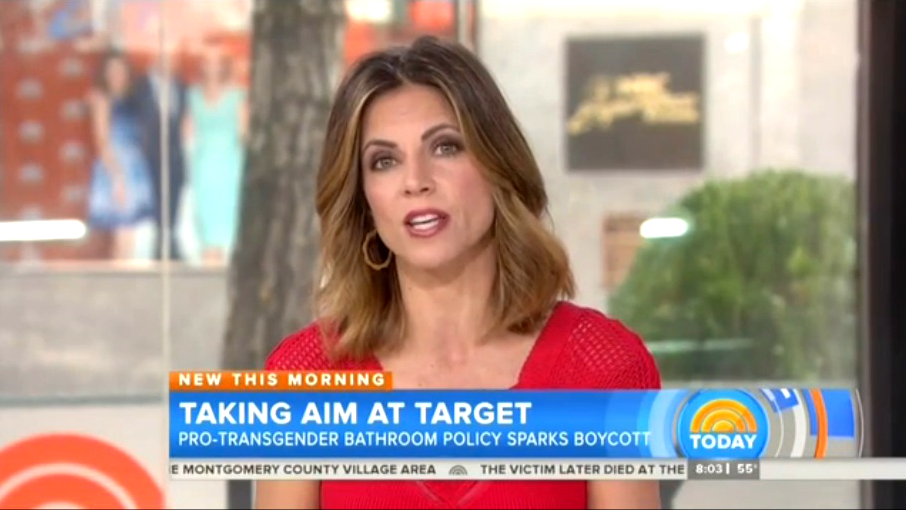 Less than a week ago, the American Family Association (AFA) called for a boycott of Target and created a petition in response to the retail giant's new policy to "welcome transgender team members and guests to use the restroom or fitting room facility that corresponds with their gender identity."
"Target's policy is exactly how sexual predators get access to their victims," the petition read. "And with Target publicly boasting that men can enter women's bathrooms, where do you think predators are going to go?"
Instead, the AFA recommended a unisex bathroom as a "common-sense approach and a reasonable solution to the issue of transgendered customers."
The petition went viral over the weekend and boasted more than 700,000 signatures Tuesday morning.
Of the three networks, NBC was the first to mention the AFA petition.
On Monday, Today co-anchor Natalie Morales reported the "hundreds of thousands of Target shoppers" that "pledged to boycott the retail giant after it announced a new bathroom policy for its employees and customers."
"Target is now a target of a boycott," she began. "The American Family Association, a Christian activist group calling for the action after the retail giant announced transgender customers and employees can use store bathrooms that correspond with their gender identity."
Morales went on to cite both the AFA's position as well as Target's refusal to change its policy.
The next day, CBS's This Morning also recognized the petition.
As part of "This Morning's headlines," co-anchor Charlie Rose cited a USA Today story on "more than half a million people" who are "pledging to boycott Target stores."
"The American Family Association is collecting signatures to fight the retailer's policy on bathroom use by transgender people," he added.
But ABC refused to dedicate one word to the petition. And the network can't argue that petitions are off-limits for its news shows.
On July 22, 2015, ABC's Good Morning America ironically reported on a different petition concerning Target after the store "fac[ed] backlash for a T-shirt bearing the word 'trophy.'" Correspondent Reena Ninan noted how shoppers "launch[ed] a change.org petition to get the tee removed from shelves."
On July 21, that petition, according to ABC News online, had "over 700 responses." That's a far cry from today's petition of more than 700,000 signatures (or more than 1,000 times 700 responses).
In the past year, ABC has covered other various petitions including:
April 21, 2016: World News Tonight (as well as Good Morning America) reported a petition "166,000 strong" by the Key West community protesting genetically-modified mosquitos created to combat the Zika virus.
ABC covered a petition to carry guns at the Republican convention when it had 35,000 signatures (March 28, 2016, Good Morning America) and, again, when it had 50,000 signatures (March 28, 2016, World News Tonight).
March 18, 2016: Good Morning America reported a petition with more than 17,000 signatures calling to reinstate South Carolina high school teacher Leigh Anne Arthur.
Oct. 8, 2015: Good Morning America reported a petition with more than more than 22,000 signatures demanding Kim Zolciak-Biermann's return to Dancing with the Stars.
Sept. 10, 2015: Good Morning America reported that Apple offered a taco emoji after Taco Bell started a change.org petition with more than 33,000 signatures.
Aug. 5, 2015: World News Tonight (and Good Morning America) reported a "White House petition demanding Dr. Palmer's extradition" after he killed Cecil the lion with 230,000 signatures.
May 14, 2015: World News Tonight reported "thousands signing the petition online" to save Johnny Depp's two yorkies that he smuggled into Australia.
Editor's Note: MRC analyst Kristine Marsh contributed to this report.
Methodology: MRC Culture (MRCC) searched transcripts with the terms "Target" and "gender" from the morning and evening news shows from the big three broadcast networks (ABC, CBS, NBC) from April 20 through the morning of April 26. MRCC watched the more recent news shows which did not yet provide transcripts.