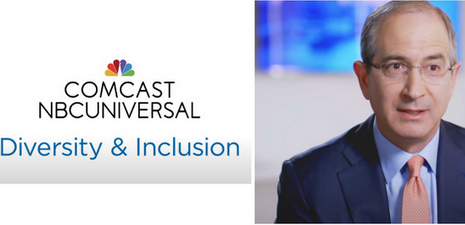 Liberal NBCUniversal News Group has decided to give back by launching an initiative it said would address systemic racism and inequality by — you guessed it — singling out individuals based on race and other identity groups.
Leftist cable communications company Comcast put out a press release Jan. 14, 2021 discussing which "underrepresented groups" are the priority for NBCU News Group's new "multiplatform journalism training and development program." In the press release, Comcast announced that the new initiative, called NBCU Academy, would be part of the "multi-year $100 million commitment to help address systemic racism and inequality" that was announced back in June 2020. Another part of the leftist outfits plan included announcing its Fifty Percent Challenge Initiative, announced in July 2020. The initiative challenged NBCU to become 50 percent people of color and 50 percent women. 
Comcast, the parent company of NBCU News Group, named which identity groups would be the beneficiaries of NBCU News Group's discriminatory initiative:
"In keeping with Comcast and NBCU News Group's commitment to diversity, equity and inclusion, the multi-year partnership involves 17 academic partners including Historically Black Colleges and Universities, Hispanic-Serving Institutions and colleges with significant Latino, Asian American and Pacific Islander, Black, Indigenous and tribal populations – reaching students from underrepresented groups including those from diverse racial, ethnic, sexual orientation, gender identity, ability, economic, and geographic backgrounds."
Sorry prospective cis, white, heteronormative journalists, NBCU News Group's new initiative was not made for you. NBCU News Group apparently decided the best way to respond to what it perceived as a lack of diversity, equity and inclusion was to just exclude a different group of people altogether.
Comcast also identified 17 schools partaking in NBCU News Group's woke, leftist initiative:
Borough of Manhattan Community College in New York, NY
California State University, Fullerton in Fullerton, CA 
Claflin University in Orangeburg, SC
Clark Atlanta University in Atlanta, GA
Dallas College in Dallas, TX
El Camino College in Torrance, CA
Florida International University in Miami, FL
Hampton University in Hampton, VA
Institute of American Indian Arts in Santa Fe, NM
Miami Dade College in Miami, FL
Morgan State University in Baltimore, MD
North Carolina A&T State University in Greensboro, NC
Orangeburg-Calhoun Technical College in Orangeburg, SC
The City College of New York in New York, NY
University of North Texas in Denton, TX
University of Texas at El Paso in El Paso, TX
Xavier University of Louisiana in New Orleans, LA
This is not the first time liberal Comcast and NBCU News Group have partaken in identity politics and social justice advocacy. 
NBCU's cable channels division, for example, teamed up with the progressive Anti-Defamation League, Civic Nation and others in a social justice campaign called Erase The Hate. Meanwhile, Comcast Chairman and CEO Brian Roberts has also dabbled in identity politics and social justice advocacy. In a statement in June 2020, Roberts expressed that Comcast would support small businesses affected by state government COVID-19 lockdowns, but, he noted, the company would have a special focus on businesses owned by people of color.