A leftist crypto billionaire is hinting at throwing a billion dollars, give or take, to keep former President Donald Trump from winning the 2024 presidential election. Trump has not officially announced his bid for the presidency.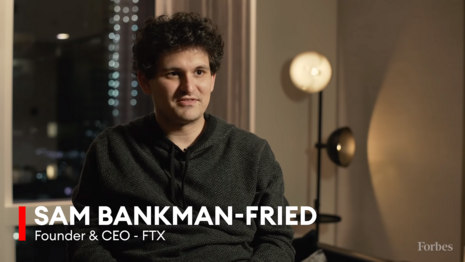 Sam Bankman-Fried has roommates, drives a Toyota Corolla and might seem like a pretty normal guy — except that he's dedicating north of $1 billion, potentially, to preventing Trump from winning the next presidential election.
Cryptocurrency exchange platform FTX founder Sam Bankman-Fried appeared on the May 24 edition of the podcast "What's Your Problem?" to discuss politics and "how to save humanity from extinction," according to podcast host Jacob Goldstein.
The billionaire gave an estimate of just how much money he would plow into the next election to stop Trump from becoming president again: "I would guess north of 100 million." Beyond that, Bankman-Fried said he would consider $1 billion "a soft ceiling" and might give more or less, depending on who runs in 2024.
And this wasn't the billionaire's first rodeo in Democratic politics. Bankman-Fried was "one of the biggest donors to President Biden's 2020 campaign. More recently, he donated over $10 million to support a candidate in a Democratic primary for a congressional seat in Oregon." 
And when asked whether he would give "a lot of money" to defeat Donald Trump in the 2024 presidential election, he answered, "That's a pretty decent guess." 
Bankman-Fried has also "spent at least $20 million this year supporting candidates in Democratic congressional primaries who have pledged to push the U.S. government to invest in stopping the next pandemic," according to NBC News. 
To put the crypto-billionaire's potential 10-figure donation in perspective, the top individual donation in the 2020 election cycle was $218 million, according to election watchdog OpenSecrets. That donation came from the late Las Vegas-based casino magnate Sheldon Adelson, and went to Trump. But that figure accounts for a tiny 20 percent of Bankman-Fried's possible $1 billion donation.
The scale of Bankman-Fried's potential donation would even put liberal billionaire George Soros to shame. Soros reportedly seeded his Democracy PAC with $125 million ahead of the 2022 midterm elections, which represents a mere 12.5 percent of what Bankman-Fried may give this cycle. 
Willamette (Ore.) Week reported that Bankman-Fried funneled a historic $14 million into his political action committee to elect Carrick Flynn, a Democrat candidate for Congress in Oregon. But those millions — translating to more than $1,200 per vote — didn't save Flynn's campaign. "Sam's candidate lost by a lot," Goldstein said during the podcast. 
Conservatives are under attack. Contact ABC News (818) 460-7477, CBS News (212) 975-3247 and NBC News (212) 664-6192, and demand their evening news shows report on Bankman-Fried's ungodly millions sloshing around the country to help elect radical leftists.