Washington Post media blogger Erik Wemple spends a lot of his time lamenting the pro-Trump tilt of Fox News, but on Friday, he faulted NBC News for "whiffing" on a Russiagate story that quickly unraveled. MSNBC was breaking its news, and it was quickly broken into a mess:
"We begin with exclusive reporting tonight from NBC News on the Russia investigation, and that now infamous meeting at Trump Tower last summer, the one between Donald Trump Jr., Paul Manafort, Jared Kushner, a Russian lawyer and multiple other Russian figures," said anchor Katy Tur Thursday afternoon on MSNBC. "Two sources tell NBC News that Manafort's smartphone notes from the meeting included the words 'donations' in close proximity to the reference to the Republican National Committee."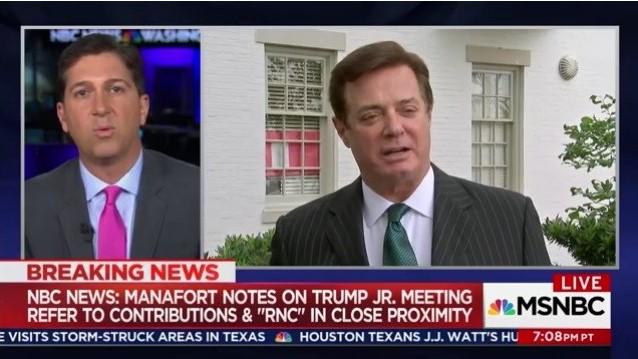 Wemple admitted that in the "mainstream" media, "Competition among news outlets to score Russiagate scoops is oppressive." But is it important to be first with...nothing much? Within four hours, NBC posted a correction on its story by Ken Dilanian and Carol Lee:
CORRECTION (Aug. 31, 6:30 p.m.): An earlier version of this article used an incorrect quotation in describing Paul Manafort's notes. According to a spokesman for Sen. Charles E. Grassley, whose committee staff has reviewed them, the notes did not include the word "donation." A source who provided the information said the notes used a word that referenced political contributions, and another source said the notes used the word "donor."
The result: You're not left with much of anything that's important or interesting. Nevertheless, after this corrected bowl of nothingness, Ken Dilanian went on The Last Word with Lawrence O'Donnell and played up that while his sources say the context of these words about contributions were unclear, it had "raised enough alarms" that investigators need to develop this "hugely significant" angle. Network reporters sometimes seem to be just trying to signal a mood -- Trump's in trouble, he's "raising alarms" and it's potentially "huge" -- and the facts aren't half as important. 
Wemple concluded:
The lead of the current version reads like this: "Paul Manafort's notes from a controversial Trump Tower meeting with Russians during the 2016 presidential campaign included a mention of political contributions near a reference to the Republican National Committee, two sources briefed on the evidence told NBC News."

So what? What if the notes were abridging a comment from the meeting in which someone said, "It's illegal for foreign nationals to make contributions to the RNC or DNC."? Both before the correction and after the correction, in other words, this story provides only fodder for innuendo and conspiracy, not for sound conclusions about what happened. According to a statement issued by Donald Trump Jr. when this whole story first broke, the Russian lawyer, Natalia Veselnitskaya, had mentioned information about Russia-connected figures funding the Democratic National Committee.

Fragments of documents don't much help the public understand the workings of government and politicians. We've seen this problem in reporting on Benghazi and other public dust-ups.

The Erik Wemple Blog doesn't make donations to the RNC. Look: We just made a reference to "donations" in "close proximity" to "RNC"!