The media quite routinely circulate Donald Trump tweets that they find offensive or at least controversial, even by now they suspect nothing outrageous ever dents the Trump magic among his followers. But what about the followers, the Trumpkins? How ugly can they be on social-media forums like Twitter? We know the media plucked offensive signs out at Tea Party rallies, so how is this different?
Soopermexican at The Right Scoop dug up what happened when the National Enquirer "story" about Ted Cruz's "secret mistresses" came out. CNN pundit Amanda Carpenter, a former Cruz communications director, was listed by this tabloid as a Cruz mistress. We apologize if this seems a bit rough for such a holy day, but it needs to be exposed and considered.
Start with the people who use Trump's name and image on their tweets:
For added contrast -- and a complete lack of self-awareness -- these retweets are also on this Undying Trump Lover's timeline after that (and some vile insults at Mrs. Cruz and the little Cruz daughters):
"The positive thinker sees the invisible, feels the intangible, and achieves the impossible"… https://t.co/50K6FjSC44

— Tiffany Trump (@TiffanyATrump) March 17, 2016
The Manhattan skyline celebrated the resurrection of Christ, Easter 1956. What are the odds this ever happens again? pic.twitter.com/GfElC0Aivz

— Andrew H. Scott (@CommissionerKY) March 27, 2016
This tweeter is a real Easter basket of love and kindness.
One wonders if these people are all organized by the Trump campaign to use the same vile talking points. They seem fond of the ugly C-word for Carpenter and her friend Mary Katherine Ham: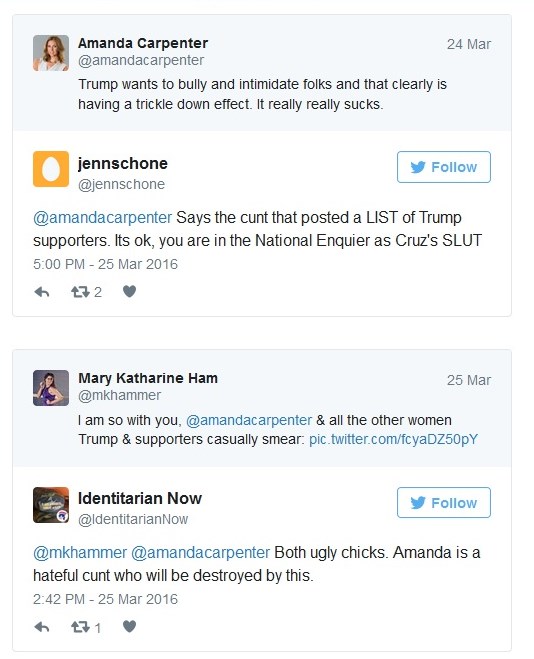 The "class" of these Trump supporters even extends to mocking Ham for her alleged reaction after her husband recently died in an accident while bicycling for charity:
All this could be yet another reason why women will think twice about checking a box for President Trump.