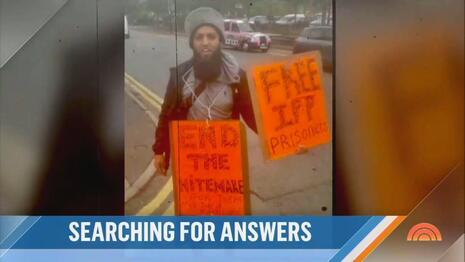 From Saturday night through Monday morning, the networks extensively covered Malik Faisal Akram taking hostages at a Texas synagogue. They mostly avoided phrases like "Islamic extremist," though they covered details around his demand that Aafia Siddiqui be released from prison. Referred to as "Lady al Qaeda," he's serving a long sentence for attempting to murder U.S. soldiers in Afghanistan.
From Saturday night through Monday morning, the networks devoted 45 minutes and seven seconds to Akram. ABC's morning and evening shows totaled 20 minutes and 14 seconds. CBS came in second with 15 minutes and five seconds and NBC was last with nine minutes and 48 seconds. 
NBC's Sunday Today opened the show with this: "Searching for answers." Though this case may not be difficult to find out. On ABC's Good Morning America, Monday, reporter Mireya Villarreal noted that Akram "appears to have been motivated by his demand to release convicted terrorist Aafia Siddiqui, a Pakistani  neuroscientist serving an 86-year sentence in the Fort Worth area for trying to kill U.S. personnel in Afghanistan." 
On Monday's Today, reporter Morgan Chesky related, "Authorities say Authority says Akram's key demand the release of Aafia Siddiqui, once known as the lady of Al Qaeda, convicted in 2010 of attempted murder of U.S. soldiers and in federal prison 20 miles from the synagogue." 
CBS Mornings also did not call Akram an Islamic terrorist, but did play a clip from the synagogue's live stream during the standoff. The fanatic ranted, "But Americans don't give a [bleep] about life unless it's a [bleep] Jew!" Clearly, motives are not too complicated in this case. 
On Sunday's Good Morning America, former FBI Agent and ABC contributor Brad Garrett praised the operation that rescued all the hostages and killed Akram. In the process, he uniquely used the phrase "Islamic-type extremist":
It was really a terrific story.  I've seen these not end this well, and any time you have an Islamic-type extremist or someone who purports to be that supposedly, that it can end really badly as we all know. 
Back in December, the networks quickly abandoned a bigoted, anti-Semitic criminal as he drove his SUV into a Wisconsin parade, murdering six. After a day and a half, the networks have covered the synagogue hostage situation for 45 minutes. As more details come out, will they drop this story too? 
The allergy to calling the hostage situation Muslim terrorism was sponsored by Hyundai on ABC, Subaru on NBC and Amazon on CBS. Click on the links to let them know what you think.