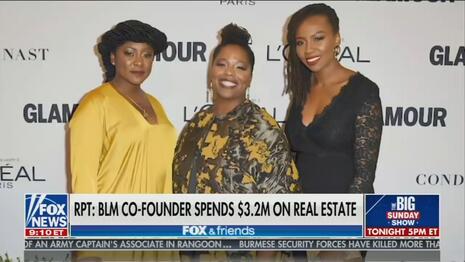 You would think this would be a eye-catching story: A Black Live Matter co-founder – supposedly a Marxist -- goes on a home buying binge, spending $3.2 million to purchase four houses in places like wealthy Malibu and the Bahamas. Yet, ABC, CBS and NBC yawned at this blockbuster revelation from Sunday's New York Post. This is despite the fact that ABC and CBS both previously hyped BLM co-founder Patrisse Khan-Cullors.
Here's how the New York Post explained it in a front-page expose on Sunday:
As protests broke out across the country in the name of Black Lives Matter, the group's co-founder went on a real estate buying binge, snagging four high-end homes for $3.2 million in the US alone, according to property records.

Patrisse Khan-Cullors, 37, also eyed property in the Bahamas at an ultra-exclusive resort where Justin Timberlake and Tiger Woods both have homes, The Post has learned. Luxury apartments and townhouses at the beachfront Albany resort outside Nassau are priced between $5 million and $20 million, according to a local agent.

The self-described Marxist last month purchased a $1.4 million home on a secluded road a short drive from Malibu in Los Angeles, according to a report.
Yet the networks are averting their gaze so far, pretending this story isn't out there. Fox and Friends Sunday, by contrast, noticed the hypocrisy.
On July 20, 2020, CBS This Morning interviewed BLM co-founders Cullors and Opal Tometi. The hosts ignored the Marxism of Cullors and Tometi's praise for thug dictator Nicolas Maduro. On January 7, 2021, ABC's GMA3 acted as a publicist for Cullors.
Now, suddenly, CBS and ABC aren't interested in the wealthy, free-spending Marxist co-founder?
The silence on CBS, Monday, was sponsored by Nature's Bounty. On Good Morning America, Toyota. On NBC's Today, Cadillac. Click on the links to let them know what you think.