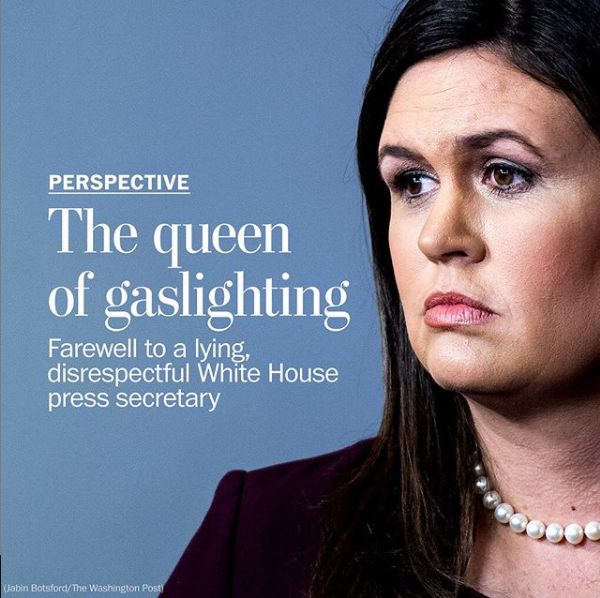 Just a day after the White House announced the departure of Press Secretary Sarah Sanders, The Washington Post posted a heartwarming tribute to Sanders on its Instagram page. Just kidding. The Post instead followed the lead of cable television; providing nasty commentary describing her as "the queen of gaslighting" and mocking her "curled-lip disdain."
The Post's Instagram page features a picture of Sanders accompanied by the phrase "The queen of gaslighting," with the caption: "farewell to a lying, disrespectful White House press secretary." The Instagram post referenced an article by Margaret Sullivan titled "Sarah Sanders was the disdainful Queen of Gaslighting." The article described gaslighting as a "Sanders specialty" and mirrored the contempt that many in broadcast journalism and Hollywood showed for Sanders upon the announcement of her exit.
According to Sullivan, "she misled reporters or tried to, and through them, misled the American people. And all with her distinctive curled-lip disdain." Sullivan's language sounds eerily similar to that of comedian Michelle Wolf, who mocked Sanders for her "smokey eye."
Speaking of Michelle Wolf, Sullivan seemed to frown upon the fact that "some journalists defended her when she was mocked by comic Michelle Wolf at last year's White House Correspondents' Association dinner." According to Sullivan, "that's all part of access journalism, mixed with some garden-variety humanity, and it shouldn't matter a whit in any true evaluation of how she performed."
Sullivan closed the article by bringing up President Trump's description of Sanders as someone "who has done an incredible job," arguing "since incredible literally means 'impossible to believe,' he got that part exactly right."
The article on Sanders' departure provides quite a contrast to the article the Post published ahead of the resignation of President Obama's press secretary Jay Carney. The tone of the article about Carney's departure is quite different than the one about Sanders. Just by looking at the headline, "The job of presidential press secretary takes a toll," it becomes clear that the Post article about Carney's departure is more of a news article than an opinion piece.
As opposed to Sullivan's rancor-filled commentary on Sanders, Paul Farhi's article on Carney's spends a great deal of time focusing on the role of press secretary in general, as the title would indicate. The article featured statements from previous press secretaries who served under both Republicans and Democrats.
While The Washington Post deserves credit for its down the middle article on Carney five years ago, it had previously acted as his cheerleader by publishing a puff piece on his admiration for the band Guided by Voices. Sanders or any past, present, or future Republican President's press secretary could only dream of such gooey coverage from any "mainstream" press outlet. From referring to Gayle King as a "soothing voice of reason" to trashing Sanders, it looks The Washington Post has thrown its objectivity card out the window.