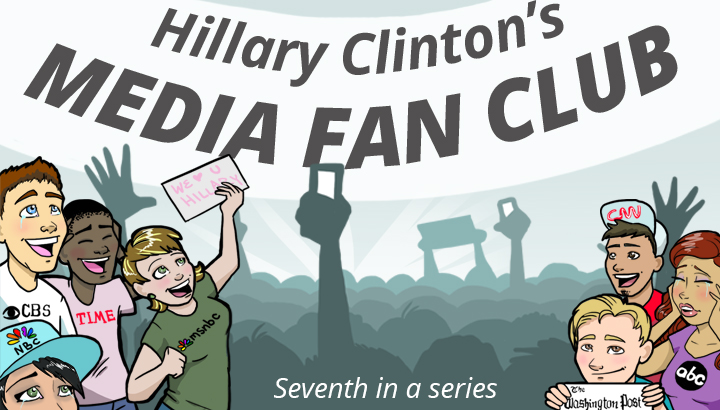 Today, the seventh (and next-to-last) installment of NewsBusters' special report, "Hillary Clinton's Media Fan Club," documenting how the media have helped fuel Clinton's political campaign by showering her with fawning news coverage, even as they discredit her critics.
This segment features quotes openly championing Hillary for President, from NBC's Willie Geist touting, "Can you think of a more qualified human being," to MSNBC's Chris Matthews thrilled by the idea of Hillary becoming "a truly great President," and ex-ABC News anchor Carole Simpson baffled by the non-believers: "I don't know why women don't think Hillary Clinton ought to be the first female President." (Links to rest of report added below.)
(Thanks to MRC's Mike Ciandella for tracking down many of the available TV clips; the full set of quotes follows the video compilation.)
■ "I had a dream that before I died, I would see a woman as President of the United States. I think you are the woman, and I think this is the time."
— Former ABC News anchor Carole Simpson endorsing Senator Hillary Clinton in New Hampshire, as quoted in MSNBC's "First Read" daily political blog, October 17, 2007.
■ "Presidential candidates, as we all know, have always been a great source of material and a great target of attack for late night talk show hosts....Of all the people that had jokes lobbed in their direction, catch the tally here: Hillary Clinton, no surprise, 198 shots she's had to take....Is she a natural target because she's so pure and good?"
— Chris Matthews on MSNBC's Hardball, December 12, 2007.
■ "Can you think of a more qualified human being? She lived in the White House for eight years with another President, she was a United States Senator, and now she's got every world leader on speed dial, so there'd be no questions about her qualifications."
— Co-host Willie Geist on NBC's Today, November 12, 2012.
■ "If, in the course of the next couple of years it appears, as it does appear right now, that you might be the person who could actually break through that glass ceiling and become the first female President of this country, would you feel a certain obligation to seize that mantle?...But there's never been a woman who really had a credible chance. And it looks as if you might just be that person."
— Co-anchor Cynthia McFadden to Hillary Clinton in an interview shown on ABC's Nightline, January 29, 2013.
■ Salon's Joan Walsh: "I think if she [Hillary Clinton] runs again, she really can't run as that front-runner. It cannot be that inevitability campaign that she ran in 2007, and she knows that. She's got to be about the future."
Host Chris Matthews: "If you're watching, Madam Secretary, all three of us have brilliant ideas. All of us have great ideas. And I especially put myself in that group with Joan and David [Corn]. We know how to do this, we'll get you in there."
— MSNBC's Hardball, February 25, 2013.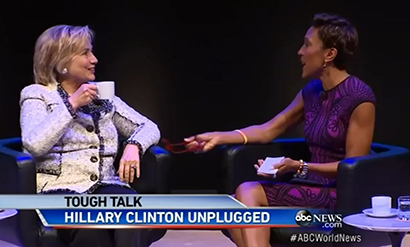 ■ ABC's Robin Roberts: "When I look at your Twitter page, you — the last thing you list is saying you're a 'glass ceiling cracker.' And no one feels it would be better to crack that glass ceiling than to have a woman as President, and many believe that that should be you."
Former Secretary of State Hillary Clinton: "Well, I think we should crack it also...."
— Excerpt of Roberts' interview of Clinton shown on ABC's World News, May 7, 2014.
■ "Let me finish tonight with the prospect of Hillary Clinton becoming not just the next President, but a truly great President. Let me be the first to say that the elements are there: her political positioning, her talents and personality....Hard work, experience, a willingness to work with Republicans — indeed, a real feel for the political world and how it works. If she weren't a candidate, I'm sure a lot of Republicans would be saying this. It's an established fact that people who work with her like her."
— Host Chris Matthews wrapping up MSNBC's Hardball, May 19, 2014.
■ "There was nobody who was more impressed with you than me and Joe [Scarborough], New Hampshire, back in 2008....It was the most, kind of, incredible thing we've ever seen in term of a candidate's ability to keep going and be acrobatic.... I've also said on the air, 'I would vote for you if you won.'"
— MSNBC's Morning Joe co-host Mika Brzezinski to Hillary Clinton, January 15, 2016.
■ Anchor Chris Jansing: "I guess we're not surprised about the Bernie Sanders young people phenomenon, although it still is a problem for Hillary."
MSNBC's Tamron Hall: "That's not the surprise....The big headline for me in the randomly selected group of people, the young women there did not care that Hillary Clinton could be the first woman President."
Jansing: "That's crazy to me. It really is."
— Exchange during MSNBC's live coverage, February 5, 2016.
■ "People my age, contemporaries of Hillary Clinton, want her to be President and are going to vote for her. The young women I teach at college — and I'm teaching the primary season this semester and we've been studying this — my young 20-year-olds don't understand why they should vote for Hillary Clinton....So I don't know what's happening, and I don't know why women don't think Hillary Clinton ought to be the first female President."
— Former ABC News journalist Carole Simpson on CNN's Smerconish, April 9, 2016.
■ "Madame Secretary, last night when you took stage in Sacramento, there was a woman standing next to me who was absolutely sobbing. And she said, you know, 'It's time. It's past time.' And you see the women — you see people here and people just come up to you and they get tears in their eyes. Do you feel — do you feel the weight of what this means for people?"
— NPR's Tamara Keith to Clinton at a June 6, 2016 press availability shown live on CNN Newsroom.
Links to other installments:
Part One: A NewsBusters Special Report: Hillary Clinton's Media Fan Club
Part Two: Journalists Cast Hillary as a Feminist Champion, Battling Sexist America
Part Three: Hating Hillary's Enemies in the Vast Right-Wing Conspiracy
Part Four: Journalists Saluting Hillary's 'Dazzling Political Mastery'
Part Five: TV Reporters' Top 10 Softball Questions for Hillary
Part Six: Journalists Help Hillary Overcome Her Many Scandals
Part Eight: Hollywood Celebrities Shake Their Pom-Poms for Hillary