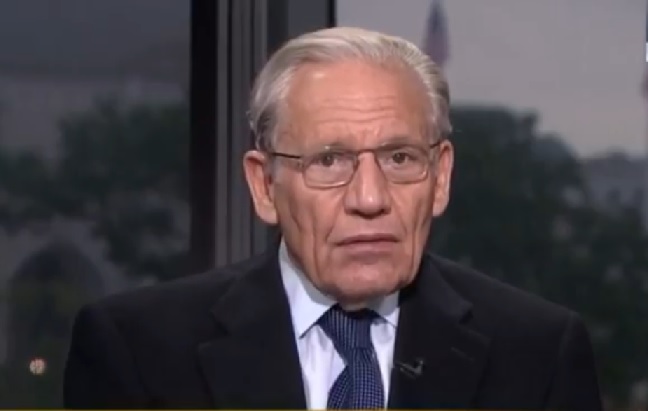 Washington Post reporter Bob Woodward is best known for his role in the Watergate scandal, but that reputation didn't help him at all when he attempted to moderate a discussion on a new book concerning the #MeToo phenomenon.
Instead, Woodward ran into a buzzsaw of criticism with boos and heckling while hosting a discussion with New York Times reporters Megan Twohey and Jodi Kantor, the authors of a book that describes the beginning of that sexual abuse scandal.
According to an article by Ken Meyer, a writer and editor for Mediaite, the event took place in a Washington, D.C., synagogue, and people in the audience quickly lost patience with the moderator.
Woodward repeatedly interrupted the reporters during a discussion about their new book, entitled She Said: Breaking the Sexual Harassment Story That Helped Ignite a Movement, and it wasn't long before people started booing and heckling the Post editor or leaving the event entirely.
According to Meyer, She Said details the investigative reporting into sexual predator Howard Weinstein's actions throughout the years, and "it also covers how the Hollywood mogul's downfall became the trigger for the #MeToo movement."
Others at the event vented their displeasure with angry tweets, like Robyn Swirling, a sexual abuse survivor who was in the audience:
I should be clear here that @mega2e and @jodikantor spoke with mindfulness, care and absolute professionalism about everything and every person throughout this interview, and did masterful jobs pushing back at the inappropriate questions.

Turns out, what I really needed to worry about was @realBobWoodward's aggressive and uninformed questioning, During Megan's intro, he interrupted her to blow past consent and identify some folks in the audience.
"Many of Woodward's critics took issue with his questions about whether Weinstein's actions were about sex rather than him asserting power and control over women," Meyer continued.
Along that line of thought, CNN reporter Hilary Rosen described Woodward as "so clueless" about the topic.
At about the same time, reporter Shira Stein tweeted: "This audience … is not fans of Bob Woodward's questioning. ... [S]omeone yelled out for him to stop interrupting Jodi Kantor, and the entire audience got upset when he said Weinstein's behavior was about sex."
"Every woman in the audience was holding their breathe [sic] during long portions of this conversation," noted Vox.com Visuals Editor Kainaz Amaria. "It's like the room will collectively exhale once Woodward stops talking."
Also, reporter J. David McSwane predicted:
Also that evening, New York Post reporter Ben Feuerherd contacted Woodward to get his version of what happened: "All I did was praise the book as a real handbook to investigative reporting and actually a masterpiece, and I asked questions about it."
Feuerherd added that Kantor and Twohey -- who broke the Weinstein sex abuse scandal in the first place -- signed a copy of their book for him after the event and thanked him for the "fabulous" questions.