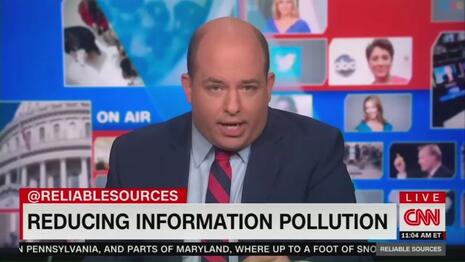 For this Monday's podcast, I kick things off by looking at CNN media reporter Brian Stelter going on tour to promote the paperback copy of his book. And he has some choice things to say about the people like me who called him out for his bootlicking interview with Press Secretary Jen Psaki the other weekend.
In an appearance on MSNBC's The Beat last week, Stelter said critics like me were not "good-faith actors." But meanwhile, he's the guy who, in 2017, was among the first to start pushing claims that President Trump was mentally compromised and a danger to himself and others. He also allowed a guest to claim Trump had killed more people than Hitler, Stalin, and Mao combined.
We also look at an interview he did for C-SPAN's Washington Journal where he claimed CNN provided the "reality-based point of view." And he was told off by some viewers who called into the show. "I had to call in because I think CNN is so liberal and I think Fox is great....  CNN, I cannot watch you. I wish I could," Pat from Dallas told him.
In the discussion section, Curtis and I look at The New York Times' doting piece about Virginia Governor Ralph Northam (D), a.k.a. Governor Blackface. According to the liberal rag, Northam surviving his blackface/klan hood scandal had positioned him well for a rich political future after being governor.
Curtis also mentions how CNN is trying to rehabilitate yet another sexual degenerate. This time it's Katie Hill. They're building quite the disgusting stable of characters over there.
And finally, we announced who our guest will be for Wednesday's podcast: Joseph Chalfant! He's a former NewsBusters intern who has gone on to be the president of Lone Conservative, "America's largest conservative student commentary publication."
Enjoy!