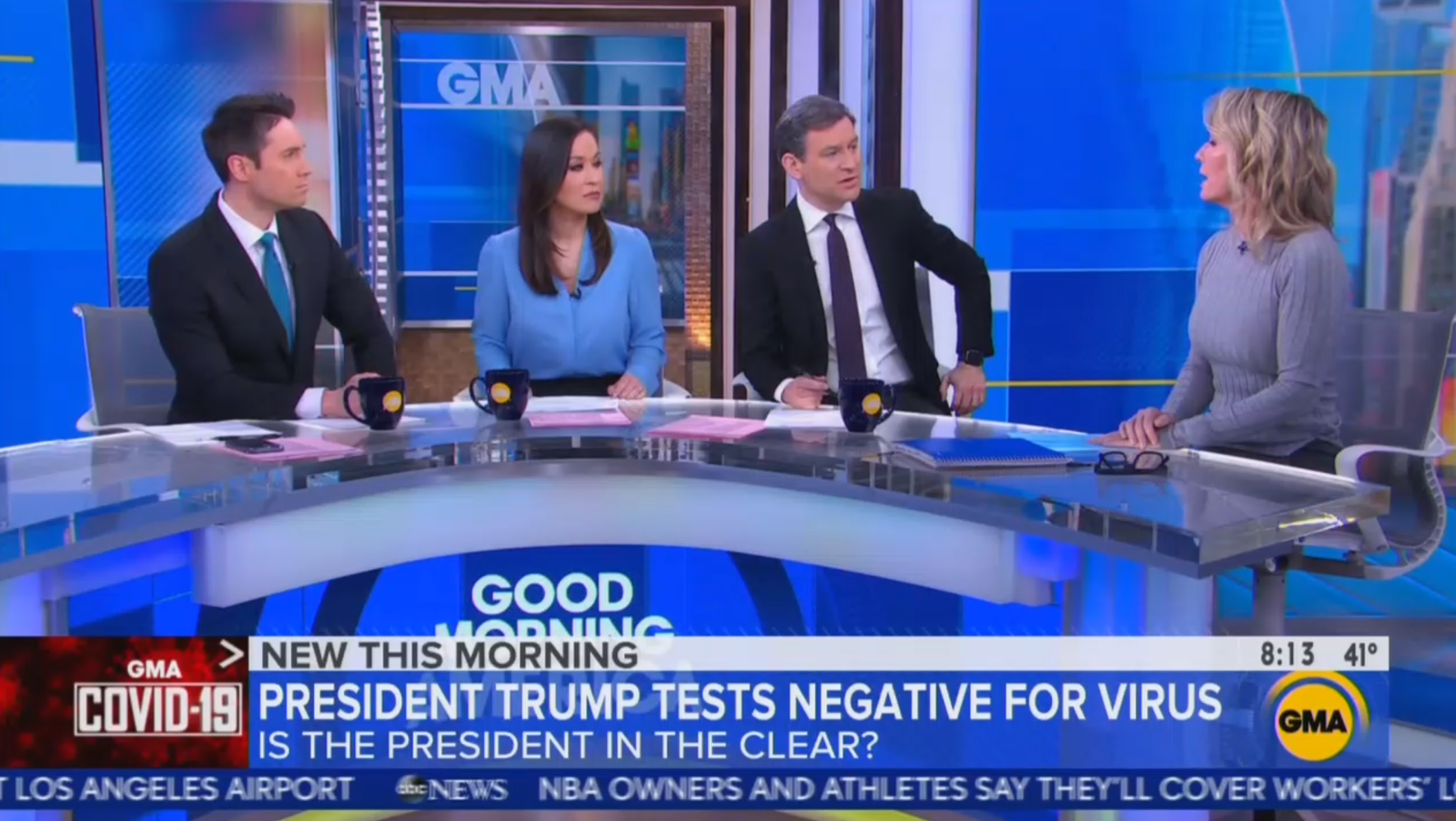 Fortunately, after multiple close interactions with people who had later tested positive for the deadly coronavirus (COVID-19) or suspected to have it, President Donald Trump had tested negative according to a test administered by his personal doctor and a statement released Saturday night. Despite the fact the result came from a trained medical professional, Sunday's edition of ABC's Good Morning America continued to insinuate that the President was a carrier of the virus.
"Whether or not the President is sick, the threat of the spread is still there. And the White House is notably upping its precautions," reporter Trevor Ault stated at the top of his report.
He later added: "This morning, the relentless spread of the novel coronavirus appears to have, so far, stopped shy of the Oval Office. According to his personal doctor, President Trump's COVID-19 test is negative, the result released hours after the President spoke Saturday in the briefing room. Where he joked about his temperature."
The heavy-handed insinuation of infection came roughly three minutes later when co-anchor Dan Harris turned to ABC's Dr. Jennifer Ashton and asked: "Let's start with the COVID-19 test that the President took. It's negative. Is he out of the woods?"
According to Ashton, the testing might not have been enough. "Well, here's the difficult thing about testing, right now we don't totally know how this virus behaves in terms of the asymptomatic period, in terms of can people develop symptoms after a certain time," she said.
"What we do know, just published in the last week, that the average incubation is 5.2 days and by 11 days 97 percent of people who convert to positive have done so by day 11," she added. "We also know that people can have coronavirus and not show symptoms and we know that some percentage can't have a fever. So, when to test, how often to test, is still being, you know, worked out."
For days, the liberal media had been hyperventilating about the President not being tested despite being around people who had the virus. Yet, even after a test came back negative, they were still holding onto the narrative.
The outbreak was a serious situation and the media's petty games minimized that fact. The motivation may be wicked considering the President's age (73) puts him at risk of having severe enough symptoms that he could end up in critical condition or even die.
The transcript is below, click "expand" to read:
ABC's World News Tonight
March 15, 2020
8:09:13 a.m. Eastern

WHIT JOHNSON: Overnight, the White House announcing that President Trump has tested negative for the coronavirus. And following some initial confusion we're now getting new information about Google's involvement in creating a national website containing testing information. ABC's Trevor Ault joins us from Washington with more. Trevor, good morning.

TREVOR AULT: Whit, good morning. Whether or not the President is sick, the threat of the spread is still there. And the White House is notably upping its precautions. The Vice President sent out an e-mail to the entire staff urging them to avoid physical contact and every journalist there, all of us, had our temperatures taken before we could attend Saturday briefing.

[Cuts to video]

This morning, the relentless spread of the novel coronavirus appears to have, so far, stopped shy of the Oval Office. According to his personal doctor, President Trump's COVID-19 test is negative, the result released hours after the President spoke Saturday in the briefing room. Where he joked about his temperature.

PRESIDENT DONALD TRUMP: By the way, I had my temperature taken coming into the room.

UNIDENTIFIED REPORTER: So did we.

TRUMP: You did? Good. Let's compare. Do you want to compare?

[Transition]

UNIDENTIFIED REPORTER: Was your temperature normal, Mr. President?

TRUMP: Totally normal.

(…)

8:12:21 a.m. Eastern

DAN HARRIS: Let's start with the COVID-19 test that the President took. It's negative. Is he out of the woods?

DR. JENNIFER ASHTON: Well, here's the difficult thing about testing, right now we don't totally know how this virus behaves in terms of the asymptomatic period, in terms of can people develop symptoms after a certain time? What we do know, just published in the last week, that the average incubation is 5.2 days and by 11 days 97 percent of people who convert to positive have done so by day 11. We also know that people can have coronavirus and not show symptoms and we know that some percentage can't have a fever. So, when to test, how often to test, is still being, you know, worked out.

HARRIS: It's a new virus.

ASTON: Yup.

(…)