CNN set aside nearly half of its air time on Wednesday's New Day to various recent controversies involving the Trump campaign — 1 hour, 24 minutes, and 18 seconds over three hours. By contrast, the program clearly didn't think much of the Wall Street Journal's Tuesday revelation that the Obama administration secretly airlifted $400 million in cash to Iran. John Berman gave a 27-second news brief to the report, but didn't mention that the payment was sent on "an unmarked cargo plane" [video below] New Day, therefore, devoted over 187 times more coverage to Trump than to the millions to Iran.
The morning newscast led its 6 am Eastern hour with a report from correspondent Manu Raju on Trump's extended spat with the parents of deceased army Captain Humayun Khan, along with his recent non-endorsements of House Speaker Paul Ryan and Senator John McCain. The journalist also mentioned President Obama's Tuesday slam of the billionaire at a press conference with the prime minister of Singapore.
Raju then participated in a panel discussion with CNN's David Gregory and the Washington Post's Philip Rucker, who gave the interview of Trump where he refused to endorse Ryan and McCain. Altogether, the first 13 minutes and 26 seconds of New Day was devoted to the Trump issues. The panel then came back for another three minutes and 35 seconds to discuss the veteran who gave the presidential nominee his Purple Heart and Captain Khan's father blasting Trump for accepting it.
<<<Click on the image below to help us with your tax-deductible gift>>>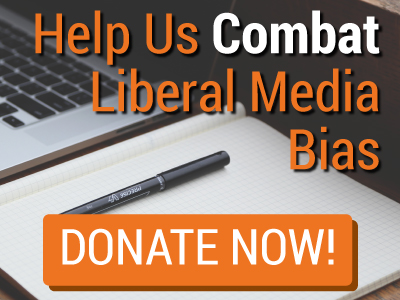 <<<Thank you for your support!>>>
Later in the 6 am hour, the morning show spent two minutes and 24 seconds on Ivaka Trump's remarks on sexual harassment versus her father's take on the issue. They also aired a 23-second news brief on the latest development in the Trump University lawsuit. Anchor Alisyn Camerota also devoted three minutes and nine seconds of her interview of Florida Governor Rick Scott to the Trump controversies. Berman also gave his brief on Iran just after the bottom of this hour.
Raju came back at the top of the 7 am hour to repeat his report from the previous hour. The program continued with panel discussion with former Trump campaign official Corey Lewandowski and CNN contributor and New York Democratic Party official Christine Quinn, who faced off on the recent Trump issues. Between these two lead segments, New Day spent the first 14 minutes and 55 seconds of its second hour on these controversies.
Later in that hour, Camerota interviewed former army Sgt. Laci Walker, a friend of Captain Khan, on the public dispute between his parents and the billionaire presidential candidate. Fill-in anchor John Berman also interviewed Vanity Fair's Nicholas Shaxson & Bloomberg View's Timothy O'Brien for their take on Warren Buffett's Tuesday call for Trump to release his tax returns. The latter two segments from the 7 am hour totaled another 11 minutes and 48 seconds of air time.
During its final hour, New Day turned to Raju one more time for his reporting on Trump. The program then brought on contributor Bakari Sellers and Trump campaign spokeswoman Katrina Pierson for their own back-and-forth over the various controversies. These two segments lasted 15 minutes and 17 seconds.
Later, the anchors interviewed former Obama adviser David Axelrod and Ari Fleischer, former spokesman to President George W. Bush, for over six minutes each for their reactions to the Trump controversies. Camerota also spent over five minutes interviewing Catherine Byrne, a mother of an Air Force serviceman, who was recently booed at a rally for Trump's running mate, Mike Pence. Altogether, the newscast devoted over half of its 8 am Eastern hour — 33 minutes and 38 seconds — to the recent issues involving the billionaire.
The transcript of John Berman's news brief on Iran from CNN's New Day on August 3, 2016:
JOHN BERMAN: The White House insists there was no quid pro quo, but the Wall Street Journal reports that a secret $400 million payment to Iran coincided with the release in January of four Americans — three of them pictured here. They had been detained by Iran. A State Department spokesman says the money for Iran was related solely to the settlement of a suit dating back to a 1970s arms deal. He says those negotiations were completely separate from discussions about bringing the Americans home.