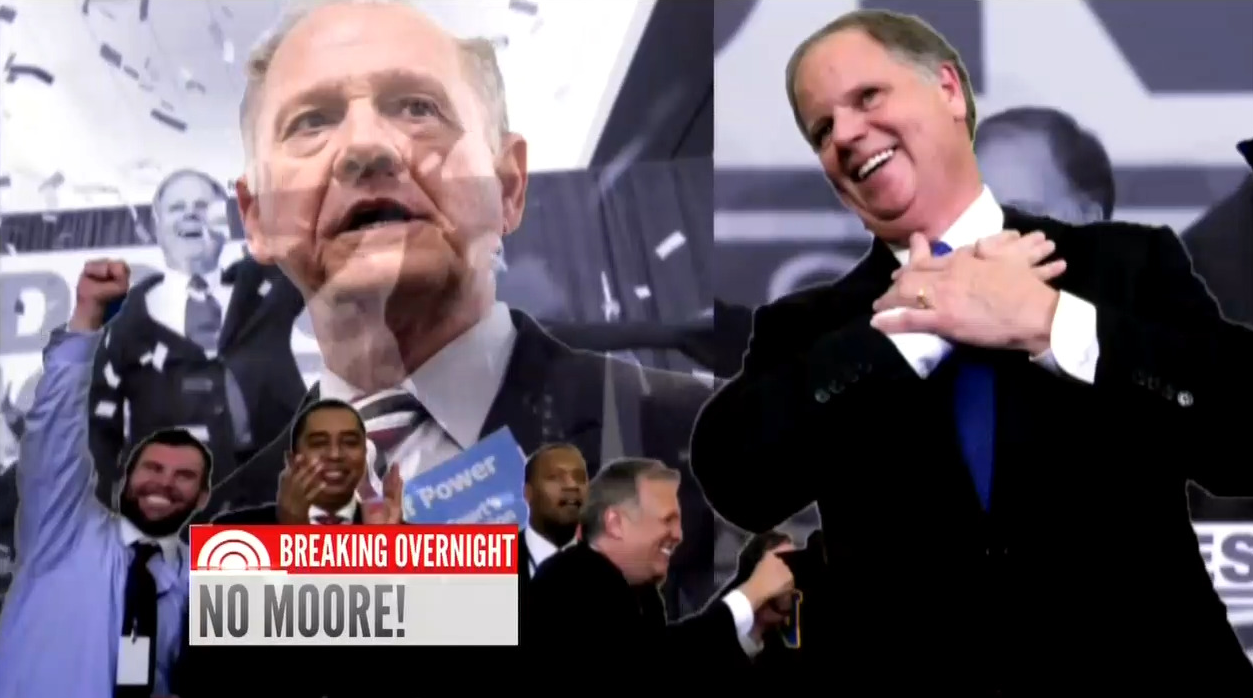 On Wednesday and Thursday, the broadcast networks were openly enthusiastic about the prospect that Democrat Doug Jones winning the Alabama Senate race could derail the entire Republican legislative agenda. In stark contrast, when Republican Scott Brown pulled off a major upset win in the 2010 Massachusetts Senate race to replace the late Ted Kennedy, the same liberal media went into mourning.
"Breaking overnight, No Moore! Alabama delivers a stunning once-in-a-generation upset," co-host Savannah Guthrie proclaimed as she opened NBC's Today show Wednesday morning. Apparently she had forgotten that it was actually a twice-in-a-generation upset, following Brown's victory seven years ago.
Moments later, fellow co-host Hoda Kotb declared: "A stinging defeat for Republicans and for President Trump." Guthrie added: "It's a political earthquake." In the report that followed, correspondent Gabe Gutierrez breathlessly hyped: "For the first time in a quarter of a century, Alabama is sending a Democrat to Washington. And the Republican majority in the Senate will now be razor-thin, 51 to 49." He went on to tout the win as "a seismic political shift."
In the discussion segment after Gutierrez's story, Meet the Press moderator Chuck Todd excitedly warned that "every Republican in the country this morning needs to wake up and fear for their political lives."
Opening ABC's Good Morning America, co-host George Stephanopoulos announced: "Breaking news, Democrat Doug Jones takes Alabama, beating embattled candidate Roy Moore in that high-stakes Senate race. The deep-red state elects its first Democrat in 25 years, consequences for the whole nation." Soon after, he eagerly told his fellow co-hosts: "And, guys, make no mistake about it, it may have been in the state of Alabama, but this is gonna play out all across the country for a very long time."
Michael Strahan agreed as he quoted the newly minted liberal lawmaker: "Absolutely, George. And Jones saying last night, 'We have shown the country the way that we can be unified.'"
Sounding identical to his NBC colleague Gutierrez, reporter Tom Llamas heralded: "This morning, for the first time in 25 years, Alabama is sending a Democrat to the U.S. Senate....Doug Jones beating Republican Roy Moore in one of the most conservative states."
During a political roundtable that followed, analyst Matthew Dowd predicted "a huge problem for the GOP...for the elections in 2018." He seemed thrilled that "It now opens the door, for the first time, for the Democrats to take back the Senate." Chief White House Correspondent Jon Karl described the Republican loss as "a spectacular defeat for the President."
Stephanopoulos observed: "The Senate Republican majority will drop by one on about January 3rd, so this won't impact the tax bill –  likely won't impact the tax bill – but will affect everything next year." Capitol Hill Correspondent Mary Bruce gushed: "With Jones's victory, the Republican majority here in the Senate now dwindles to just one vote. It likely makes their agenda for Republicans harder to get done. It could put pressure on Republican Leader Mitch McConnell to work more with Democrats."
Leading off Wednesday's CBS This Morning, co-host Gayle King hailed: "Doug Jones defeats Republican Roy Moore in a stunning upset in Alabama. We'll look at how Jones won and what it means for President Trump's agenda." She offered this sensational headline as she introduced a report on the electoral outcome minutes later: "It was an earthquake, you could say. The traditionally Republican state of Alabama surprised the world by electing a Democratic senator."
King added: "Doug Jones's victory was a setback for President Trump....A new razor-thin GOP majority in the Senate, 51 to 49, will make it even harder for Congress to pass Mr. Trump's agenda next year." Correspondent Nancy Cordes piled on:
Well, most immediately, losing that seat is gonna put more pressure on Republicans to pass their tax cut plan in the next couple of weeks, before their majority shrinks....Senate Republicans are now going to have an even tougher time passing GOP priorities like cutting entitlements or building a border wall, because they'll now only be able to afford one GOP defection on many votes....The bottom line here, Gayle, is that Republicans who were already frustrated that the Senate can't seem to pass the President's priorities are about to get even more frustrated.
At the top of the 8 a.m. ET hour, fellow reporter Major Garrett reveled in the news: "The simple truth is the President is now a two-time loser in Alabama, one of the most pro-Trump states in the country....Now Moore has lost, and the President's agenda, outside of tax cuts, is deeply damaged."
Wednesday night, CBS Evening News celebrated a "GOP on the ropes" and asserted that the single defeat would "make it more difficult for President Trump to get his agenda passed."
On Thursday, NBC's Today and CBS This Morning touted Democratic calls for Republicans to delay a vote on tax reform legislation to allow Jones to be able to vote against it. On Today, correspondent Kristen Welker promoted:
Democrats are trying to put the brakes on the whole thing, calling on Senate Majority Leader Mitch McConnell to delay a vote on the bill until the Democrat who won in Alabama is seated....The Alabama race cutting the already narrow Republican majority by one vote and throwing the entire GOP agenda into question.
On This Morning, Face the Nation moderator John Dickerson noted: "Democrats want to delay a vote until Alabama Senator-elect Doug Jones comes to Washington, cutting the GOP majority to two in the Senate."
Compare the giddy network reaction to the 2017 Senate special election results, to the dour, almost fearful attitude that NBC, ABC, and CBS took in 2010 after Republicans won control of the Massachusetts Senate seat held by Ted Kennedy for decades.
On the January 20 Today show, then-co-host Meredith Vieira interrogated Republican Senator-elect Scott Brown on his political intentions: "You know on a personal note, you said last night the first call you made after your victory was to Ted Kennedy's widow, Vicki....How comfortable was that for both of you, knowing that you plan to do whatever you can to derail what Ted Kennedy called, called 'the cause of his lifetime,' which is health care reform?"
On Thursday, Democratic Senator-elect Doug Jones was treated to series of softballs from Guthrie that completely avoided his radical left-wing views.
Even before Brown was elected in 2010, just the possibility of the GOP winning Kennedy's Senate seat terrified ABC News. Appearing on the January 18 World News, Stephanopoulos bemoaned that a Democratic loss would be a "Shakespearean" tragedy.
On the January 20 CBS Early Show, then-co-host Maggie Rodriguez echoed the sentiments of Vieira: "When it comes to health care, I think it's so ironic that the late Ted Kennedy's passion was health care. He dedicated his career to it. And the man who will replace him could be the one to derail it." She fretted to Dickerson (then a political analyst): "Do you think that'll happen? Do you think that Senator Brown will be seated in time to vote no?"
Not only were the network hosts saddened by the Democratic defeat in 2010, but they were deeply concerned that the loss would upend the effort to pass ObamaCare.
In 2017, the same networks were almost gleeful that the Republican agenda would suffer a "setback" or be "deeply damaged" by the GOP losing the Alabama election.