It was inevitable.
Forget the way Roger Ailes departed from Fox News. Had there been no kerfuffle over a sexual harassment lawsuit, somewhere down the road lay the inevitable - as it hangs out there for us all. This would be called "mortality." And it knocks on the door of every human being, even for the creators of Fox News.
Fox News has met The Transition.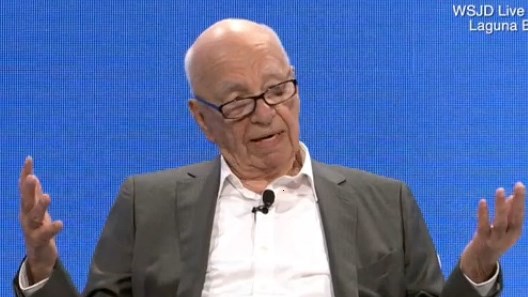 Media companies, like any other company, start as nothing more than a gleam in a visionary's eye. Decades ago a young man from Adelaide, Australia took control of two regional newspapers -- the Adelaide News being one -- and a solitary radio station at his father's death. The transition had arrived for Adelaide's newspaper and the infant Murdoch "empire." Slowly, Rupert Murdoch took what had been built by his father, and set about expanding the family business, buying this and that Australian newspaper that seemed not to be doing so well.
Eventually, as history records, he began his global reach with the purchase of a New Zealand paper. By 1968 he was taking his first serious step into the big time with the purchase of Britain's News of the World. And on he rolled. Eventually buying the New York Post. Buying the Post, once a liberal media pillar, was so unsettling to liberal media insiders that Time magazine depicted Murdoch as King Kong atop the Empire State building, a copy of the Post in hand. The banner across the cover picture: "EXTRA!!! Aussie Press Lord Terrifies Gotham".
The terrifying of the liberal media had only just begun. Along the way Murdoch crossed paths with Republican political and media consultant Roger Ailes, the media guru to Richard Nixon and later Ronald Reagan and George H.W. Bush. The result: Fox News.
Today, Fox News -- under the guiding hand of Roger Ailes -- has become a huge success. And as is always the case, eventually a transition begins.
Can Fox News transition? Think for a moment of CNN (where, full disclosure, I hang my hat as a commentator.) CNN was the brainchild of Atlanta outdoor advertising tycoon Ted Turner. Creating a cable news network out of whole cloth -- such a media animal had never existed -- Turner, like Murdoch, was a visionary. So too was the late Henry Luce, who, with prep school and college buddy Briton Hadden, created a brand new magazine in the 1920's -- Time.
And so too were the Warner brothers -- Jack, Albert, Harry and Sam, the sons of Jewish immigrants from Poland -- creating their own dream of a movie studio, Warner Brothers. In each case, as the founders died off, their dream faced the transition. Managers took the reins, and managers are necessarily not the same as creators. In the case of Warner Brothers, the studio was taken over by Steve Ross, a funeral-home operator who had improbably expanded into a parking lot business -- and eventually set his sights on the troubled Warner Brothers studio, where the transition from creators to managers had not gone well.
By 1989, Ross stunned the media world by merging the dream of the Warner brothers with the dream of Henry Luce, and Time/Warner was born. It became the place where, when he finally decided to sell, Ted Turner placed CNN. The transition from the creator/visionaries to the managers had been made. Later, much later, the managers of the dreams of Henry Luce, the Warner brothers and Ted Turner tried to merge with the dream of AOL founder Steve Case - and that time, the managers got it wrong. Eventually AOL was dumped.
Now its Fox's turn. As with Apple's loss of founding father Steve Jobs and the handover to manager Tim Cook, with no more Ailes and Rupert Murdoch in his 85th year, it is fair to say that the complete and final transition at Fox from the creators to the managers is now underway.
Can it succeed? Will it fail? The answers are "yes" and "entirely possible."
Not least of the new management's problems is having an understanding of the political world that Roger Ailes understood in his bones -- and the liberal media bias that tries to shape that world.
As it happens, a small but classic example of the beast of liberal media bias popped up within days of Ailes departure. A news report surfaced that journalist Orlando Salinas had been arrested and charged with rape. The kicker? Salinas once worked for Fox News as a reporter -- but left Fox in 2012. After that he joined CBS - where he worked until just last year. But the headline on the AOL story of Salinas's arrest?
Former FOX News correspondent charged with rape
Not "Former CBS correspondent" but "Former Fox News correspondent." And, but of course, AOL tried to link the story to the Ailes departure, when in fact one story had zero to do with the other. As it happens, a CBS basketball analyst was arrested in 2015 for soliciting a prostitute, as reported here. Did AOL tie the Salinas arrest to the arrest of the CBS sports reporter? After all, both worked at CBS until recently and both are charged with sex-related crimes. No, of course AOL didn't do that - and to be clear, should not have done that because one story had nothing to do with the other nor with CBS. But when it came to Salinas, in spite of the fact he had departed Fox four years ago, AOL went out of its way to have readers think there was some connection between the Salinas story and the Ailes story. That is liberal bias front and center.
So what happens next to Fox News? What happens when not just Ailes and Murdoch are gone, but some of the on air talent? The latter leaving either through natural retirement or opportunities elsewhere. Much was made, for example, of this story about Megyn Kelly at the Democratic National Convention, as headlined here in the Washington Post:
Megyn Kelly hangs out at CNN Grill, stoking speculation that she could leave Fox News
Running a media company is never an easy proposition - not to mention creating one out of whole cloth, which Murdoch and Ailes, to their everlasting credit, did. They and Fox News have had an incredibly long run. But as with us all, time marches on. Can whomever emerges as the new managers of Fox News. presumably the Murdoch sons and their designated replacement for Ailes, keep the network together and have it prosper into and through its transition?
Only time will tell. But whatever happens to Fox News, this moment in its history will be fascinating to watch.