Update: Elijah Schaffer personal Instagram and "Slightly Offensive" show page now appear to be online on Facebook and Instagram. 

The Blaze journalist Elijah Schaffer, who has put his own physical safety at risk to report on riots throughout 2020 has been shockingly deplatformed for unknown reasons.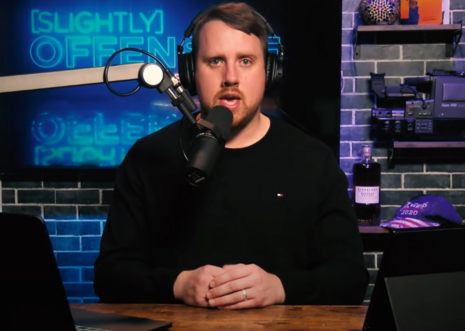 "Journalist Elijah Schaffer has been banned from Facebook and Instagram on Friday. He reported on Twitter that the two social media platforms, both of which are owned by Facebook, took down his profile and content," The Post Millennial posted Jan. 8. Schaffer announced that his Instagram account had been banned earlier that same day: 
"Facebook & Instagram have permanently suspended me from their platforms w/out explanation

"It was mostly just pictures of my wife, dog and memories of my mom who recently died

"But big tech is relentless. Reporting the truth is now illegal

"Follow me at http://Blazetv.com/elijah"
The Post Millennial made explicitly clear Schaffer was "instrumental in reporting on protests and riots during the summer of 2020." This included "[getting] up close and personal with protests and riots across the country, getting assaulted in Philadelphia, and threatened in Rochester, among other cities."
Activist Brandon Straka's WalkAway foundation was also reportedly purged from Facebook. Schaffer commented in response: "The Purge is not only here, it's going to get worse. We've been predicting this for a while now. Get ready."
Schaffer's Instagram account indeed appears to be unavailable with "Sorry, this page isn't available," adding below, "The link you followed may be broken, or the page may have been removed. Go back to Instagram."
Conservatives are under attack. Contact Facebook headquarters at 1-650-308-7300 or 1-650-543-4800 or Instagram at support@instagram.com and demand that Big Tech be held to account to provide clarity on "hate speech," rules that seem to be applied inconsistently. If you have been censored, contact us at the Media Research Center contact form, and help us hold Big Tech accountable.