The taxpayer-funded abortion giant has "patriarchy" to thank for exposing its dealings, according to CNN's Sally Kohn.
On Twitter Wednesday, the CNN political commentator and Daily Beast writer blamed the recent videos showing Planned Parenthood executives trafficking aborted babies' parts on the "patriarchy" and "white supremacy." She claimed the videos had to be "edited" because "facts alone not on their side [sic]."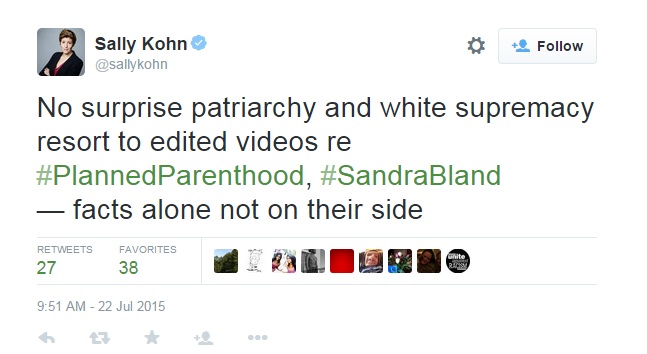 Speaking of patriarchy and white supremacy, Kohn didn't mention that abortion targets African-American babies as well as baby girls.
Kohn's tweet also referenced Sandra Bland, a "Black Lives Matter" activist who police say committed suicide in jail after her highly criticized arrest was caught on camera .
But in the reaction to her tweet, Twitter users focused on Planned Parenthood:
Kohn has been very vocal in her support of Planned Parenthood amidst the scandal. On Tuesday, Kohn tweeted praise for a Daily Beast article entitled, "Hoaxers Fail to Nail Planned Parenthood in New Video." Kohn applauded the article that "dissects bullsh*t entrapment" and that the "GOP is happy to manipulate for its anti-woman agenda." In yet another tweet, she bashed the "scam videos" as "BS."