Leftists' reactions to the tragic death of Rush Limbaugh have been, in a word, unhinged. 

Limbaugh, one of the most prolific figures in the history of American conservative media, passed away on February 17 at the age of 70 after a long battle with lung cancer. The talk radio giant and Presidential Medal of Freedom winner was best known for his mega-popular radio show, The Rush Limbaugh Show. Of course, Limbaugh being a dynamo of conservative thought and a loud supporter of Republican presidents like Donald Trump, made him a great pain for progressives all over the country.
Like his life, Limbaugh's heartbreaking death revealed even more of the abject nastiness of the far-left. As soon as the news of his passing broke on social media, his political enemies satisfied their egos by trashing the man whose radio presence was a source of daily hell for them.
In a tweet from liberal rag Huffington Post, the outlet announced the news of Limbaugh's passing and linked to its article about the tragedy which featured a disgusting headline that read, "Rush Limbaugh, Bigoted King of Talk Radio, Dies at 70." That's not exactly a eulogy.
Lefty sports outlet Deadspin waxed even more hateful in their treatment of Limbaugh's passing. Writer Jesse Spector penned an article about it with the headline, "Rush Limbaugh, dead at 70, spewed racist filth from every pulpit including ESPN's." Wow, how lovely. In the piece, Spector referred to the radio host as "a terrible human being whose hate the world is better off not having in it." Though it's pretty ironic to say such a thing and call someone else hateful.
Deadspin's social media post linking to the article provided a hateful statement about Limbaugh as well, calling him an "asshole." It stated, "Noted fearmonger Rush Limbaugh died Wednesday. He was 70 and an asshole." 
Lefty comedian Matt Oswalt provided a nasty quip for the occasion, tweeting that Limbaugh was "born in 1951 and remained there the rest of his life." Yes, Rush's conservatism made him a backwards, behind-the-times bigot. What an assessment. 
Crooked Media podcast host Louis Virtel made a gross statement about Limbaugh on Twitter as well. The lefty pundit slammed both the host and his own aunt, tweeting, "Once I learned my aunt listened to Rush Limbaugh, I knew never to speak to that aunt again. Thanks, Rush!" Again, who is the actual bigot here?
Affinity Magazine, a supposed political website "by teens for teens" poured on the high school pettiness after the host's passing, tweeting that Limbaugh, "will be remembered as the racist, misogynistic, homophobe he unapologetically lived as." We're glad that the publication is teaching civility to young people.
TheBlaze's Jessica O'Donnell tweeted out a screenshot of "Rush Limbaugh" trending on Twitter, and pointed out that along with it, the phrases, "Good Riddance" and "Rot in Hell" trended as well. O'Donnell commented, "literally any time leftists say they want unity/harmony, I'm just going to show them this."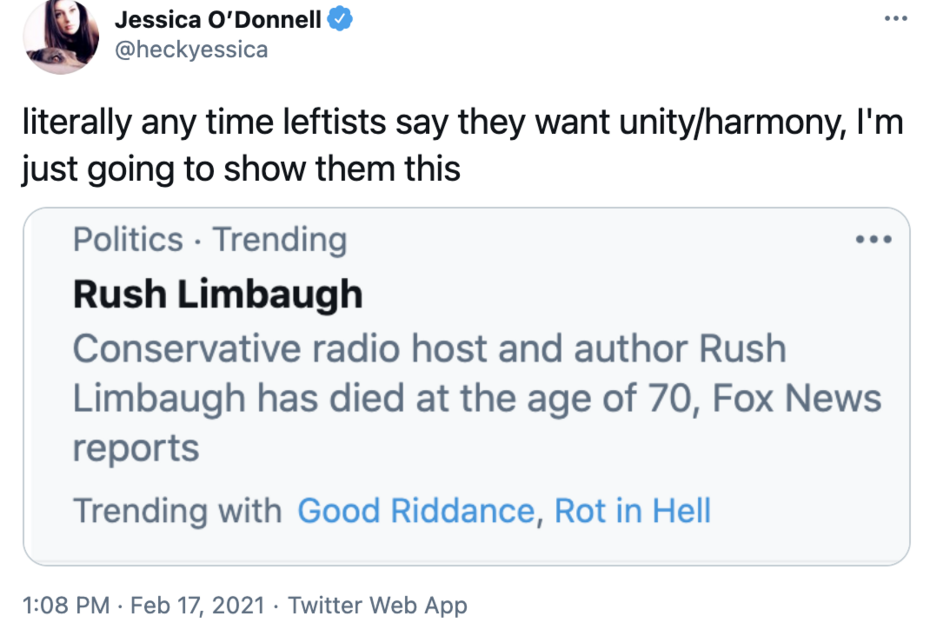 O'Donnell's post proves that leftists all over Twitter were saying nasty things about the late host within hours of his passing. And yet, they're claiming that Rush was the hateful one?