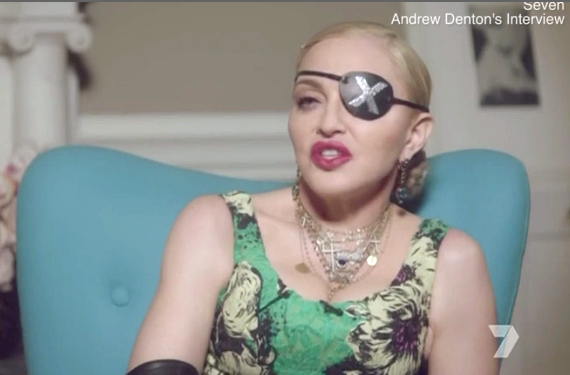 Madonna is out with her first album in four years, which means it's time for her to wear something ridiculous, like a sequined eye patch, and say outrageous things for publicity, like that Jesus would agree with abortion.
The singer went on Australian Andrew Denton's Interview, to promote the release of her new album Madame X, which came out on June 14, and the subject of religion and the Catholic Church came up several times in Tuesday night's broadcast (audio here).
Denton made a joke about the Material Girl having a drink with the Pope and Madonna said, "One day he might invite me. I think this one might," because the media and celebrities like to think Pope Francis is a lot more liberal than he actually is.
The sexagenarian (I'm surprised the sex-obsessed diva isn't using this word herself) mused about what she would like to talk about with the Pope if given the opportunity and she came up with abortion.
'Let's talk about Jesus' point of view about women. Let's talk about it. What do you really think he thought of women? And don't you think Jesus would agree that a woman has the right to choose what to do with her body?' I think he would be open to having that conversation with me.
Raised Catholic, Madonna claimed in 2015 during her last album promo tour, "I've been ex-communicated by the Catholic Church a few times. But I also feel like this new pope is kind of groovy, and I think we might be able to get together and have a chat about sex." The Pope might be willing to have a conversation, as he has discussions with all kinds of people of all kinds of beliefs, but there's no way he would agree with her.
Continuing with the blasphemy theme, in another segment with Denton, Madonna managed to turn the crucifix into something sexual and pagan.
There's something really extreme and dramatic about the idea that you know, in any church you go and you see a man on a cross, practically naked, bleeding from his wounds, and everyone genuflects and prays to him. I find that so intriguing, poetic and sometimes sexual, sensual. And the idea that people are – in a way, it's pagan because people are worshipping a thing.
In a discussion about the many personas behind her Madame X character, Madonna praised the acts of prostitution and being a head of state as two equally valid and admirable things for women to do.
It's also my point of view about the marvelous and wonderful and magical things that a woman can do – and you could be a head of state and you could be a prostitute and both of them have – there's something to admire about both of them. There's an art to all of those things and one job isn't better than another and all women that do all of these things should be applauded, respected and admired.
To coincide with the new album release, Madonna and TIME Studios just released a new social justice video for her song "I Rise" that's mostly footage of the March for Our Lives, resistance rallies, refugee camps, Black Lives Matter, and gay pride.
Between Kesha railling against "Rich, White, Straight Men" and Taylor Swift slamming conservatives in her LGBT Pride anthem, the competition to be the most woke rich, white, straight woman in pop is fierce.