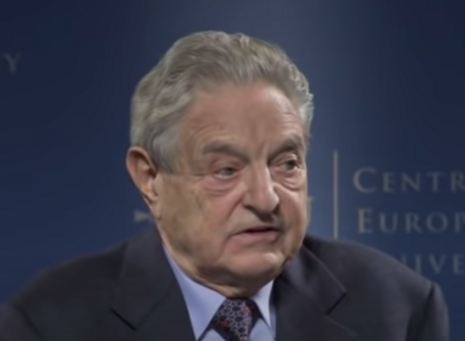 A leftist "dark money" group tied to liberal billionaire globalist George Soros has led the push to have Senate Democrats eliminate the filibuster, according to a new report.
The Washington Free Beacon reported that the radical group Fix Our Senate "is steering a coalition of 60 progressive groups to pressure moderate Democrats to eliminate the filibuster, which requires a 60-vote supermajority to advance legislation." 
Fix Our Senate has existed as a "project" of the leftist "Sixteen Thirty Fund, a nonprofit incubator managed by the D.C.-based consulting firm Arabella Advisors." Soros's Open Society Policy Center (OSPC) gave the Sixteen Thirty Fund $16,568,483 between 2016 and 2019 alone. "As a subsidiary of the Sixteen Thirty Fund, Fix Our Senate does not have to register as a standalone nonprofit with the IRS. This allows the group to operate largely in secret," The Beacon noted. Fix Our Senate "does not have to disclose its donors or file tax forms that would shed light on its financial activity, board members, or contractors," according to The Beacon.
The Beacon broke down the scheme by Fix Our Senate to dramatically overhaul the Senate's legislative process. The campaign has used racism as its pivot point:
The coalition led by Fix Our Senate is trying to drum up support by painting the filibuster as a racist tool. On Thursday, the coalition launched a nationwide, six-figure ad buy that 'makes the case that the filibuster, a long favored procedural tool of segregationists, has prevented voting rights and civil rights from passing the U.S. Senate.' Sen. Elizabeth Warren (D., Mass.) has similarly argued that the filibuster has 'deep roots in racism.'
Fix Our Senate spokesman Eli Zupnick flailed in a press release obtained by The Beacon that the filibuster was an "abused and outdated 'Jim Crow relic.'"
The Beacon also documented the Sixteen Thirty Fund's connections to Soros, along with other major liberal donors:
The Sixteen Thirty Fund is used by liberal billionaire George Soros and others in the Democracy Alliance, a secretive donor club that financially supports progressive causes. Arabella-managed funds facilitated $715 million of dark money in 2019.
The progressive groups joining Fix Our Senate's coalition included "gun control, immigration, and health care groups, among others." The Beacon also identified two other groups connected to Fix Our Senate that are under the Sixteen Thirty Fund apparatus: "One coalition member, Demand Progress, is also housed at the Sixteen Thirty Fund. Demand Justice, also at the Sixteen Thirty Fund, was previously linked to Fix Our Senate but does not appear in the coalition." Some grants from OSPC were specifically earmarked toward bankrolling Sixteen Thirty Fund's Demand Progress and Demand Justice initiatives.
Demand Justice was also recently behind a seven-figure effort to fight the nomination of then-federal judge Amy Coney Barrett to the U.S. Supreme Court.
Americans for Public Trust Executive Director Caitlin Sutherland reportedly told The Beacon that Fix Our Senate's "coalition of groups is disingenuous, when in reality these are just trade names of the Sixteen Thirty Fund—a branch of the overarching behemoth Arabella Advisors."
Conservatives are under attack. Contact ABC News (818-460-7477), CBS News (212-975-3247) and NBC News (212- 664-6192) and demand they report on Fix Our Senate's schemes and its ties to the Soros-funded Sixteen Thirty Fund.