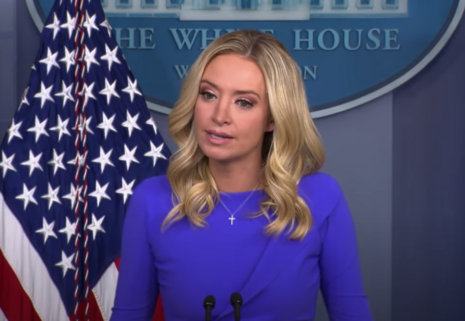 Forbes magazine abandoned any illusion of its free-market stance by issuing a threat to any company that chooses to hire some individuals who worked for President Donald Trump.
Chief Content Officer of Forbes Media and editor of Forbes Magazine Randall Lane published an asinine op-ed that threatened, "Let it be known to the business world: Hire any of Trump's fellow fabulists above, and Forbes will assume that everything your company or firm talks about is a lie." Lane included former Trump White House press secretaries Sean Spicer, Sarah Huckabee Sanders, and Stephanie Grisham in his blacklist of Trump "fabulists," in addition to former advisor to the president Kellyanne Conway. Lane also took a disgusting swipe at current White House Press Secretary Kayleigh McEnany, calling her a "propaganda prodigy at 32 who makes smiling falsehood an art form." Lane doesn't grasp that by writing this drivel, he has taken part in pushing his own form of propaganda.
Lane promised his outlet will "scrutinize, double-check, investigate with the same skepticism we'd approach a Trump tweet" any company that hires one of the forbidden Trumpsters. "Want to ensure the world's biggest business media brand approaches you as a potential funnel of disinformation? Then hire away," Lane quipped. He made his brand out to be a "truth reckoning"  knight in shining armor: "In this time of transition – and pain – reinvigorating democracy requires a reckoning. A truth reckoning. Starting with the people paid by the People to inform the People."
Lane also seemed to delude himself into believing he is an arbiter of truth: "As someone in the business of facts, it's been especially painful to watch President Trump's press secretaries debase themselves." 
But Lane's praise of other previous press secretaries from past administrations cast a wide shadow of doubt about his dedication to truth. Specifically, Lane praised former President Barack Obama's press secretary Jay Carney and former President Bill Clinton's press secretary and CNN blowhard Joe Lockhart as having "left the White House with their reputations in various stages of intact, made millions taking their skills — and credibility — to corporate America." 
This is the same Jay Carney who made a career out of spewing falsehoods on behalf of his former boss. During one 2012 press conference, Carney had said that the rate of government spending under Obama was lower than "all of his predecessors since Dwight Eisenhower, including all of his Republican predecessors." That false statement earned him a three-Pinocchios rating from Washington Post "fact-checker" Glenn Kessler.
Lane's praise of CNN blowhard Lockhart is even more amusing. Lane had begun his piece by saying that the Jan. 6 Capitol Hill "insurrection was rooted in lies" that a "fair election was stolen."  But, when the Russia collusion hoax was at its peak in 2018, Lockhart questioned the legitimacy of President Donald Trump's 2016 election win: 
If you look at the Russia stuff and the campaign finance stuff and the fact that 40,000 votes going the other way over three states, we now don't know, and that's why this is important. It's not the campaign finance. It's not, 'Did they have a meeting at Trump Tower with some Russians?' It's 'Was he legitimately elected?'
Lane concluded his rant by trying to claim that what his brand was doing wasn't "cancel culture." He then brazenly suggested his outlet was "pro-entrepreneur" in the same paragraph:
This isn't cancel culture, which is a societal blight. (There's surely a nice living for each of these press secretaries on the true-believer circuit.) Nor is this politically motivated, as Forbes' pro-entrepreneur, pro-growth worldview has generally placed it in the right-of-center camp over the past century — this standard needs to apply to liars from either party.
What a joke.
Conservatives are under attack. Contact Forbes at (800) 295-0893 and demand they retract Lane's threat against businesses that hire former Trump employees.