CNBC anchor Carl Quintanilla tweeted on Wednesday about a J.P. Morgan financial guru named Marko Kolanovic publishing a "devastating piece arguing that infection rates have declined — not increased — in states where lockdowns have ended, 'even after allowing for an appropriate measurement lag.'"
That's good news, not "devastating" news. Unless, of course, you believe the lockdown didn't save thousands of lives and yet (at least temporarily) devastated the economy. Will there be a wave of revisionism that the entire world clamped down too hard?
This looks "devastating" if you're a media outlet endlessly pressing for a lockdown, claiming Wall Street wants human sacrifice. (Perhaps Quintanilla's colleague Lester Holt should take a look.)
This trend is devastating to all the Florida-fileting and Georgia-shaming journalists. The same trend goes for various countries "unrelated to often inconsisent lockdown measures."
Here's where the anchor's "devastating" language was defined: lockdowns "might not only cause economic devastation, but potentially more deaths than COVID-19 itself." That's certainly not the media's take. 
Quintanilla also underscored that this guru's predictions have lined up with emerging realities.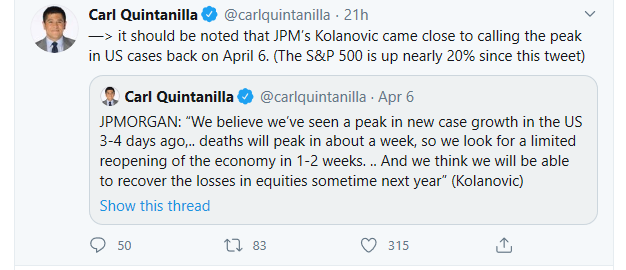 In case anyone suspects this analyst is a big Trump fan, Quintanilla also quoted: "Demagogues 'will be tempted to use COVID-19 to blame immigrants, people of a different race, or use the pandemic as a pretext to intensify geopolitical tensions. .. We will closely monitor how these risks evolve, but at this point see them as potential tail risks...'"