Some liberals keep ruining the idea that public radio is an oasis of civility and nonpartisanship. Take Bob Collins, a longtime political editor at Minnesota Public Radio. Anthony Gockowski of the Minnesota Sun site pointed out some Twitter savagery from Collins (account name @MyLittleBloggie).
Many of his recent tweets are just the usual Democrat hack stuff -- Trump should resign, his supporters are rats. But on Friday, Collins erupted in hate, suggesting Republicans should commit suicide by shooting themselves in the chest.
It's nice someone told Collins his "psychotic tweets" undermine the image of Minnesota Public Radio, and NPR in general. There was more than one about the "insanely partisan rants" on Twitter: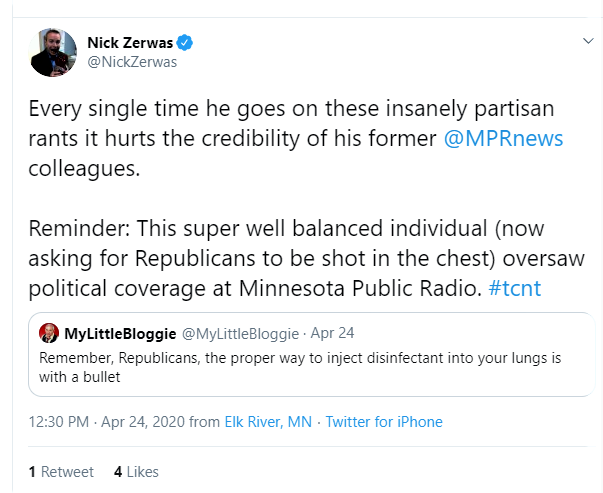 Collins was beloved in Minnesota -- at least among Democrats. Gov. Tim Walz celebrated a "Bob Collins Day" when he retired last May. One of his fans in the local media gushed he was "one of the most humble, and honest voices in media." If "honest" is code for being a hateful jerk, then it fits. He was also celebrated for listening with empathy. Hilarious.
This wasn't even his only nasty "please Republicans, kill yourself" tweet of the day!
"Tom Collins" is a cocktail made with gin, club soda, lemon juice, and sugar. If he were a drink, Bob Collins might be a hot cup of bleach.