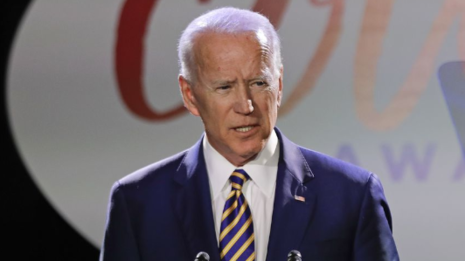 According to Politico, the problem with Joe Biden is that he's not adopting the "boldest" proposals of the Black Lives Matter group. Chiding the Democrat as too tame, writers Ryan Lizza, Laura Barron-Lopez and Holly Otterbein on Friday complained that the presumptive nominee hasn't embraced BLM enough. The article didn't mention, however what some of those official positions are, including the destruction of nuclear family and what sounds like Marxism.     
The journalists huffed, "Biden's advisers were often less attentive -- and sometimes downright dismissive -- of certain obsessions of the social media left."
The reporters also noted:
Biden did not discuss white privilege the way [New York Senator] Kirsten Gillibrand did. He didn't endorse reparations or the legalization of marijuana when some of his chief rivals did.

He stubbornly insisted that the two most important primary constituencies were political moderates and older working-class African Americans, two groups without much influence online.
"But other issues highlighted by the Black Lives Matter movement and its allies have not been embraced by the Biden campaign," they stated. 
"And some Democrats worry the presumptive nominee's reluctance could dampen enthusiasm for him among African American voters who have suffered disproportionately through the trio of 2020 crises: the coronavirus pandemic, the subsequent economic collapse and the epidemic of anti-black policing."
Of course, many activists "have pointed out that over the past month, as thousands took to the streets in hundreds of cities, Biden's policy platforms on criminal justice and policing have not changed on his website." "In a letter to Biden's campaign last week," they noted, "more than 50 progressive groups criticized his response to the mass protests, calling on him to incorporate policies crafted by the Movement for Black Lives."
Also, Biden's unyielding defense of the COPS live-action television program is a disappointment and more important than getting Biden to say "defund the police" while arguing that those federal dollars would allow Washington to shape police reform at the local level.
Here's some of the "bold" policies from the official Black Lives Matter website under "What we believe." 
We make our spaces family-friendly and enable parents to fully participate with their children. We dismantle the patriarchal practice that requires mothers to work "double shifts" so that they can mother in private even as they participate in public justice work.

....

We disrupt the Western-prescribed nuclear family structure requirement by supporting each other as extended families and "villages" that collectively care for one another, especially our children, to the degree that mothers, parents, and children are comfortable.
Despite what Politico thinks, perhaps the Biden campaign is afraid of embracing such "bold" policies?