The senior White House correspondents for two news organizations clashed on Monday, when John Roberts of the Fox News Channel and Jonathan Karl from ABC News got into a "Twitter fight."
The reason for the feud was Karl's accusation that Roberts was not wearing a face mask in the Rose Garden before a press conference that afternoon and was trying to "shame" him.
It started: "Almost everybody in the Rose Garden is wearing a mask -- almost everybody." The ABC News correspondent included four pictures of the scene, which showed Roberts not wearing a face mask at the time.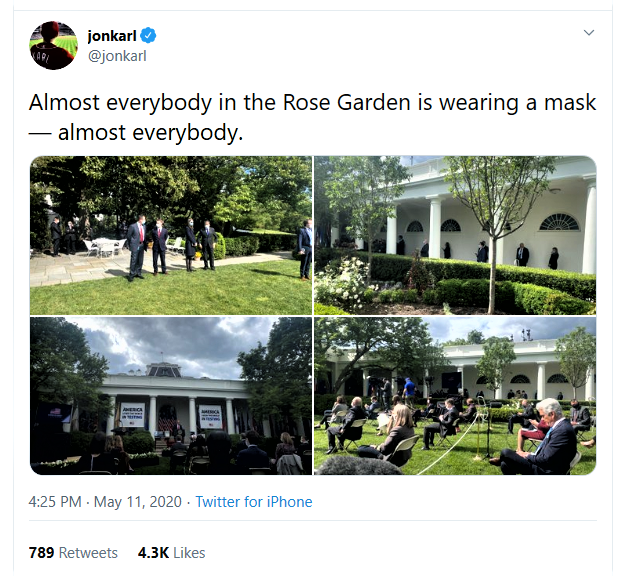 Hours later, Roberts shot back, explaining that he "was quietly seated more than six feet away from the closest person (adhering to CDC social distancing guidelines) When the press conference began, I put mask on. So -- what, exactly, is the basis for this petty effort at shaming?"
What Karl did not expect was to be counter-shamed by tweeter Josh Mahoney, showing Karl walking around town unmasked. NB's Curtis Houck tweeted "OH SNAP!"
Reached for comment, Karl told The Hill that he wasn't shaming anybody in describing the "extraordinary scene" regarding reporters wearing masks for a presidential press briefing in the Rose Garden.
"I wasn't shaming anybody," Karl noted in an email. "I simply tweeted four photos showing just about everybody wearing a mask in the Rose Garden -- something we have never seen before."
Also on Monday, members of the White House staff were told they must wear a face mask at all times when they enter or move around the building.