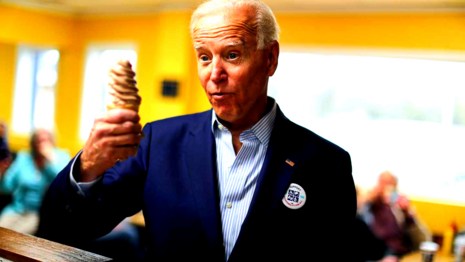 Has Joe Biden become so insignificant that he has become a non-person even at Politico which supposedly covers politics in-depth? We have already seen that Politico has become laughably incurious about why Joe Biden has taken so many "lid" days and now it appears that Biden coverage at that periodical of politics has shrunk to the point he has disappeared entirely in some sections, such as their Politico Playbook.
Although Tuesday's Politico Playbook PM by Anna Palmer, Jake Sherman, Eli Okun, and Garrett Ross runs over 2200 words and covers a wide variety of political subjects, the number of times that Joe Biden is mentioned is...ZERO.
Yes, despite this being in perhaps the most important election in many years, a major party candidate for president has gone down the rabbit hole in a section detailing the intricacies of politics.
The title of the Tuesday Politico Playbook PM is "Problem not solved" but perhaps a more accurate title would be "Candidate not mentioned." Could this be because Politico is entirely focused on Trump? Perhaps his opponent could somehow get a nod by calling him "Not Trump."
Even obscure socialist third parties in New York are worthy of more attention:
HOT ON THE LEFT -- "Why a Progressive N.Y. Party Is Fighting for Its Survival," by NYT's Dana Rubinstein: "The Working Families Party is about to launch an expensive campaign on its own behalf — using resources that would normally go toward its chosen candidates, like Jamaal Bowman and Mondaire Jones, who are running for Congress.
Apparently Biden is unconsciously being treated by Politico as a mere empty vessel whose only role is not being Trump. Oh, and somehow the Playbook missed that the "Not Trump" made his second campaign appearance outside of Delaware since Labor Day in Florida on Tuesday. As of this writing "Not Trump" will be taking a "lid" day on Wednesday so at least you will have an excuse for not mentioning him in the next Politico Playbook. In fact, with all his embarrassing gaffes, best not to even write about "Not Trump" in too much or, better yet, any detail.